SwissBorg's Next Early Deal - Our Alpha Analysis on Phaver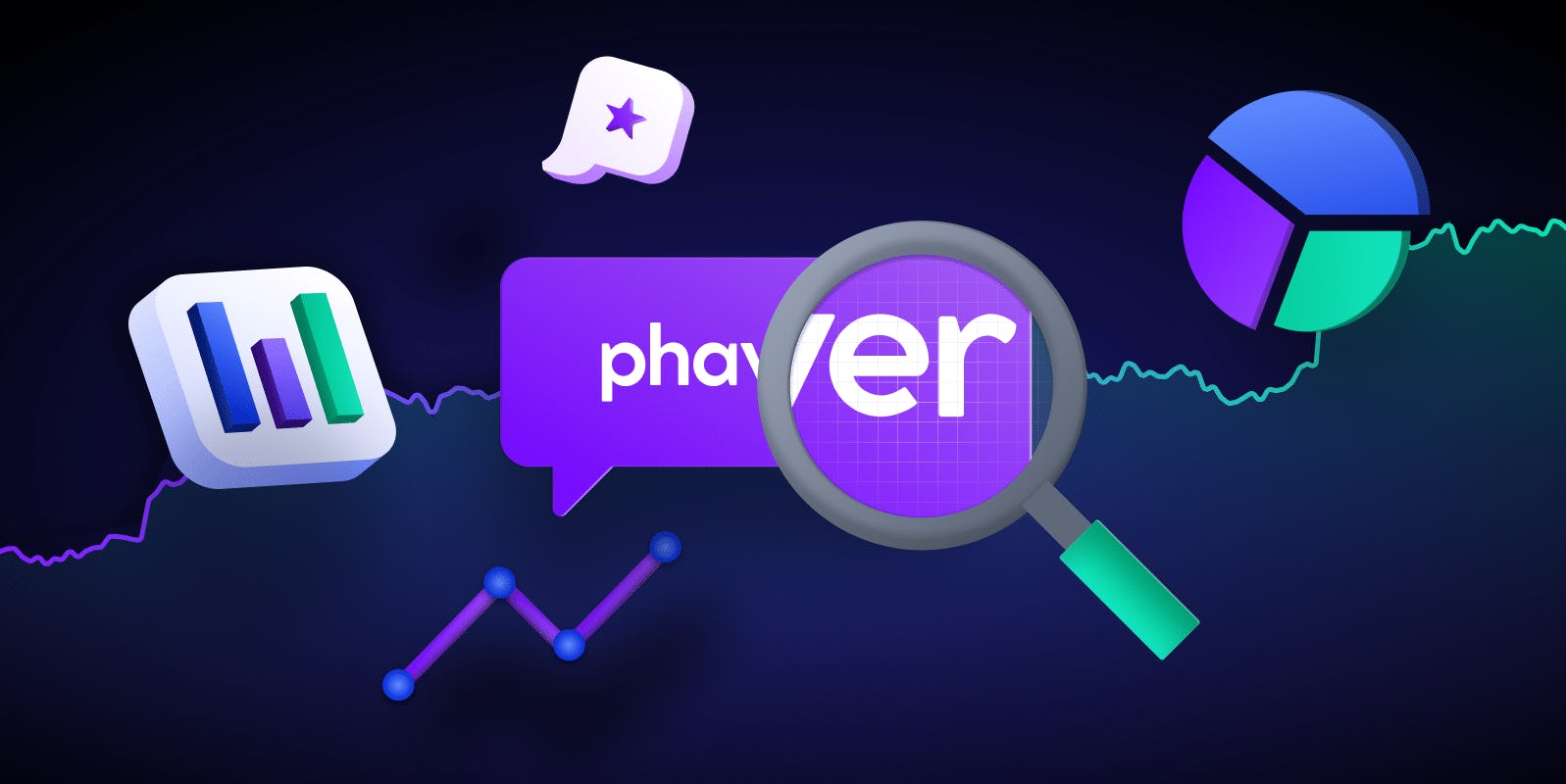 Ziga Potrebujes
Research Analyst
Key Takeaways
The Phaver Alpha early deal gives you an opportunity to invest in one of the leaders in SocialFi via the SwissBorg app. Thanks to the

SwissBorg x Phaver

partnership, it's an opportunity for you to receive an early deal price on the upcoming Phaver token which you are unlikely to get again when it publicly launches on the market. For more info about the vaults 

click here

.
Phaver is a social media platform

powered by social graph protocols Lens protocol & CyberConnect. A social graph is a visual representation of the relationships between people and how they are connected. Social graph protocols represent the on-chain approach to social media, by allowing users to easily take their profile across different dApps that support it. 
Phaver was the

first iOS / Android app

launched on the Lens Protocol on May 15, 2022. The Twitter-like feel of the app makes for an intuitive user experience that successfully onboarded over 170k mostly crypto-native monthly active users. They recently partnered with CyberConnect, potentially opening up its user base to more than a million new crypto-native users.
SocialFi is still a relatively

new gold rush

and most of the dApps out there are still in early stages. Phaver onboarded a lot of the so-called Crypto Twitter over the last year and it shows. Its natural advantage is that its

user experience is similar to Twitter

. 
Phaver is designed to

assist users in cultivating their reputation

within the Lens and CyberConnect Socialfi protocols. Each constructive contribution to the ecosystem is quantified and rewarded in points, which will subsequently be converted into Phaver tokens. 
Phaver's goal is simple: deliver the most relevant feed for each user through incentivised curation & digital reputation. Increase your credibility and become eligible to exchange points that you earn for the Phaver tokens after the TGE! 
One of the key features of Phaver is its

gamified rewards mechanism:

users are motivated to become content creators. Content creators and KOLs are sought after and made to feel appreciated, unlike on centralised platforms where crypto content still often gets demonetised or outright banned. 
Phaver is currently in the token private sale round. You can access this Early Deal via the SwissBorg app and doing the quests. The investors will be subjected to similar conditions as the other VCs investing in this round.

Early deals opportunities like Phaver have a lot of potential to grow but also carry high risks. Make sure you understand the project, the offering and the risks before investing! 
You will be able to access this opportunity in September in our SwissBorg app. Due to the high demand, we will prioritise active investors. Be sure to follow us, more details will follow very soon!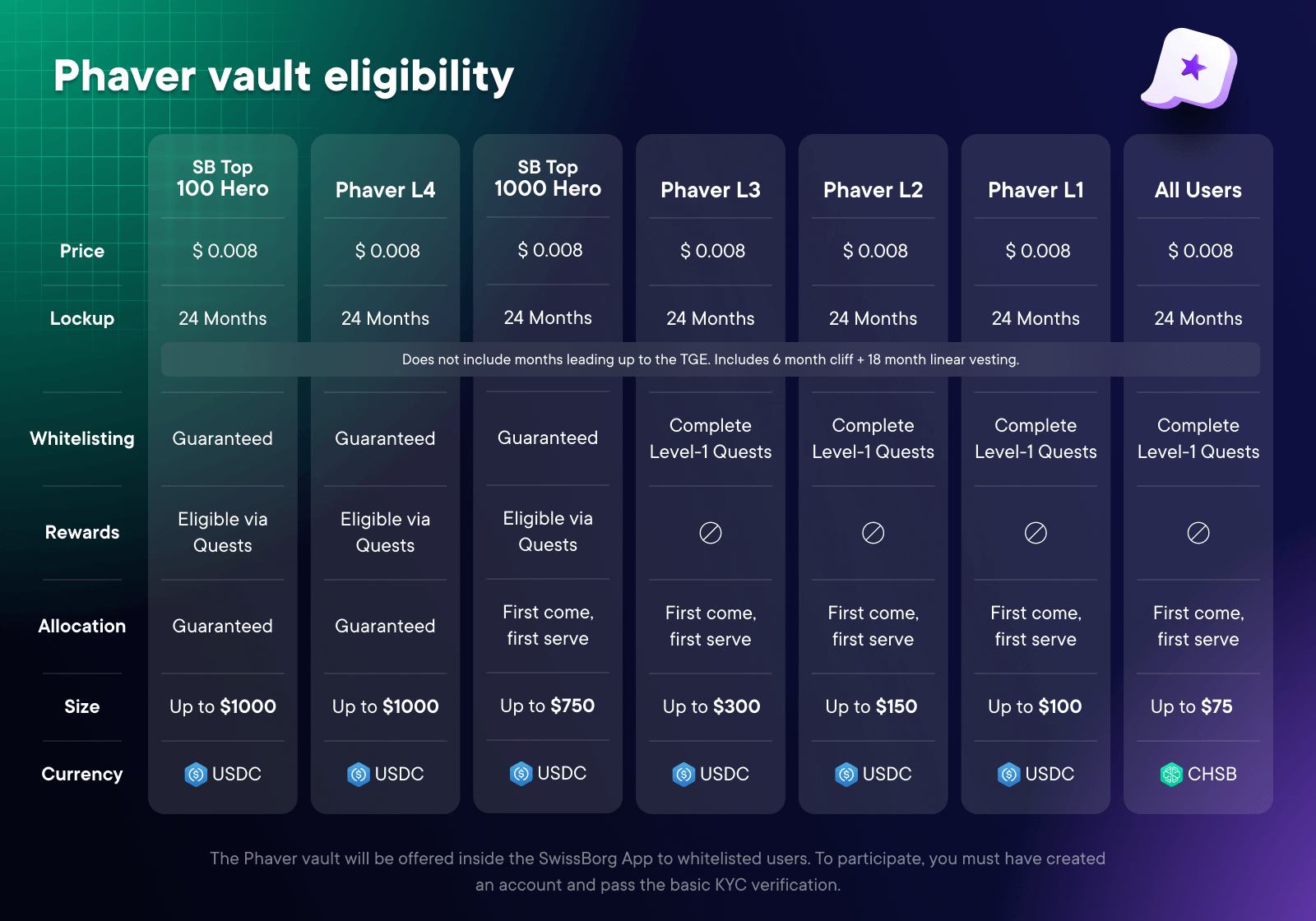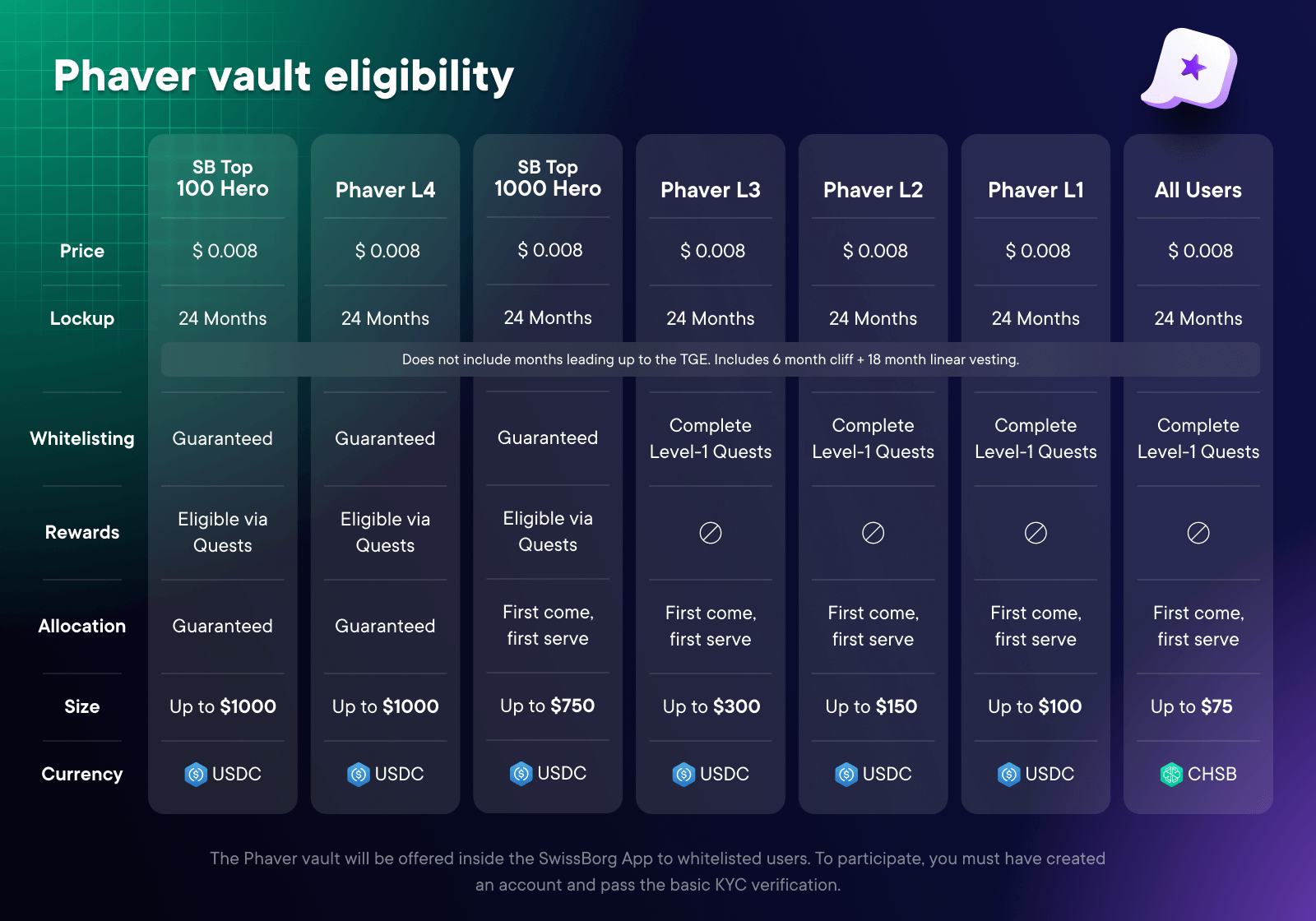 Over the past decade or so, we have all seen the damaging effect of the social media of today. The spill-over effect of a bundled social network has led to mass behavioural modification of users, unfair monetisation scheme and a poor content discovery with the ads take all model. 
But it seems now, we finally have something that can disrupt the status quo and challenge these tech giants. Web3 has the potential to redefine the ownership of the social stack, taking back monopolistic control over all the layers by one centralised authority.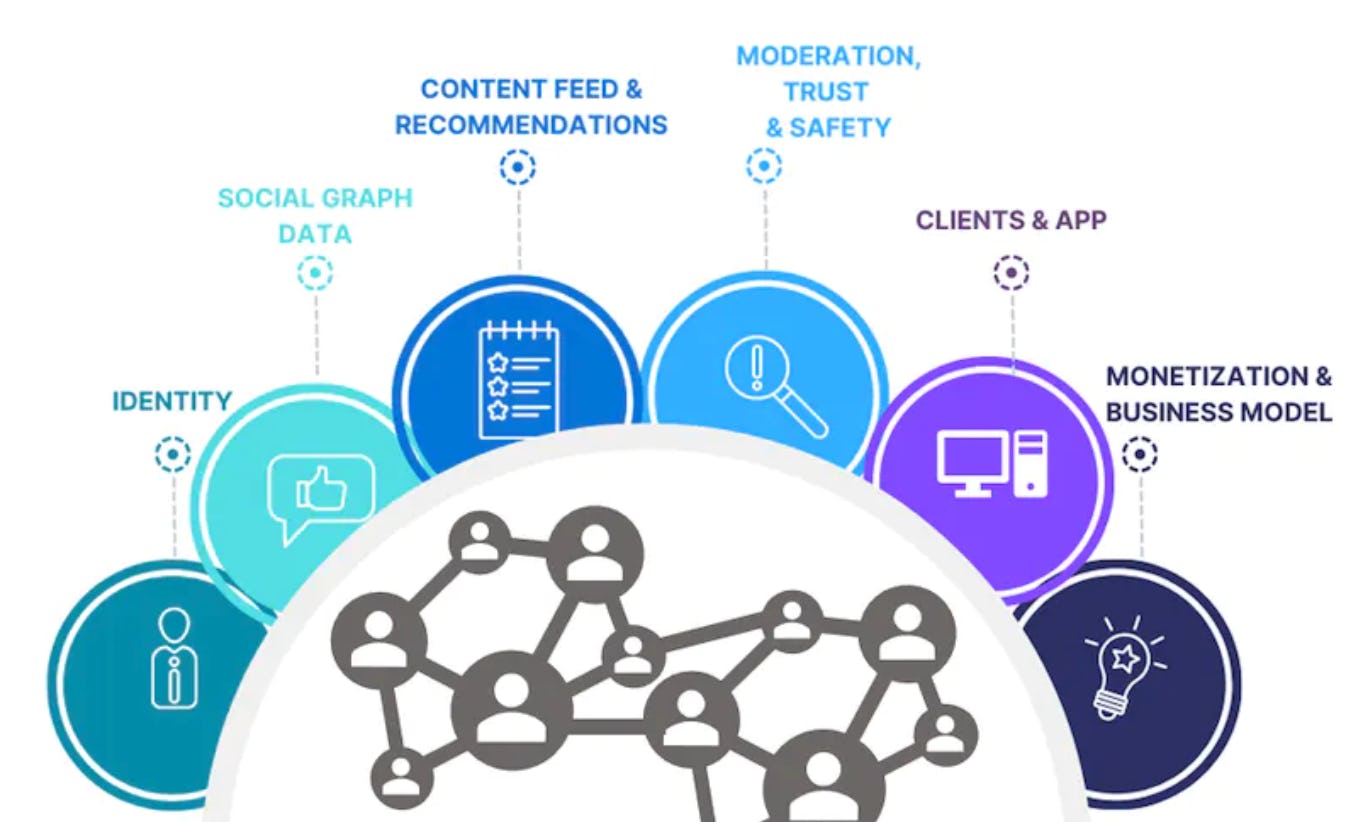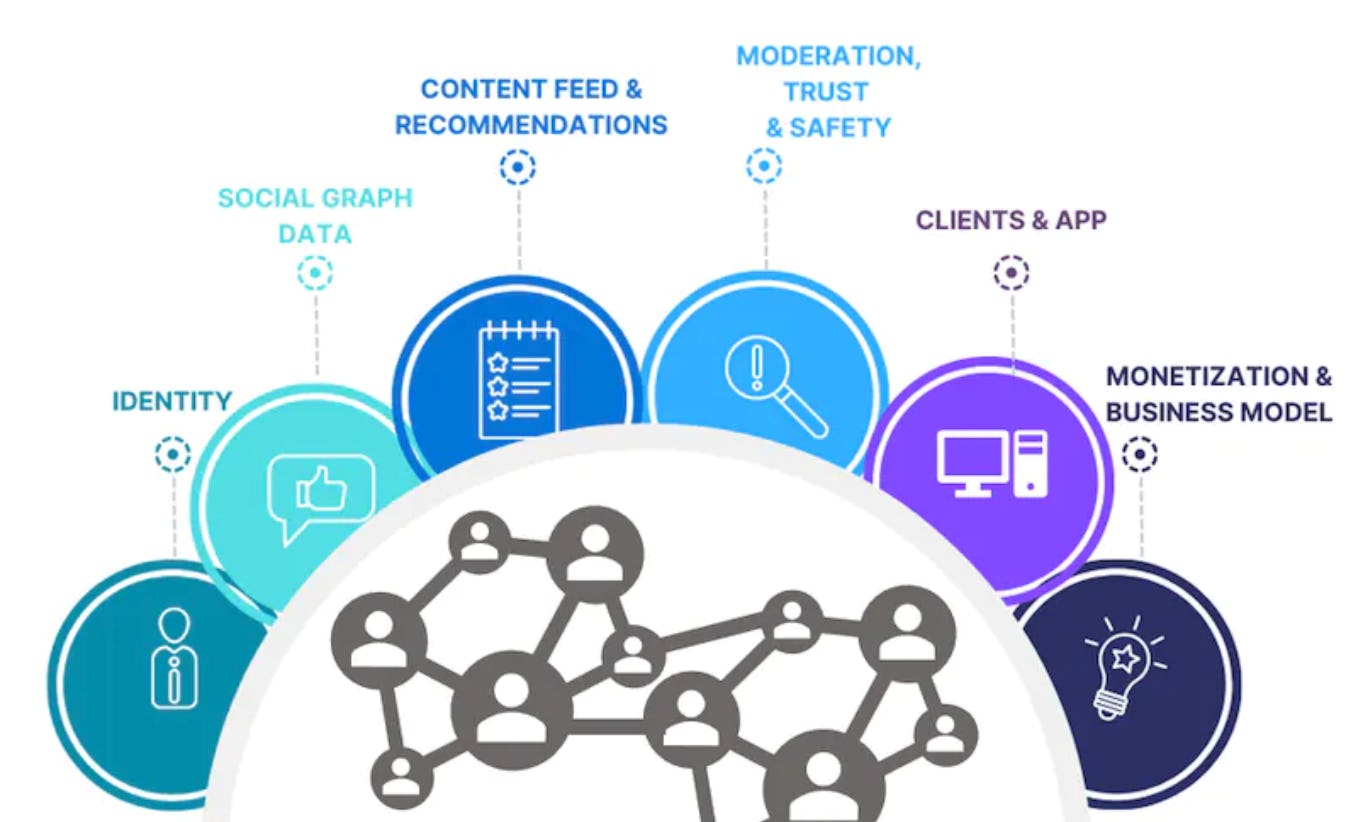 The only way to bring sovereignty, transparency and shared ownership to internet communities is by re-architecting the social media stack from the ground up. This unbundling has started with the Web3.0 revolution and is ready to challenge the status-quo. 
1. The Web3 Social Stack
It's important to understand the many layers that contribute to the evolution of platforms, described as the Web3 Social Stack. The Web3 social stack encompasses various technologies and components that facilitate decentralised social networking. These include: blockchain platforms, decentralised identity (DID), verifiable credentials, decentralised storage, interoperability protocols, tokenisation and incentive mechanisms, decentralised communication protocols, censorship resistance, user-centric data control, community governance, and privacy-enhancing technologies.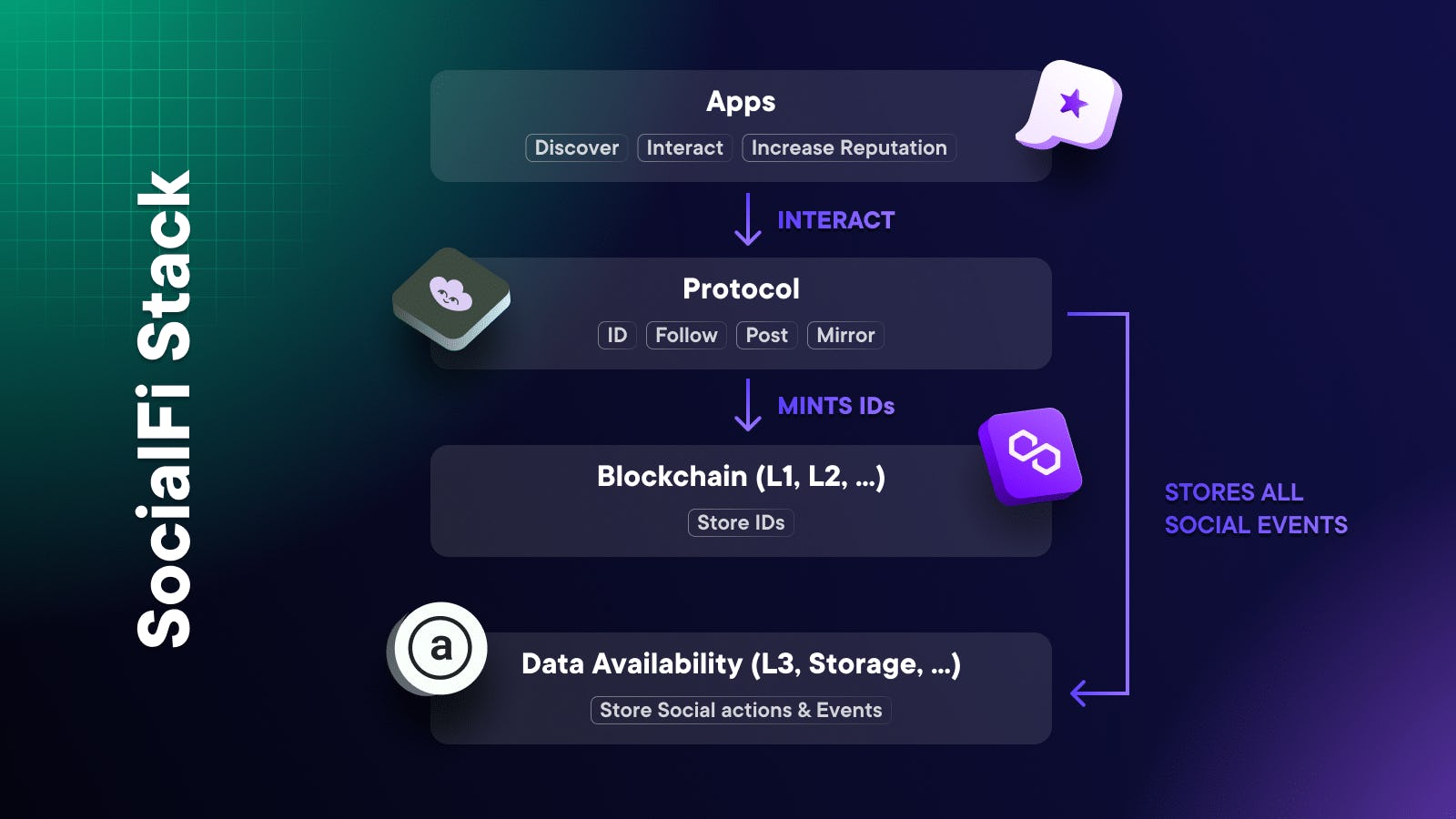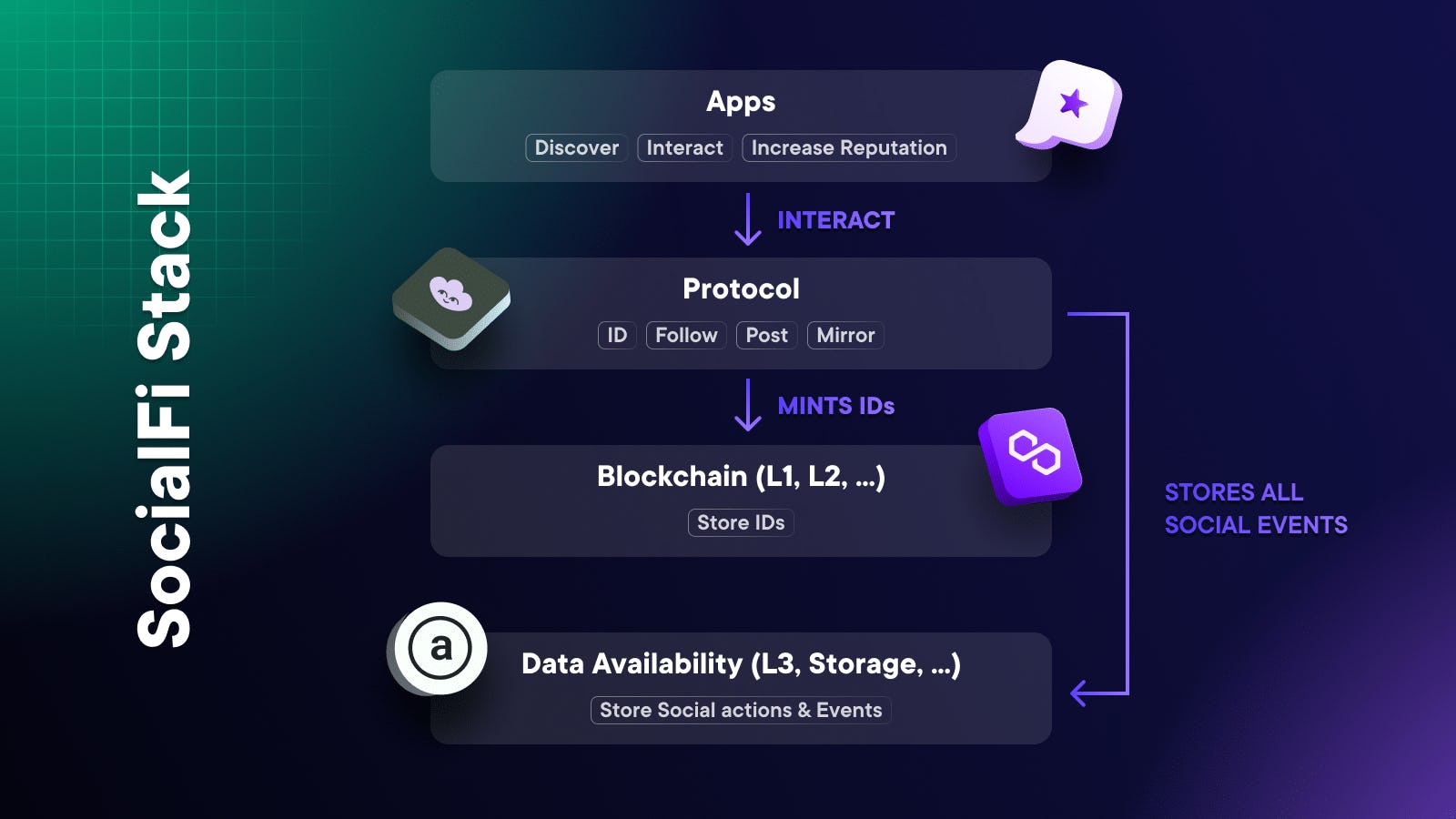 As seen above, different projects tackle different components of the social stack ecosystem. While their utilities are different, they unite through upholding the values of creating a world without intermediaries to mend the power imbalances between users and services. 
In order for platforms like Phaver to come to life, all these components must seamlessly come together.
1.1 Social Graph Protocols
The social graph is a concept that represents the relationships between people, organisations, or entities in a social network. It's often seen as nodes (representing individuals or entities) connected by edges (representing relationships or interactions). Social media platforms and other online communities use social graphs to power features like friend recommendations, content distribution, and personalised feeds.
A social graph protocol defines the rules and formats for how this data is structured and how different platforms or applications can interact with and share social graph information. 
Social media platforms like Phaver are built on social graph protocols like Lens Protocol and Cyberconnect, use smart contracts and NFTs to tokenise social data. This makes users' posts, preferences and network both proprietary to them and transferable to any other social platform built on that protocol. Therefore, the relationship power imbalance between users and platforms on Web2 are non-existent on Web3, given the architecture of the social graph protocols. 
For Web2, the relationship is between the users and platforms, whereas on Web3, the relationship is between the user and the service. This means that the creator, curator, and consumer are all the same person, just at different times during the life cycle.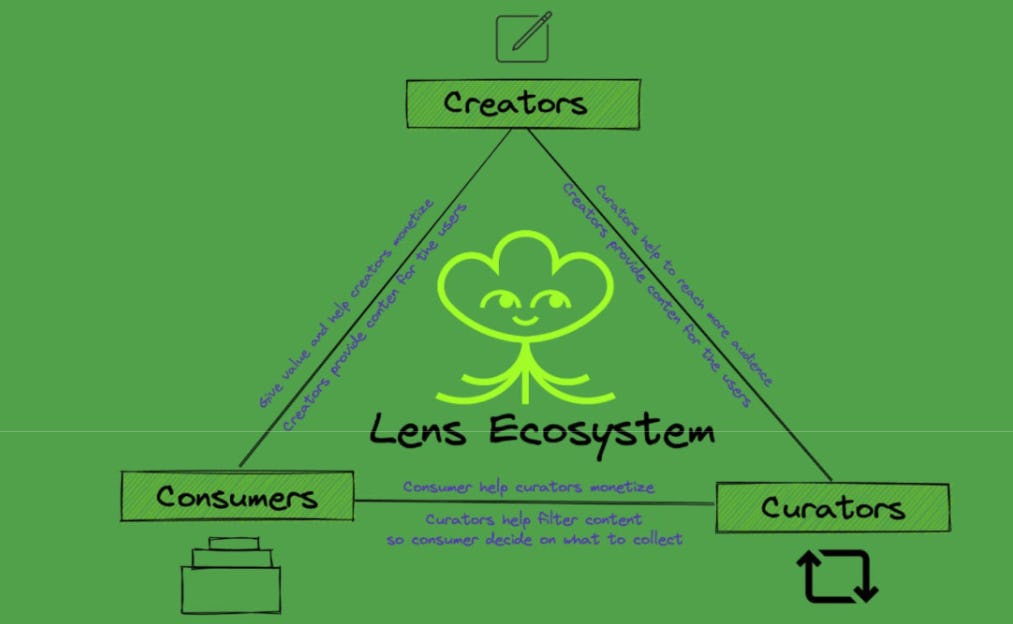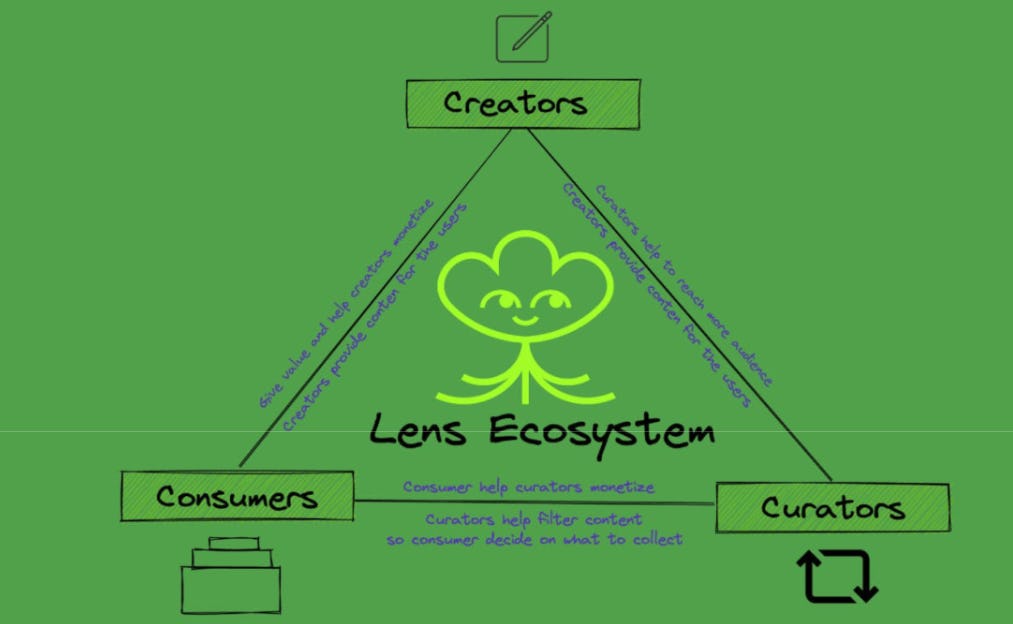 The significance of social graph protocols goes beyond decentralising data. Web2 social media platform business models are broken and survive on the backs of engagement and attention farming, hurting society like an airborne disease. The Web3 social graph protocols pave the way for more ethical business models that have the power to decentralise, unionise, and heal society from the toxicity of Web2. 
The value of your digital identity is poised to increase significantly. With Web3 social media platforms users can:  
Earn rewards to engage with content

Participate in gated DAOs

In the future be able to borrow money via Defi protocols that will allow credit-score borrowing

Decide on the algos (i.e smart contract) that will populate your feed, enhancing content discovery (ex:

Karma3Labs

)
Overtime and with every transaction, users write the chapters of their digital identity story, and the cover of their book is reflected by an on-chain credibility score. It's time to build your digital legacy!
1.2.1 Lens Protocol
Lens Protocol is redefining data ownership and privacy for social media. Its Web3 approach empowers users to control their digital identities and share data on their own terms. With Lens Protocol, users have the ability to grant specific access permissions to different entities, ensuring their data remains secure.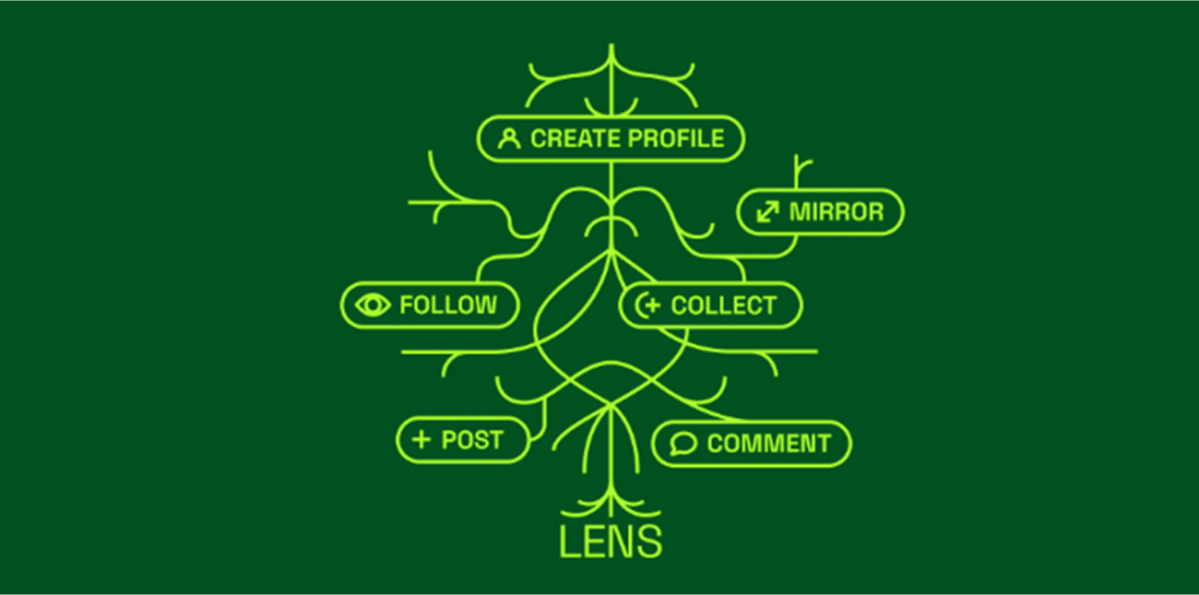 As Lens describe it themselves on Mirror, the protocol's key features have the functions of familiar social media systems like having a profile, commenting, resharing a post, and more. But at its core, Lens Protocol is Web3 native and thus any social platform built on the protocol will be innately different. Users will own everything, as these key functions are powered by NFTs.
1.2.2 CyberConnect
As a research analyst at Messari describes it - CyberConnect is a multichain social graph protocol currently built on Ethereum, BNB Chain, and Polygon. This platform equips developers with the essential infrastructure for creating front-end applications, while also empowering users to build digital identities and content.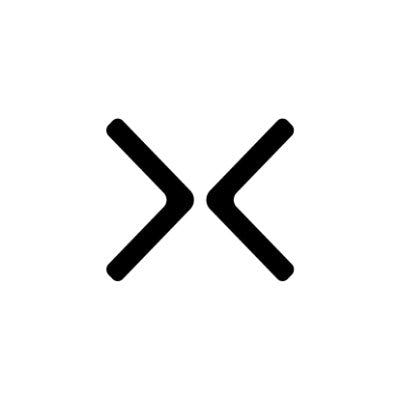 2. Product
2.1 Phaver App
Phaver is at the intersection of Web2.0 and Web3.0 technology or as they like to put it, a Web 2.5 application. Phaver was the first iOS & Android app launched on the Lens Protocol; it went live on mainnet on May 15, 2022. The mobile app has grown to over 170k monthly active and crypto-native users. Phaver is the first of its kind to integrate both the Lens and CyberConnect, enabling users to seamlessly access two social graphs. 
Phaver first launched using the Lens Protocol and in March 2023 upon winning the Connect2023 hackathon, they successfully integrated the product to CyberConnects social graph. This resulted in combining the best of both worlds: Lens protocol's mission for secure and interoperable content sharing, and CyberConnects mission for seamless connectivity across multi-chains.   
The platform is designed to help users build their digital identity and reputation on Web3 across the Lens Protocol and CyberConnect ecosystems. 
Just like how website indexing and ranking became the backbone of internet search and ads, web3 reputation will power key features (search, discovery, recommendations, trust and sybil resistance) for web3 marketplaces and consumer apps.
The user experience of the app is arguably the closest decentralised version of Twitter that we have seen. Phaver also made efforts to onboard Crypto Twitter in the last year and it has steadily and organically grown to over 170k monthly active and crypto-native users. 
Phaver's gamified multi-protocol experience aims at producing the most interesting and relevant content feed for all users. This can be achieved by providing access to multiple social graphs and protocols simultaneously as well as rewarding the users who create, curate, and moderate the content. 
To build the most interesting feed for each user is not an easy task and will require the help of our community. We believe this is possible by rewarding users for the right things, allowing as much control as possible and aligning everyone's interests around actual interest (pun intended) instead of click baits, cheap engagement, and addictiveness.
The game is not about farming users data, it's about engaging users with additional utility on the top of the content they create and own.
That's what Phaver is all about.
2.2  Curating and sharing content 
Phaver offers a gamified multi-protocol experience to create engaging content feeds. Users access various social graphs, while creators are rewarded. 
Content includes links, images, text and videos. Posts can target followers, Lens community or preset topics. Premium Topics require a fee but yield higher rewards with stake multipliers. In-house mods moderate premium topics, ensuring quality. Sharing is seamless on iOS/Android. 
Level 2 and above users receive minimum 5 daily "Stakes" to allocate on favourite posts, with rewards in-app points redeemable as tokens post-launch. Mirroring lets users share and earn. Visibility can be boosted by staking tokens which aids newcomers and opens advertising opportunities.
2.3 Phaver Points Explained
Phaver utilises off-chain proprietary Phaver points to ensure smooth onboarding and compliance with regulations. These points can later be exchanged for upcoming tokens. Earning points involves enhancing the platform, including sharing content, staking tokens on posts, and inviting new users using unique usernames as invite codes.
Users will soon be able to stake tokens on their own posts for increased visibility. To redeem points for Phaver tokens, specific criteria must be met to prevent cheating. Additionally, users earn Phaver Cred, a credibility score based on genuine on-chain assets like profile pictures and credential NFTs. Phaver Cred determines the user's Level, unlocking perks such as free Stakes and a growing monthly points-to-tokens redemption quota as levels increase.
This system discourages harmful behaviour and incentivises active, credible users, maintaining token control and encouraging early user engagement. The Level system ensures user loyalty and rewards beyond just follower count.
3. Team & Investors
The Phaver team is composed of 28 talented individuals with rich experience amongst them. The distribution of their team is strongest on the development, and more recently growth side. 


Going from the left to right we have:
Joonatan Lintala, Co-Founder & CEO;

Worked at Google, worked as the Head of Business Development at Smartly.io and as a Senior Advisor at Shook Digital

Tomi Fyrqvist, Co-Founder & CFO

; Worked at Goldman Sachs, Alibaba and Equilibrium Labs and as an advisor to multiple successful startups during their Series A rounds.

Carlo Hyvönen, Co-Founder & CTO

; Worked as a Lead Developer on Machine learning and a full-stack senior developer with over 15 years of combined experience.

Tom Hämäläinen, Co-Founder & CIO

; Worked as a full stack developer with experience with smart contracts. Was the Co-Founder and Chairman of Coinmotion, largest crypto payments provider in Finland. 
Together with the rest of the team they make up a well rounded team with strong experience and crypto culture.
Besides SwissBorg, there are also multiple other VC companies participating in the offering. The investors in the round include Nomad Capital, Polygon Ventures, Symbolic Capital, dao5, Foresight Ventures, Alphanonce, f.actor, Aulis Ventures, and others.
4. Why Phaver?
4.1 Web2 Social Media Comparison
Main Competitors: X (ex Twitter), Meta (Facebook & Instagram)
The main revenue stream for these companies is based on advertising. They sell advertising space to businesses and organisations and generate revenue from these sales. Besides advertising, Twitter also generates revenue from data licensing and exploring direct-payment options to be integrated into the app.
But the fact that these are centrally owned businesses is reflected in their business model. Because they keep all the data from the users, it allows them to abuse this power in order to maximise engagement so they can consequently maximise profits. 
Facebook's official mission is "to empower individuals in creating communities and fostering global connections", but a more in-depth analysis of their business strategy implies that driving us apart is actually more lucrative for them. Topics that trigger a strong emotional response in us are a great driver for high engagement. 
Users are obviously not the primary concerns of these businesses, as they are not their customers. Their only motivation is to keep them in the app for as long as possible, using any means necessary. The price that we end up paying is that the feed we are seeing will often try to play on the emotions that generate the quickest reaction - anger and fear. 
Fundamentally, Facebook's issue isn't about technology failures or AI limitations. It's rooted in its business model. Facebook thrives on engagement and virality, capitalising on filter bubbles and viral misinformation. This isn't an obscure viewpoint; even insiders like former Facebook director Tim Kendall admit that these platforms have rapidly driven divisions and potentially even conflict.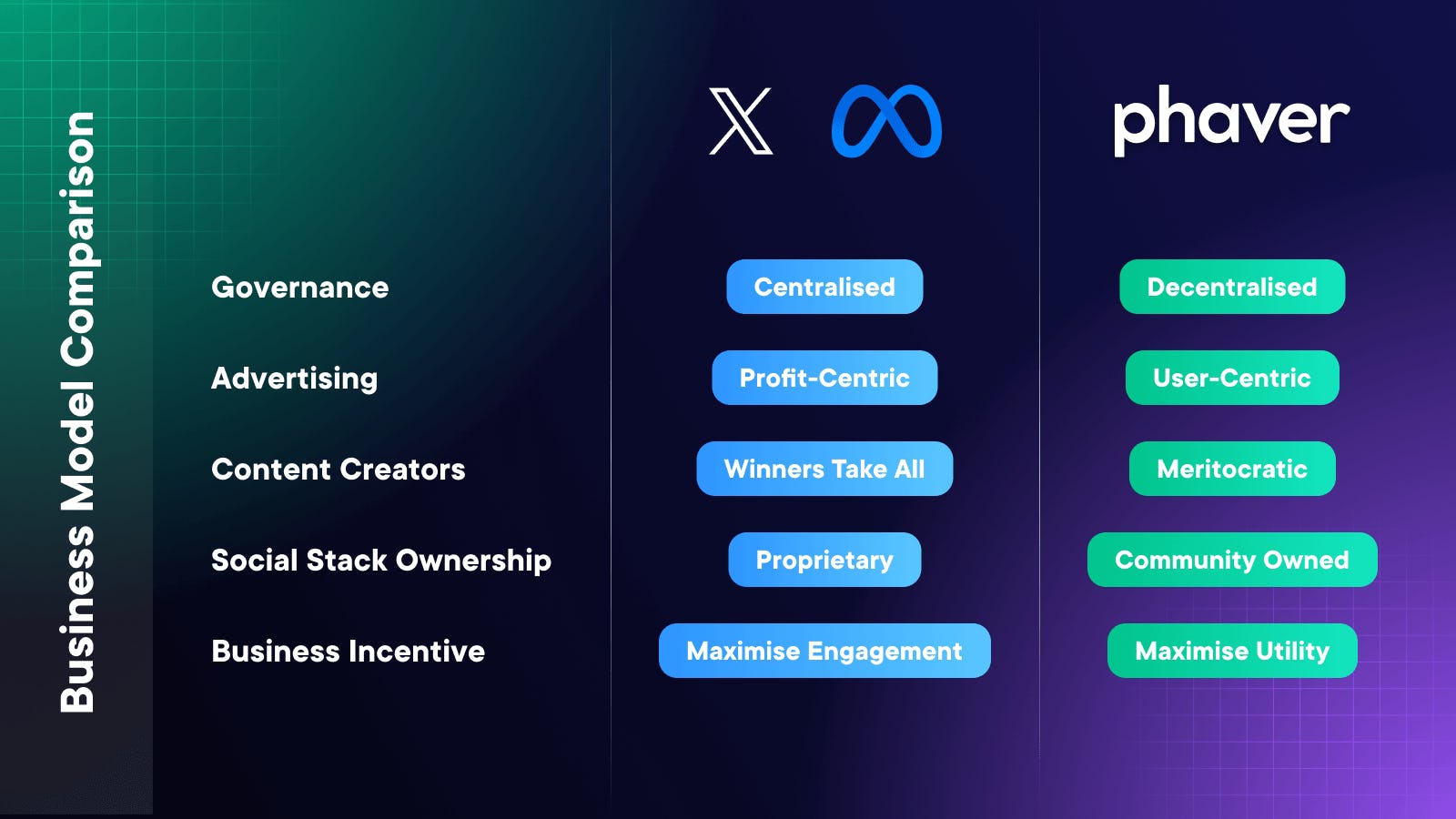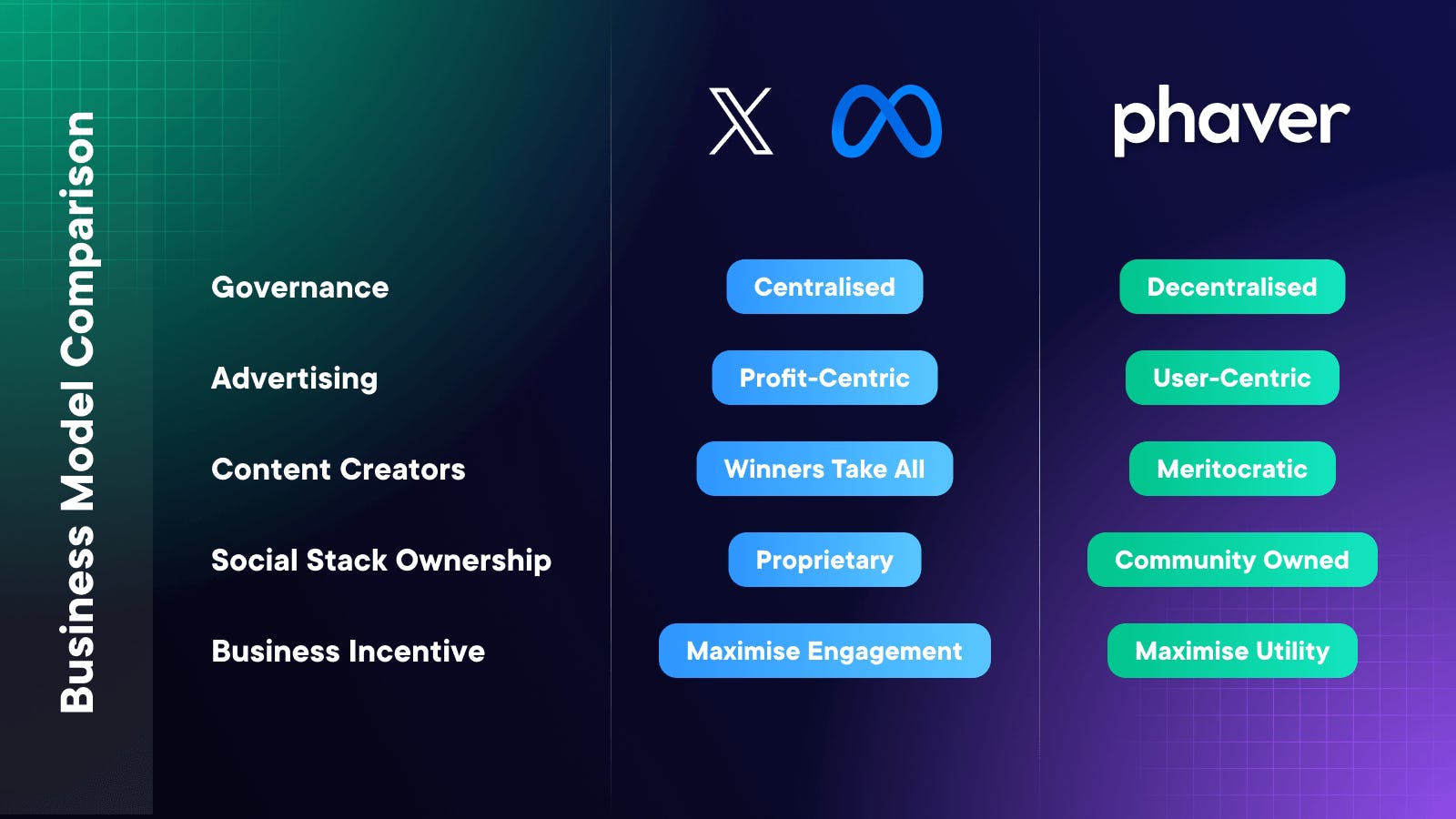 The decentralised nature of Phaver's governance that will be implemented in the future flips the switch at the core of the problem, where it matters. It also allows for a better discoverability of the small content creators, levelling the playing field for all. 
Their main business incentive is to maximise utility, since if they start going against the users, they have the ability to pack up their things and leave. This is in stark contrast compared to the current social media platforms, where users are deprived of any packing - they can just leave. 
The unique position of decentralised social media apps such as Phaver also allows for additional revenue streams. NFT mints can be an opportunity to boost the treasury and increase utility of the Phaver token. It can allow an opt-in targeting for new NFT projects, based on the portfolio in your wallet. 
Although the Web2 social media probably has the superior user experience as of now, we believe their decentralised and open-source counterparts could prove to be invaluable to deliver us the social media we all deserve. 
4.2 Decentralised Social Media Comparison
It is important to note that SocialFi is still in its nascent stages and that most of these platforms are evolving and adapting on the go. Still, we have tried several social media dApps and compared them based on the Onboarding experience, amount of users and new content and the intuitiveness of the user experience.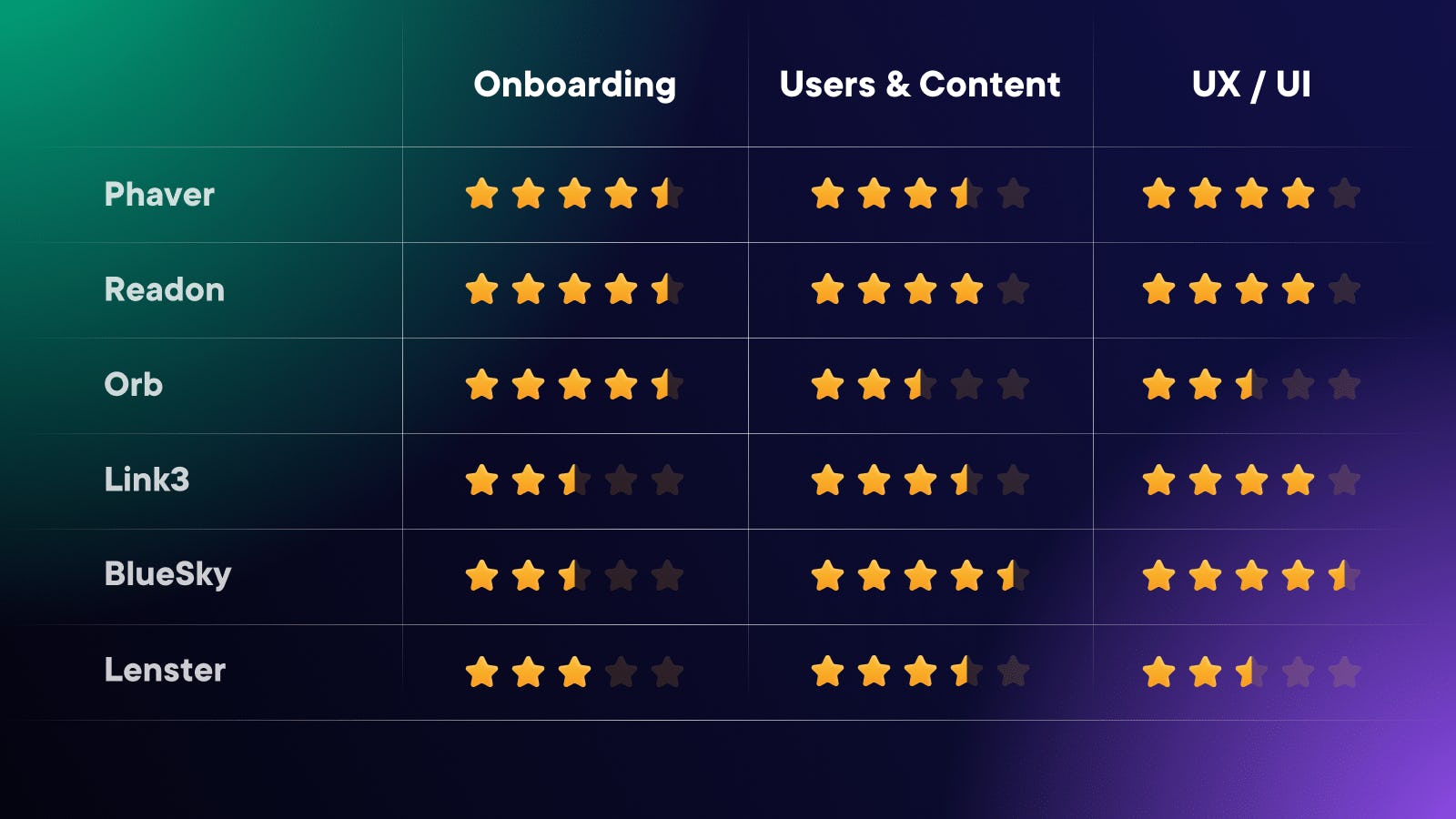 5. Project Maturity
Primary Market (i.e Venture deal) deals are perceived as one of the most exciting opportunities in the investment landscape from both financial and intellectual perspectives. Nevertheless, they are also highly technical and likelihood of success in terms of financial outcome is usually binary "go big or go home". 
The chart below shows the number of investments into start-ups performed by Y Combinator, one of the largest start-up accelerators out there. On the one hand, the number of investments per year displays a constant increasing trend (with 2021 being the most prolific year). On the other hand, it is also informative on the venture model of an accelerator: create a portfolio of projects. Most of them will fail. But those who succeed will generate stellar returns.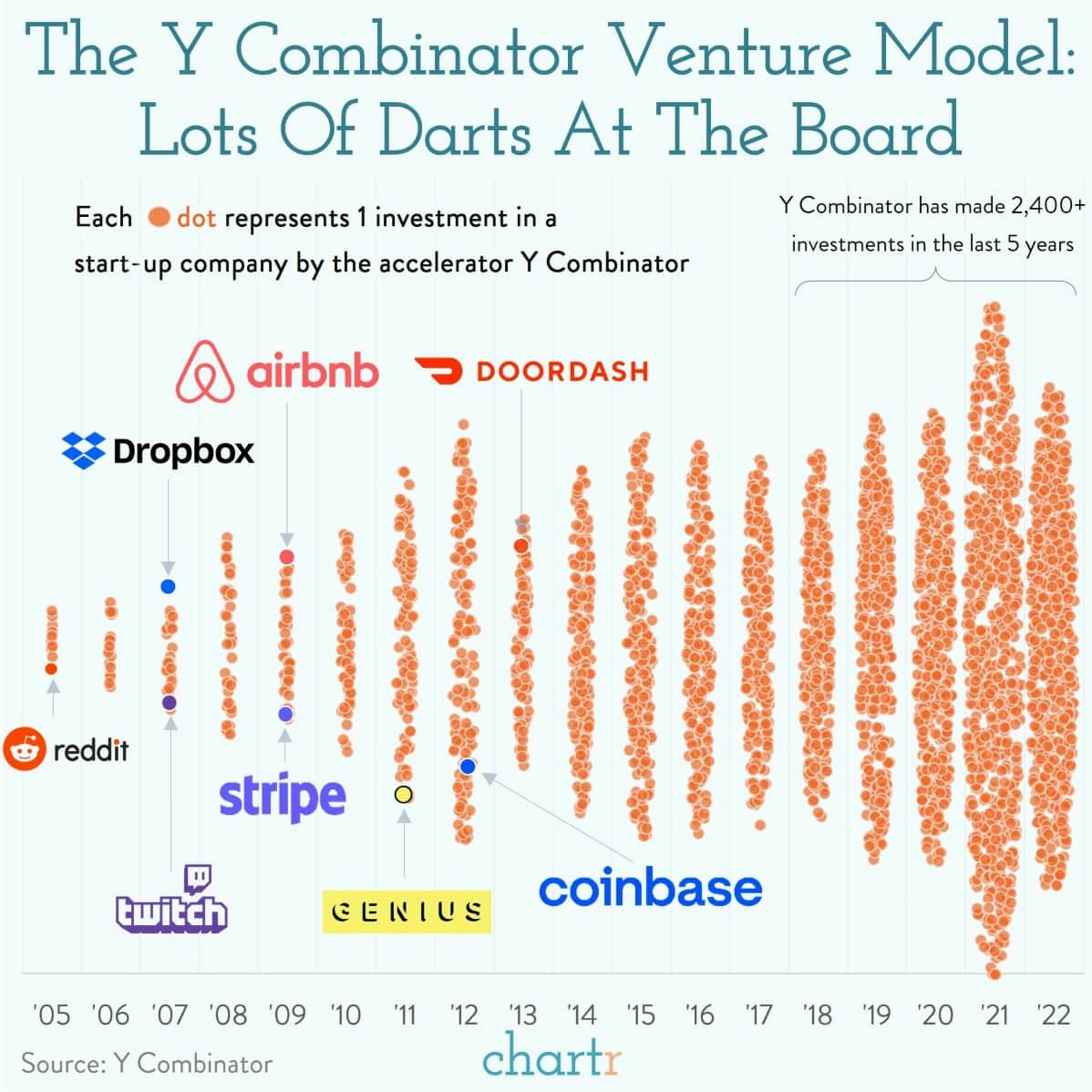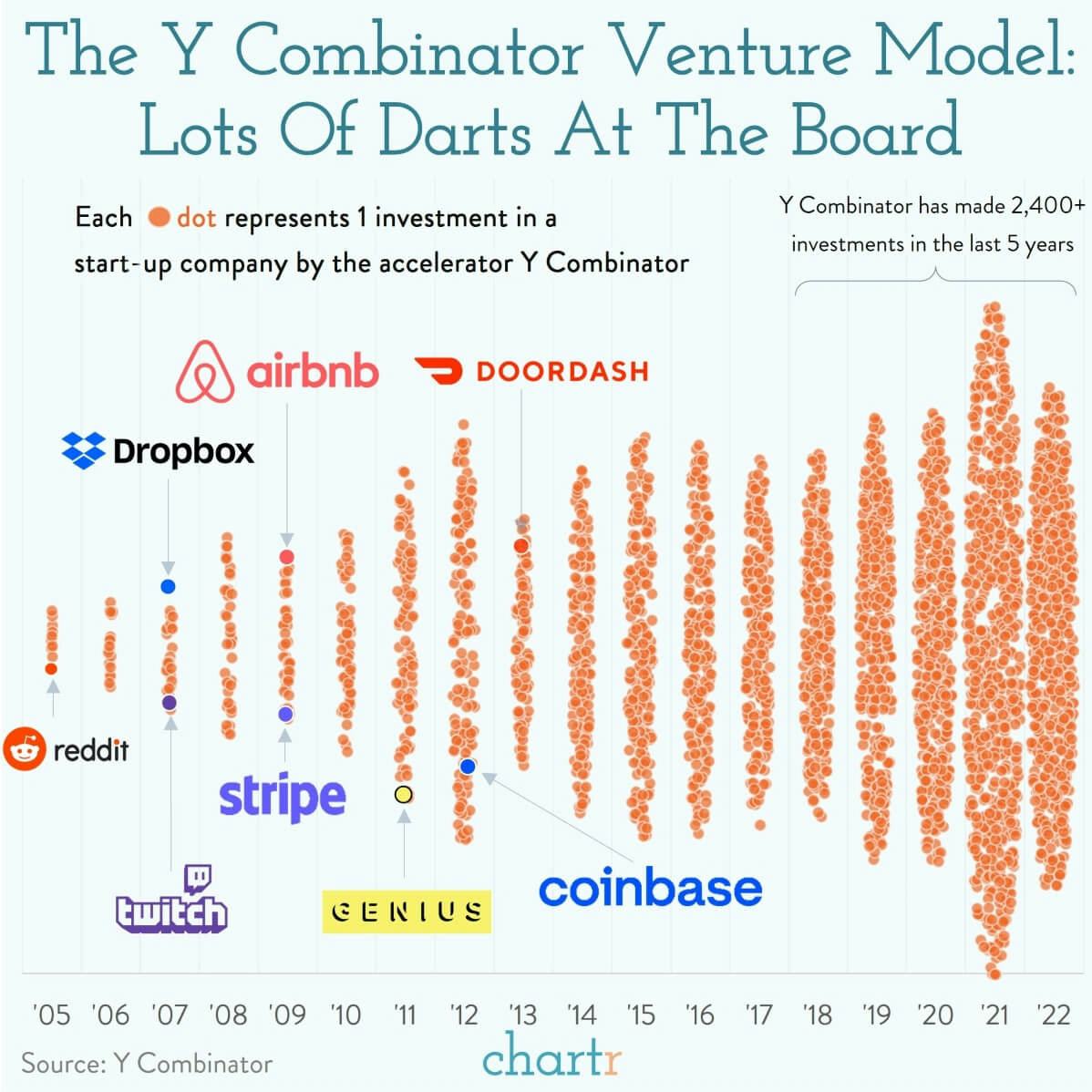 In crypto, the same logic applies. Only a handful of projects will finally become blockbusters. For investors, nevertheless, the rules of the game are slightly different since tokens are offering early liquidity compared to stocks. Therefore, each investor can be more creative with its investment strategy when usually in stocks you have to wait for an IPO to find your exit liquidity. 
Primary Market for both tokens and stocks share a lot in common in terms of Investment Due Diligence. At the end of the day, teams & products are making the difference. 
When you are investing into a primary market deal, the first thing to understand is "The Project Level of Maturity". Identifying it is the key to understanding and evaluating the risk/return potential of a project. 
The table below shows during the various stages of a project's growth its level of maturity (also in terms of business model and investment size) and the inherent risks of investing at each stage.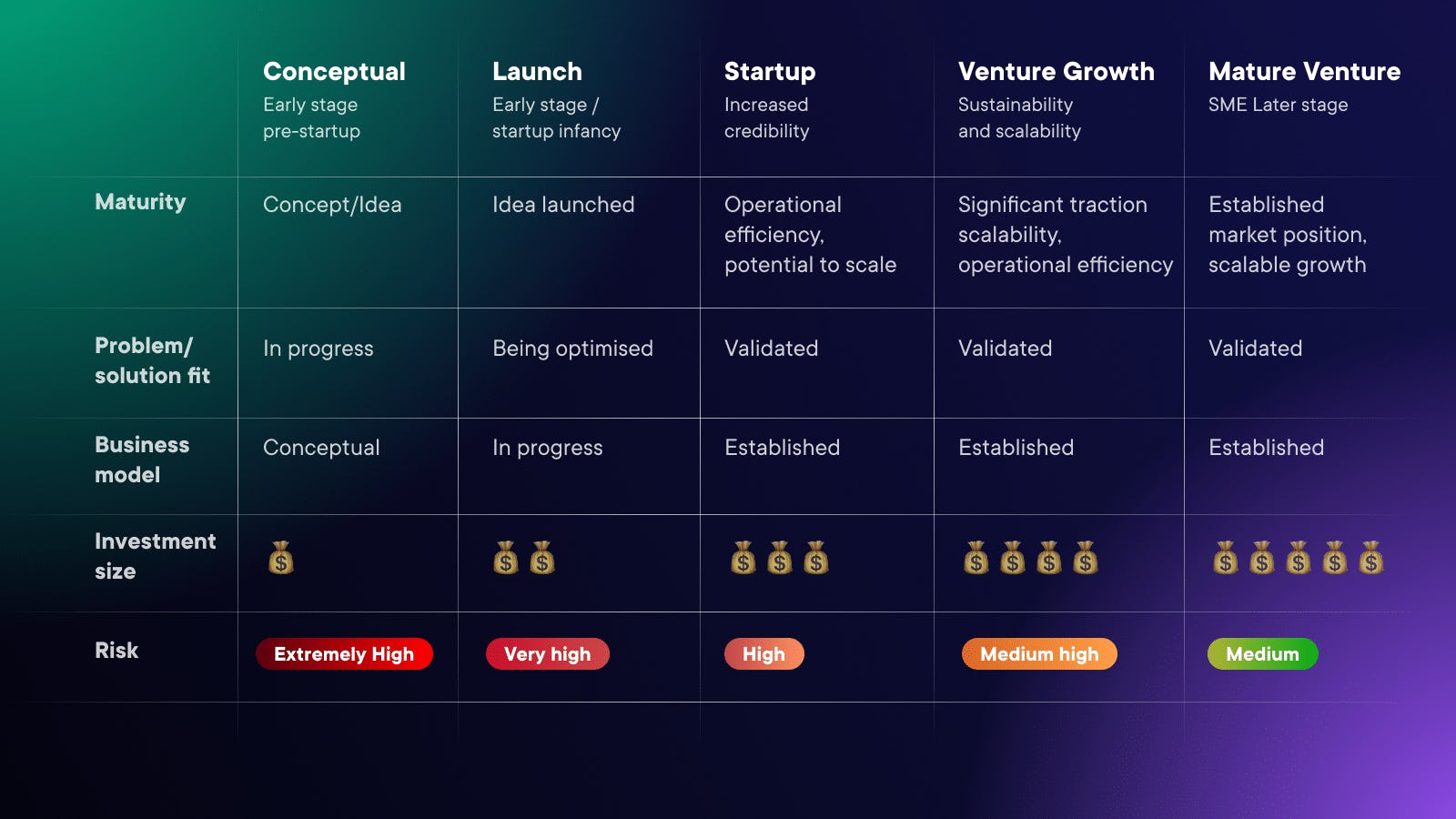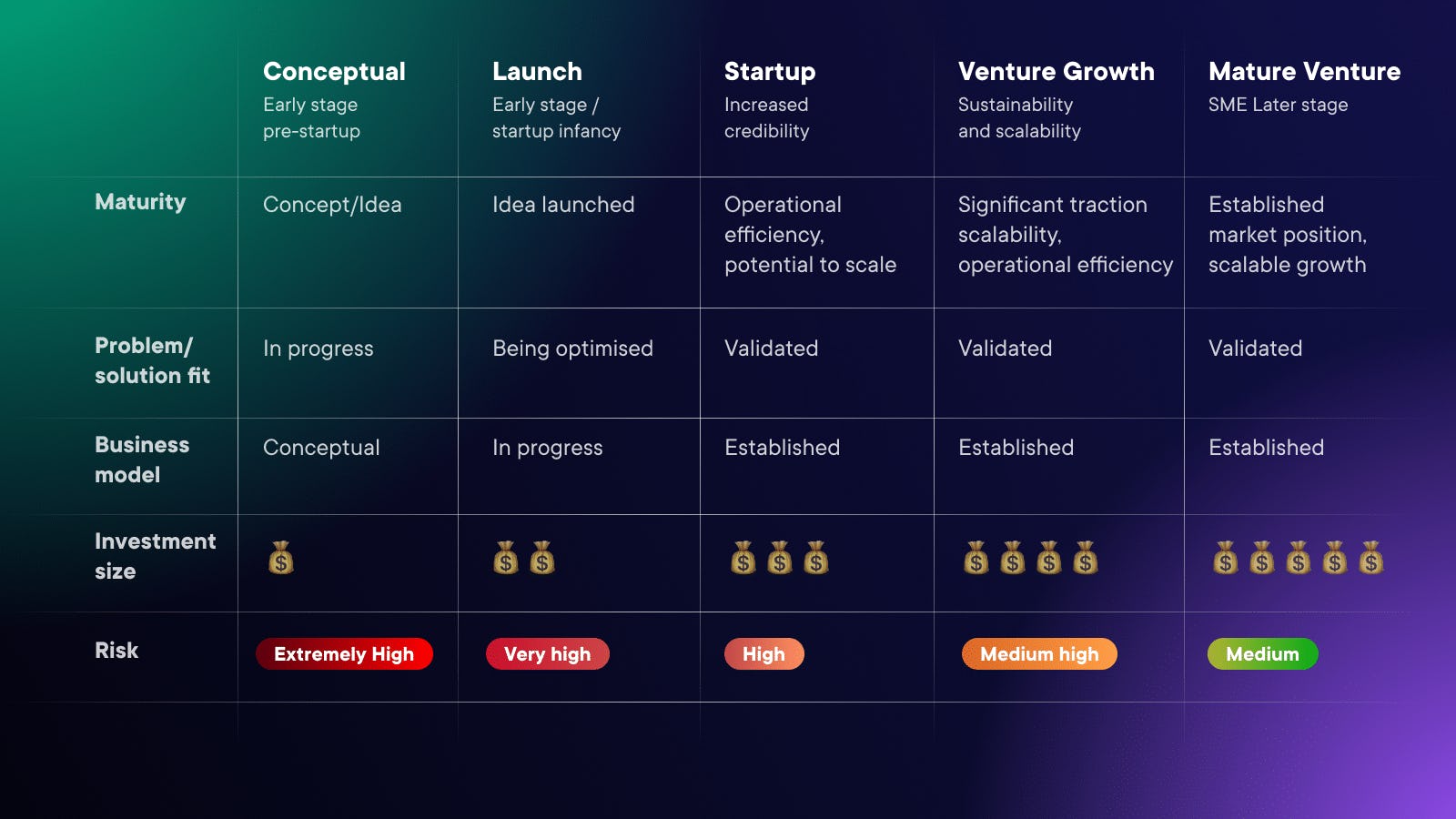 In terms of 'maturity level', the project sits in between the 'launch' and the 'startup' phases. 
The Phaver app was launched in May 2022 and currently has over 170k monthly active users. 
However, in terms of market positioning and growth loop they are still in the initial phase. 
The Phaver project has a working product and has built a crypto-savvy core community around it, yet the user base still needs to scale. Starting a new social media app is not easy, but luckily the built-in economic layer can provide a good incentive for new users to join. 
Last, as per the 'risk' field in the maturity table from above, investment in a project at this stage of development comes with high (to very high) risk.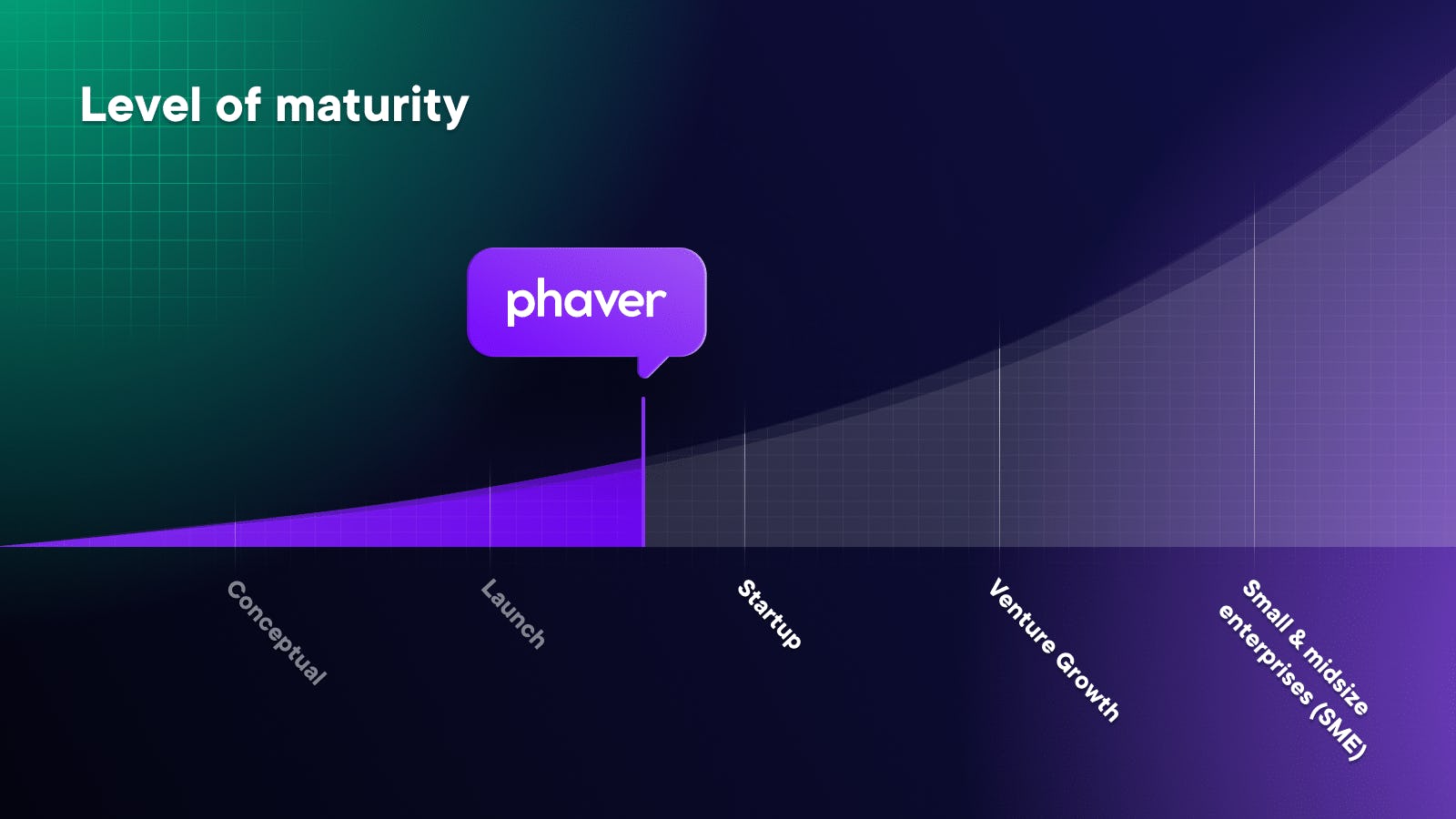 6. Phaver Tokenomics
It will be an ERC-20 standard token with the max supply capped at 10 billion. 
6.1 Phaver Token Distribution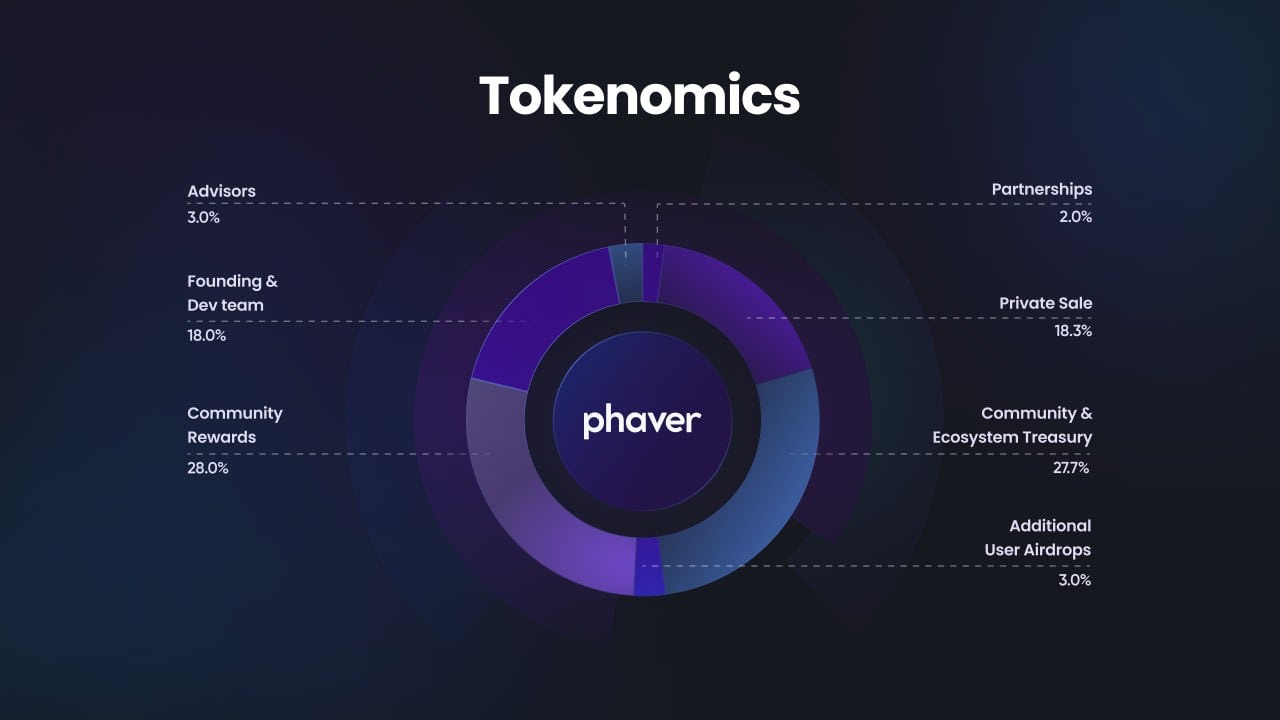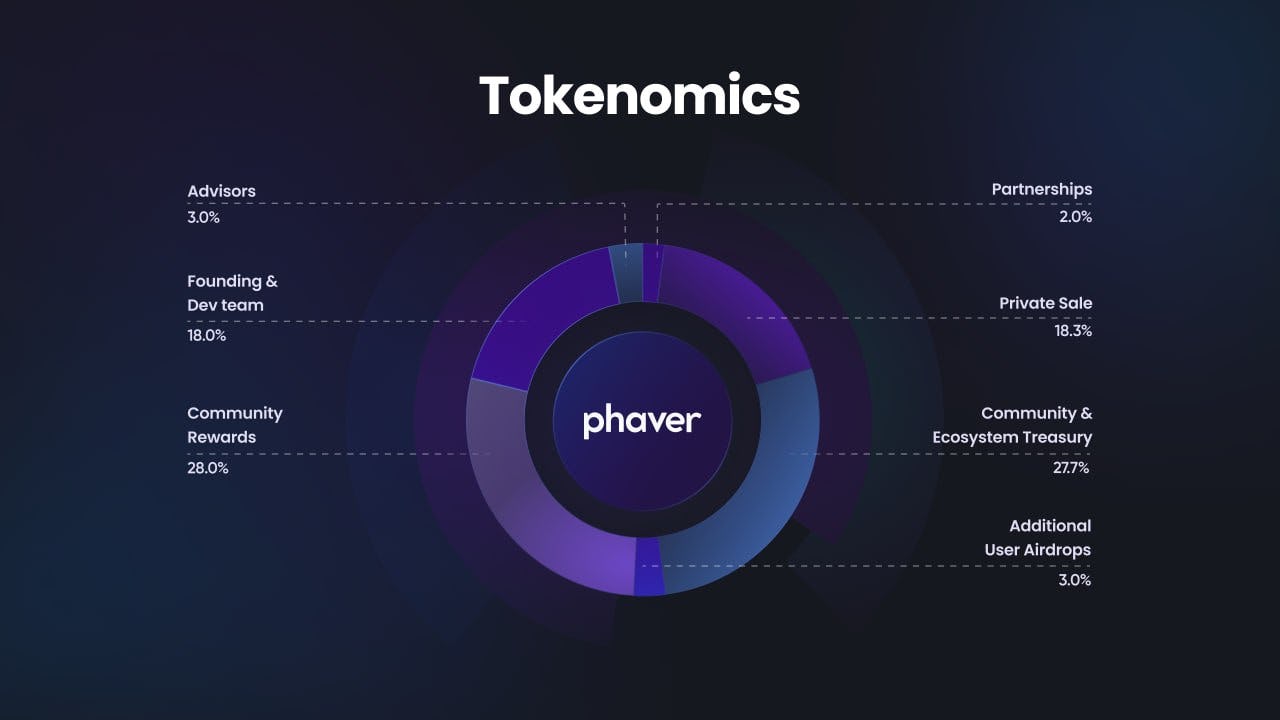 NOTE: In the vesting schedule the "cliff" refers to months before the first tokens are released and eligible to be sold, while the vesting is the amount of months that the tokens become available in equal size monthly instalments. For example 12+36 months means that there are no tokens becoming available during the first 12 months and 1/36 of the total tokens becomes available each month for the following 36 months.
6.3 Token Utility
The Phaver token comes with both holding and spending utilities. 
Holding Phaver token:
Holding Phaver token will positively affect your in-app Cred, raising your level and indirectly providing extra yield

Wallets with more tokens will have bigger voting power
Spending Phaver token:
For brands and projects, buying and using Phaver Tokens will always be the cheapest way to access any advertising, boosting, and collaboration features

For those who will opt for fiat payments there will be a buyback mechanism that ensures a share of the fiat revenue will also flow into token demand

Purchase of Phaver points without intermediaries, making them significantly cheaper

Future Phaver NFT projects may initially be mintable only with Phaver tokens. Priority for high demand mints can be given to wallets that have held the tokens for a longer period. 
6.3.1 Status and points: an airline-style program
In order to understand how the Phaver token works it is crucial to introduce the basics of the Phaver tokenomics. 
The Phaver gamified in-app economy rewards users for their contributions. On the other hand, redemption to Phaver tokens provides liquidity between largest earners and spenders. 
There are multiple ways to earn points and/or rewards in Phaver: connect on-chain assets (e.g. NFTs), purchase them or receive rewards for contributions. 
An airline-like program helps separating status (reputation) and points (rewards). 
Recall the airlines' loyalty programs: the more you travel, the more you earn points (which let you travel for free) or upgrade your flyer status (and have access to special services like lounges or priority boarding). Following this idea, Phaver proposes a similar program consisting of: 
Phaver Cred:

what gets you to the next Level in Phaver to earn greater rewards and perks in the Phaver app. It provides financial motivation as higher level means better rewards as well as reputational motivation, giving you better means to build your digital reputation. 

Phaver Points:

what you earn for creating valuable content in the Phaver app when people stake on your posts. They have their use-cases within the app, such as posting in Premium topics with better rewards. They also provide financial motivation as they will be exchangeable for the Phaver tokens after the TGE.