Since its inception, SwissBorg has been working to bring the best value to its community, by providing tools and resources to help you build your wealth, grow it and preserve it. 
With that in mind, we're inviting you to participate in the SwissBorg Referral Campaign Experiment. We are giving you the opportunity to be part of the SwissBorg Affiliate Program and access Affiliate Rewards.
What is the SwissBorg Referral Campaign Experiment about?
The main addition to the SwissBorg Referral Campaign Experiment is the possibility for you to join the Affiliate Program. When users you referred generates fees through their transactions, you get part of these fees as Affiliate Rewards, every month.
Every time you make a successful referral in the SwissBorg app, you will progress towards the next milestone giving you a new reward to unlock, as follows: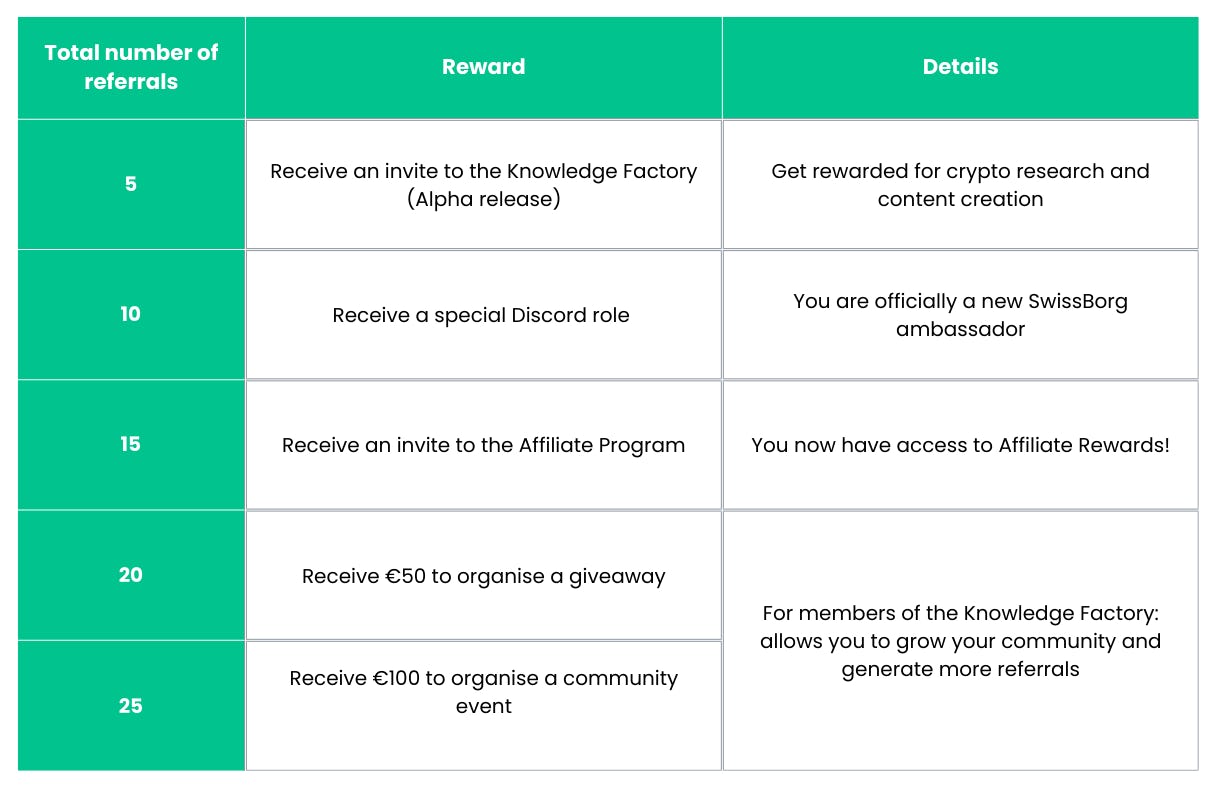 And as usual, every new successful referral grants you a unique rewards ticket, allowing you to earn up to €100 in CHSB.
Tips and advice for successful referrals
Are you ready to take your referrals to the next level? If you're looking to optimise your rewards and make the most out of this exciting opportunity, you're in the right place! Remember, only refer people because who truly believe in the value and quality of the SwissBorg app 💚
1. Start with Your Inner Circle
The easiest way to get your first referral is to start with your inner circle, including your family, close friends or colleagues. These are the people who trust you and are more likely to take your recommendation seriously.
Funny ideas you could use:
Use

ChatGPT

and ask it: "Pretend to be (your friend/relative favourite actor) and write a funny invite message to a friend to join SwissBorg, a crypto wealth management app"

Yield Challenge: ask your friend who is making the best yield on their money, you with SwissBorg Earn, or them with their savings account?
2. Use some of our tested, fun growth hacks with your friends!
Make someone a millionaire (in SHIBA tokens) right now!

Smart Send

your friend 1 million SHIBA (= $10 at time of writing). They will need to create an account to collect the tokens.
Smart Send all your friends $1 worth of crypto, so if they become an engaged and successful investor thanks to you (and the SwissBorg app of course), you can brag about how essential you were in their success.
Settle friendly bets in crypto via Smart Send.
Split your bills with friends in crypto via Smart Send
3. Explain the opportunity they could have by using SwissBorg and owning cryptocurrencies
Example of a message you could send: 
"Looking to spice up your investment game? Look no further than cryptocurrencies! With the ups and downs of traditional markets, it's smart to diversify your portfolio with alternative assets. And SwissBorg has got you covered with their expertly curated selection of cryptocurrencies. Plus, you can earn up to €100 by creating a new SwissBorg account".
4. Use social media
You can put your referral link in your profile on Instagram or Twitter.
You can create educational content about crypto and the advantages of using SwissBorg. If you need inspiration, you can always use ChatGPT to help you to create some content.
F.A.Q: 
What is a successful referral?
When someone creates a new SwissBorg app account by using your referral link, and transfers the equivalent of €50 into their account.
How long will I be eligible for the Affiliate Rewards, and what is the commission I will get?
The commission you will receive will change in time according to the following table.


I made some referrals in the past, will they be included?
Successful referrals you made in the last 12 months will be included in your progress. The referral is deemed successful at the date the referee transferred the $50 minimum to their account.
What happens to the users who try to game the system?
We reserve the right to ban someone from the referral program if we see that someone tries to take advantage of the program, by creating fake accounts, for instance.
Why is it called the Referral Campaign Experiment?
This campaign is an experiment that is being tested on a selection of users only. According to its results, it may be opened to all SwissBorg users, or shut down.
How can you join the Affiliate Program?
Once you reach 15 successful referrals, you will be contacted via email, and you will be able to opt-in. In order to opt-in, you will be required to enter into an agreement with SwissBorg.
If you are a Swiss resident, please note that you will be eligible to enter into the above-mentioned agreement only if you are registered as self-employed or as a business owner.
Do I have any obligation while I am part of the Affiliate Program? 
Yes, as a member of the program, you will have some tasks and missions to perform every month. They will require you to create content about SwissBorg, which in return will give you the opportunity to get even more referrals! More details will be given to you in the opt-in email.
When are the Affiliate Rewards sent?
The Affiliates Rewards will be attributed monthly, with a minimum of $1. Rewards will be attributed either in CHSB or USDC on your SwissBorg app account.
What is the Knowledge Factory?
The Knowledge factory is best described as an early stage creators DAO where selected Alpha testers will be able to do research and to create content in exchange for rewards.
At SwissBorg, we want to help you be profitable in your investment journey, through learning and developing knowledge and skills. The aim of the Knowledge factory is therefore to rewards users who research and create content that can help / assist other users to "Get into the green" by building good financial behaviours. The current version of the Knowledge factory is an early iteration and will change over time based on feedback and best practices. SwissBorg reserves the right to grant / take away access to the knowledge factory from any user.