The SwissBorg app turns 2!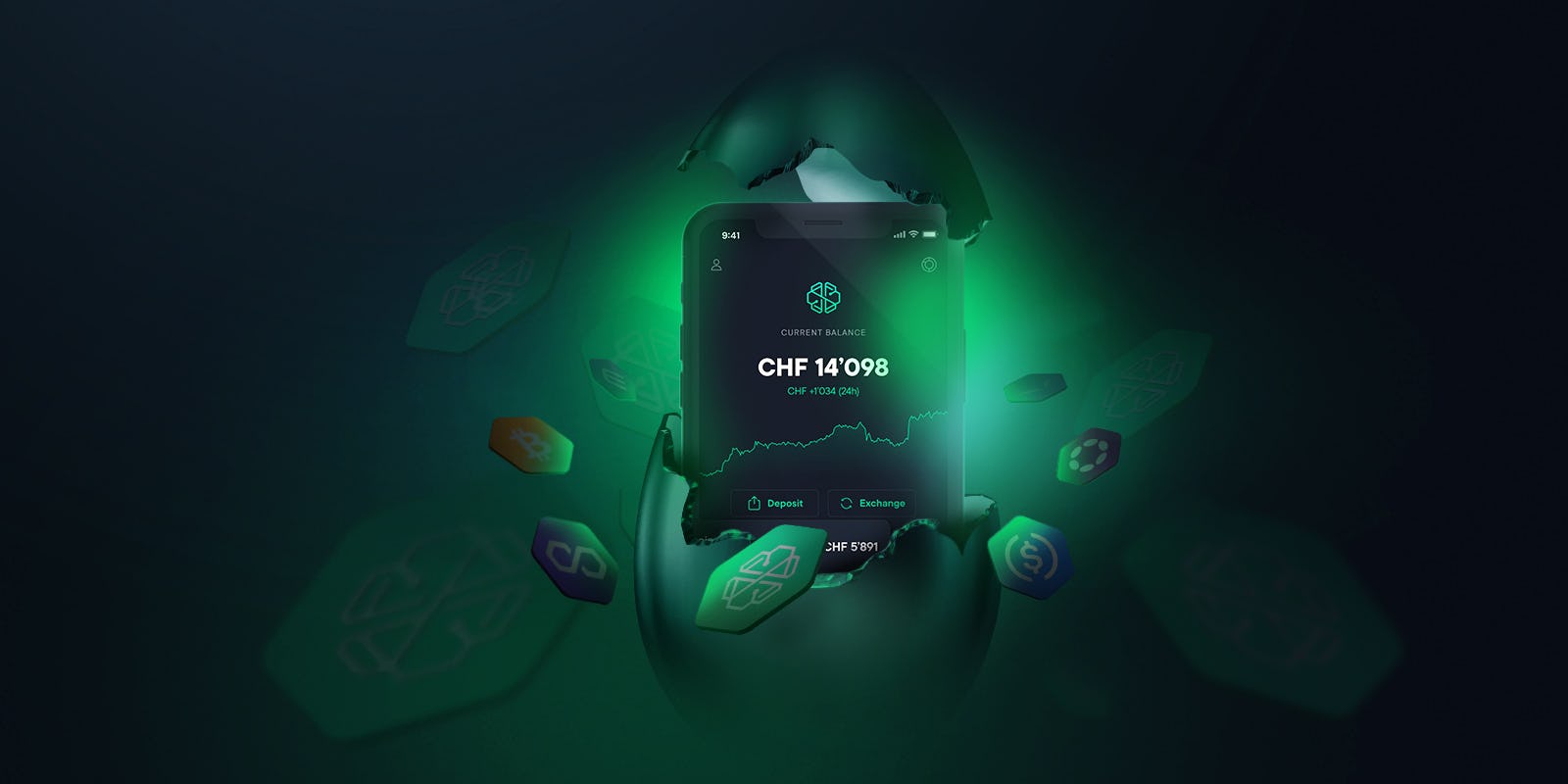 Dzenana Kajtaz
Content Marketing Specialist
The CHSB Yield 2.0 has come to a close. For the latest updates, please refer to this page. Thank you for your participation!
At SwissBorg, we love birthdays! Especially the birthday of our SwissBorg app. On this day, we get to look back at the past twelve months and see how far the app has come. It is also a time when we feel very grateful for all our amazing community members and the hard-working team behind SwissBorg. Without you, we wouldn't have a reason for celebration.
The SwissBorg app is now 603,000+ users strong, and we believe that number will only continue to grow. Taking into consideration that those users come from 115 countries, we can truly say that we are on the right path to fulfilling our mission of democratising wealth management globally. Our app and the CHSB token continue to make things fun, fair, and community-centric, and we thank you for putting your trust in both.
Who's using the SwissBorg app?
At the time of writing this article, the SwissBorg app has 603,000+ verified users with $1.2 billion in user assets, each of whom contributed to its impressive growth.
Our largest user communities are:
France: 164,855

Great Britain: 128,336

Switzerland: 76,719

Belgium: 25,930

Italy: 21,653

Germany: 21,130
And, here's the breakdown if we look at assets held within the app:
Switzerland: $354,852,894

Great Britain: $251,593,871

France: $207,261,101

Germany: $54,228,933

Japan: $41,825,172

Belgium: $40,989,810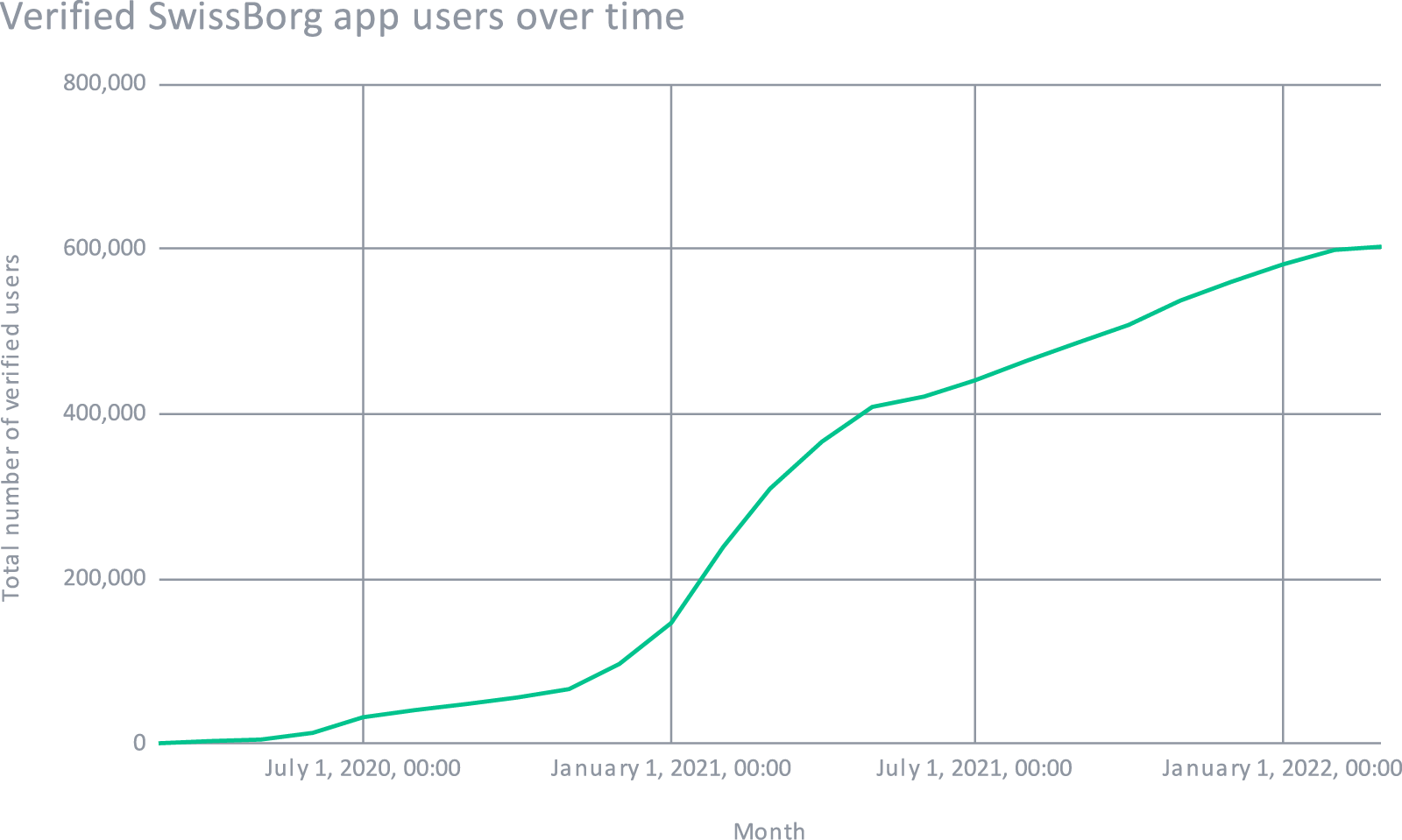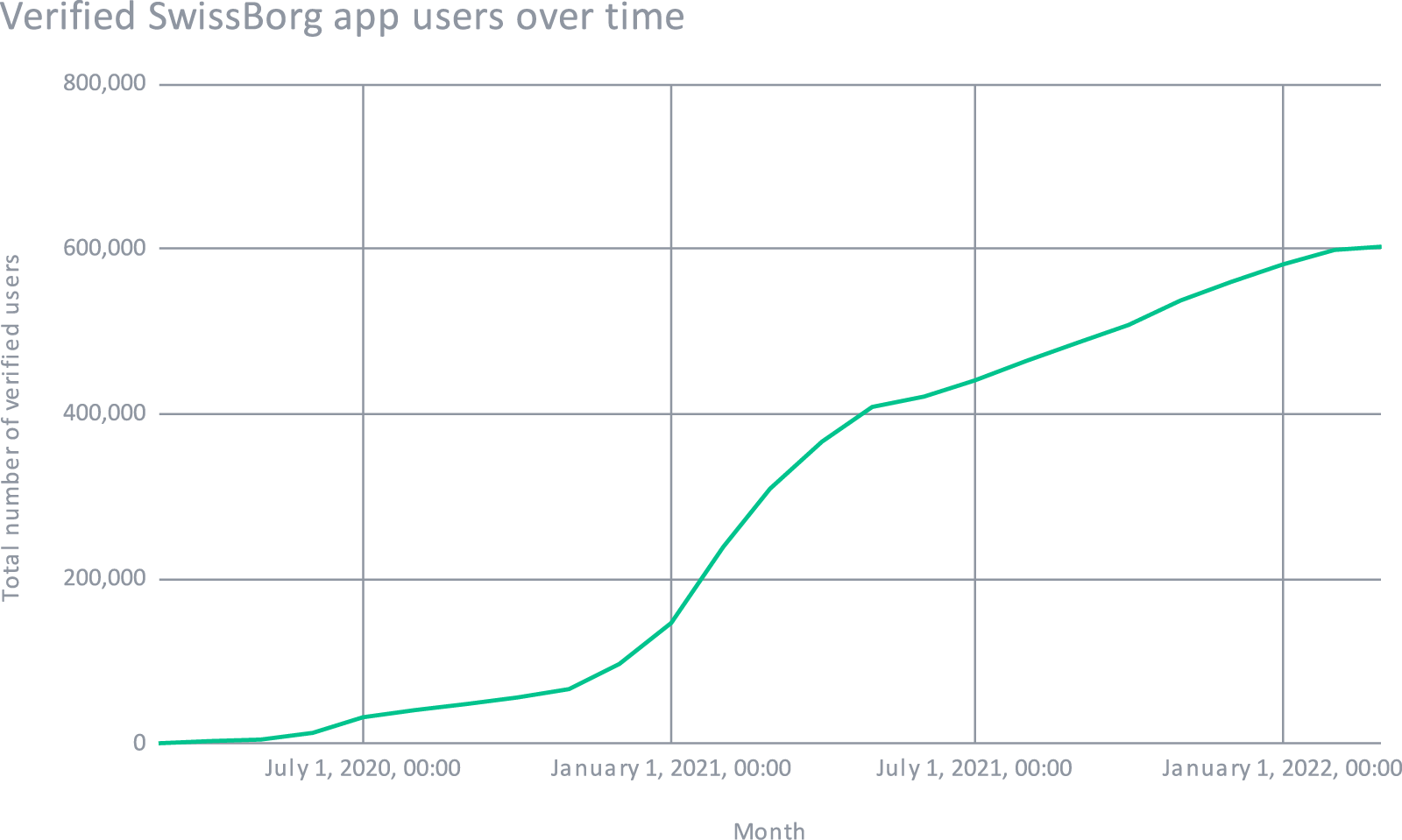 Our users were also rewarded as the community grew with the SwissBorg Rewards Program. By simply sharing the SwissBorg app with a friend, you, as well as your friend, get the chance to earn a CHSB prize valued from €1 to €100. The only prerequisites are your friend downloading the app and depositing €50.
Since the launch of the program, 183,700 reward tickets have been earned, with a total value of 1.8 million CHSB or €1.2 million.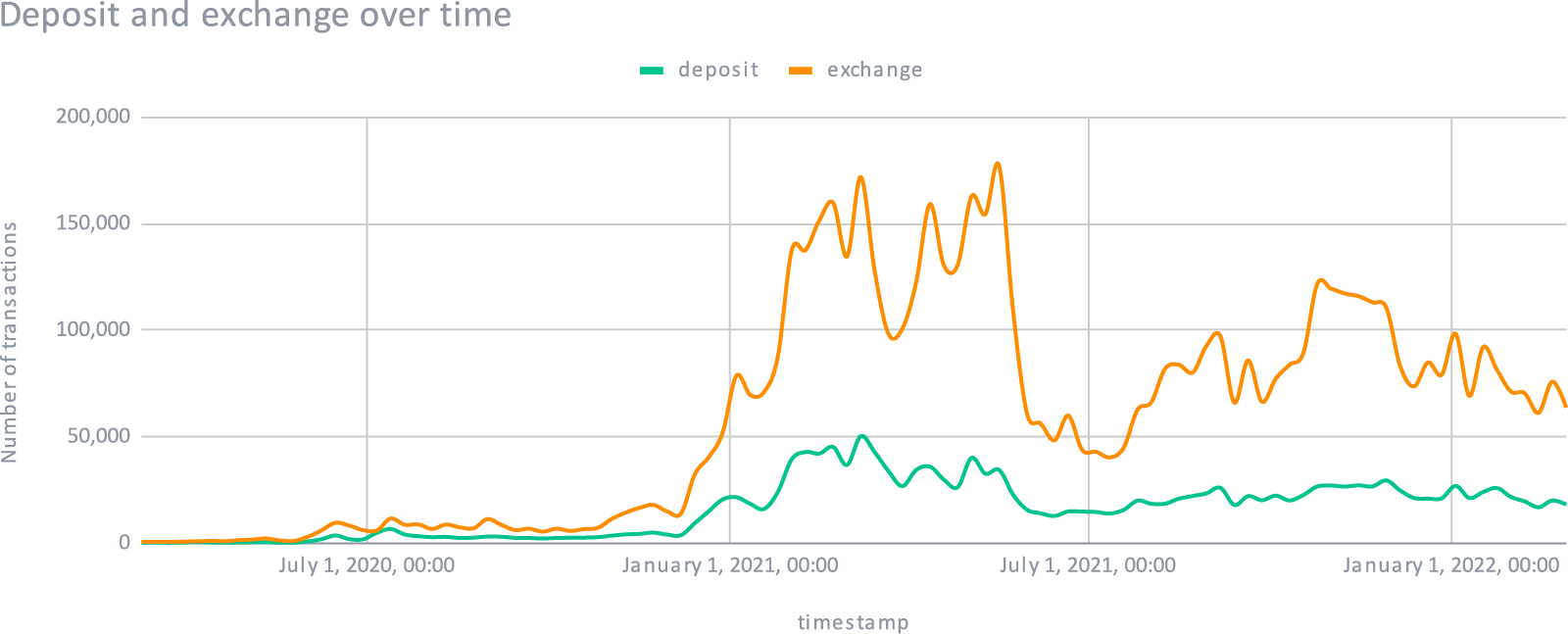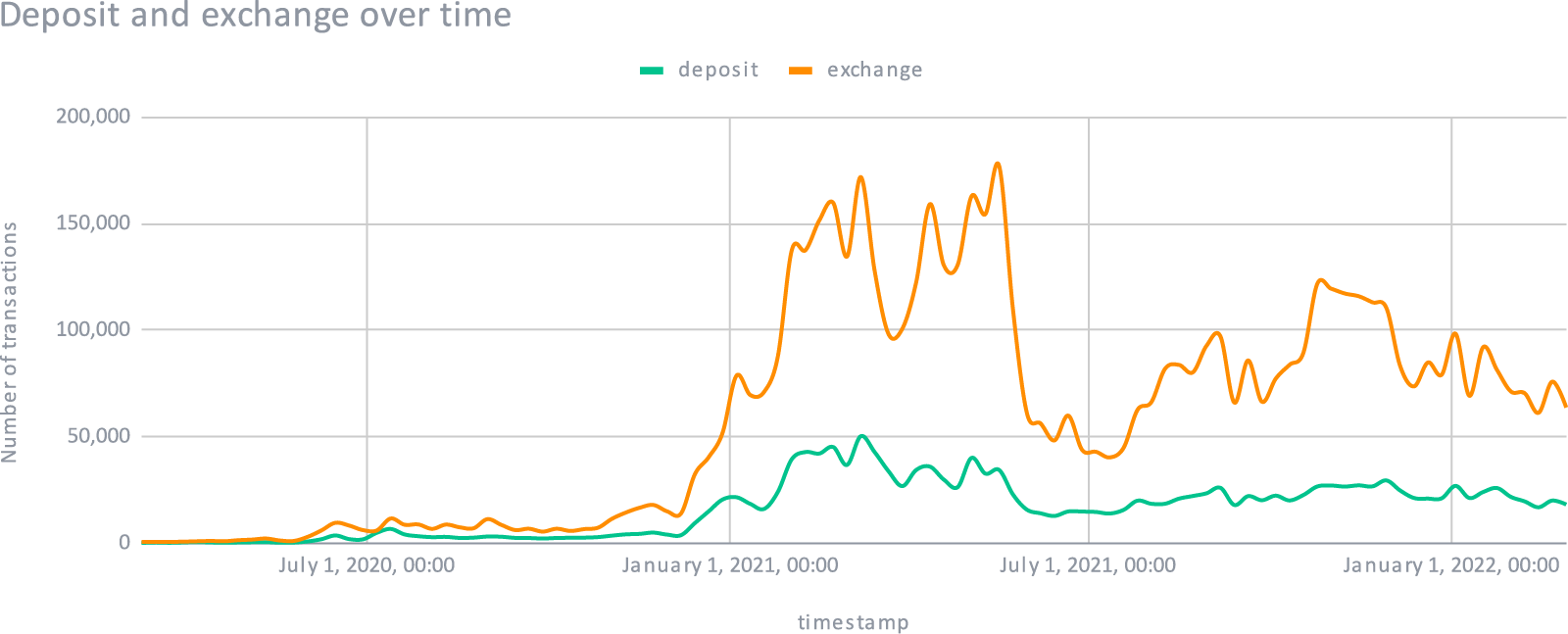 Our community members expressed their trust in the SwissBorg app by depositing a total amount of $3.5 billion and exchanging a whopping $9.9 billion! The record set for the amount exchanged in one week was $177,051.
Our incredible Smart Engine kept up with the demand, providing the best liquidity and rates by connecting users to Binance, HitBTC, LMAX, Kraken and Bitfinex exchanges. In the last year, the Smart Engine has facilitated over 6.2 million exchanges with a median processing time of 0.415 seconds. 
What have we built?
The team behind the SwissBorg app strives daily to bring new features, updates, and tokens that will help users manage their wealth. Over the past year, we brought many great things to the table. Here is a short recap:
New yield wallets
For anyone looking to earn a daily yield on their crypto in a secure way and the best yielding conditions available, our yield wallets are the right choice.
When the SwissBorg app turned one, we offered just two yield wallets - USDC Smart Yield and the CHSB Yield Program.
This year, we are proud to say that, along with the yielding options mentioned above, we offer seven other yield wallets. 
In the Smart Yield Program, we now also have USDC, BTC, ETH, BNB, XRP, USDT, MATIC, and EURT, with more tokens to come.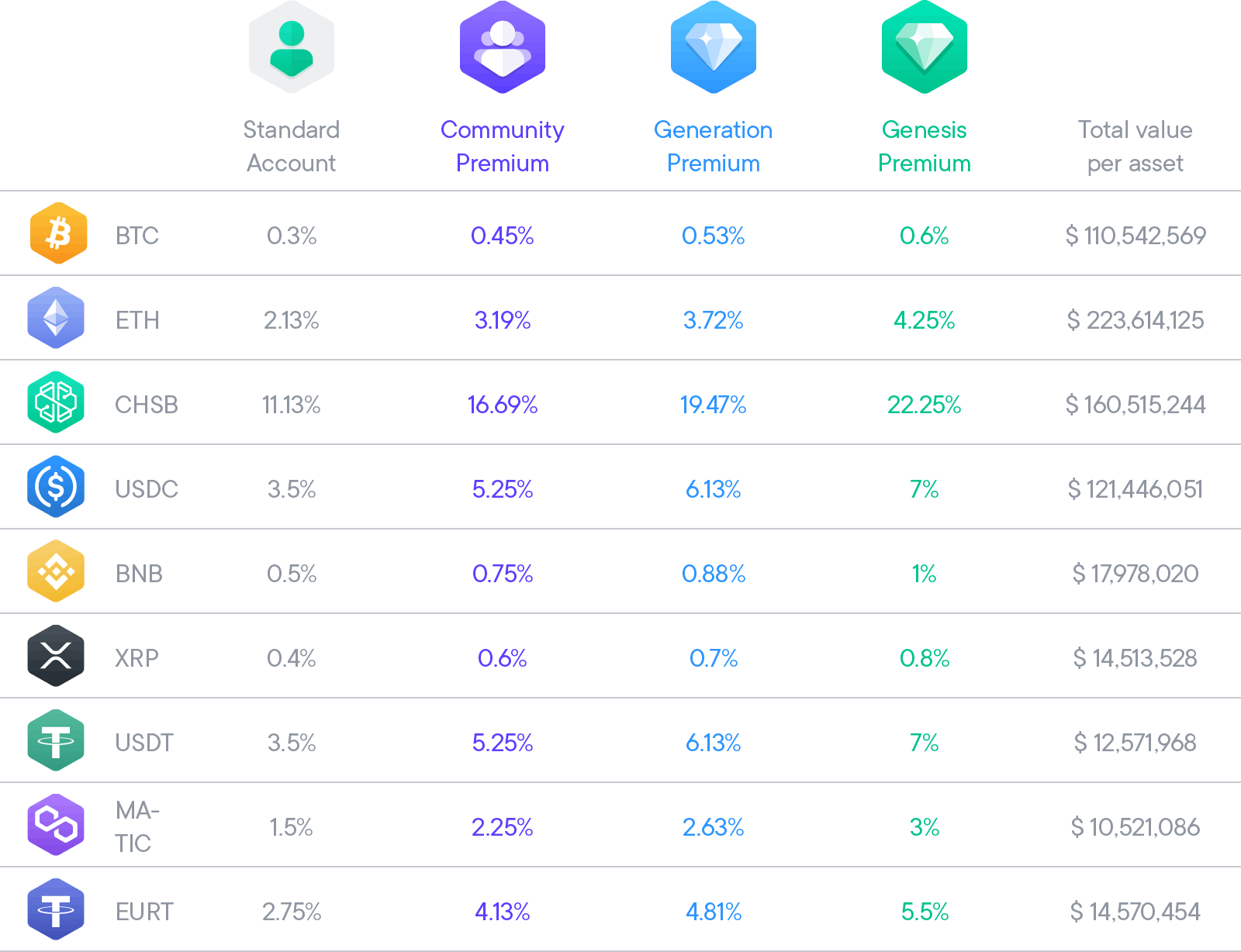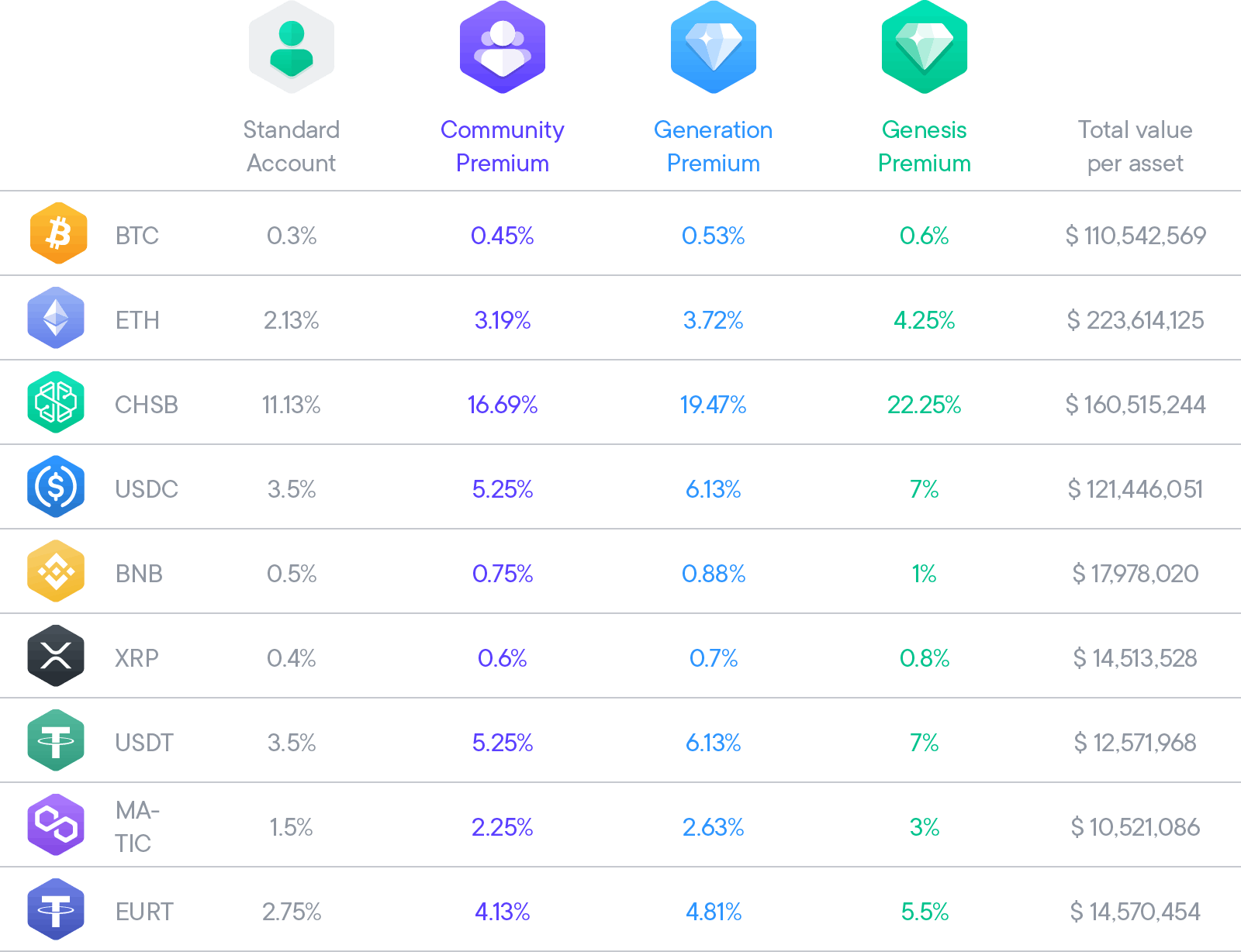 By constantly expanding and improving our Smart Yield program, we aim to make earning a yield on crypto an easy process with the best return for the lowest risk. 
Sounds too ambitious? We will let the current numbers speak:
Total value of assets in yield wallets: $0.7 billion

Total number of active yield wallets: 169,400+

Total value earned by users in crypto: $53.21 million 
New token listings
As the industry grows, it's only natural that SwissBorg follows suit by increasing the number of token listings within our app. Each new listing is carefully picked by following the latest industry trends and, most importantly, listening to the wants and needs of our community. 
To our Premium users who continue to show their support and commitment to the SwissBorg ecosystem and the CHSB token, we give the chance to participate in token listing votes and thus guide us in planning our roadmap.
The number of token listings has been steadily growing, with more coming very soon. Below, you can see the 21 tokens we added since our last birthday celebration:
HBAR

MIMO

GHST

SAND

MANA

UOS

OCC

AUDIO

EURT

DOT

LINK

CRV

BAT

GRT

MATIC

XRP

USDT

CHZ

UTK

UNI

IMX
CHSB Yield 2.0 
Without a doubt, one of our favourite projects released in the last year is the CHSB Yield 2.0. We don't say this only because it relates to our beloved CHSB token but because we believe it's truly something revolutionary that will enable CHSB holders to grow their wealth.
As you know, we are very determined to achieve our mission of democratising wealth management, and CHSB Yield 2.0 is one of the tools that will make that possible. 
CHSB Yield 2.0 has yield tiers designed to help users with smaller holdings grow and reward those with larger holdings over the long term. Why did we decide to take this route? Because we want to have an ecosystem that is healthy and benefits all its users. 
Smaller token holders get to boost their wealth and thus become part of Community Premium, giving them a 1.5X yield multiplier on their wealth and reducing the circulating supply of CHSB.
This reduction in circulating supply increases the token's value, which in turn, grows the SwissBorg ecosystem. Large token holders highly benefit from this as the value of their investments keeps rising in a growing ecosystem. 
Our data team has put a lot of work into making CHSB Yield 2.0 function the way it does. So, to make it more understandable for all of you, we put together this video:
The closure of Genesis Premium and the launch of Generation Premium
Besides changes in our features, yielding programs, and token list, we also implemented changes in our Premium account options. 
On February 1st, 2022, we closed the Genesis Premium account to all new users, which was intended to reward SwissBorg's earliest supporters. Users who had the Genesis Premium status up until the close date got to keep the status under the condition that they did not unlock their tokens. Unlocking the tokens would essentially lock them out of Genesis Premium and Genesis benefits.
Of course, we did not just take away one account without providing the community with something new. So we released Generation Premium - an account made for users who seek more than what our Community Premium account has to offer.
For those of you interested in learning more on this topic, we suggest checking out our article dedicated to changes for Premium.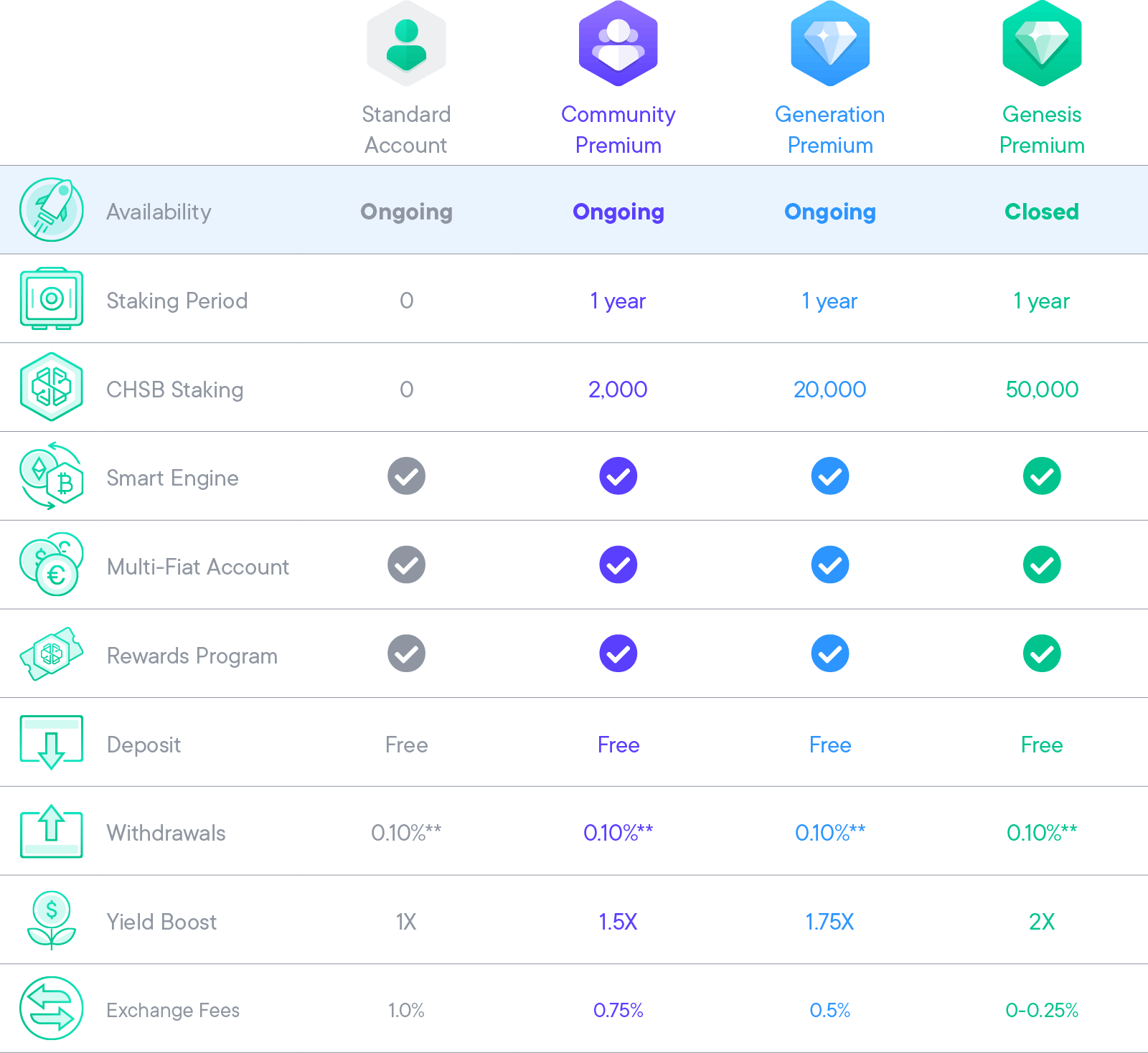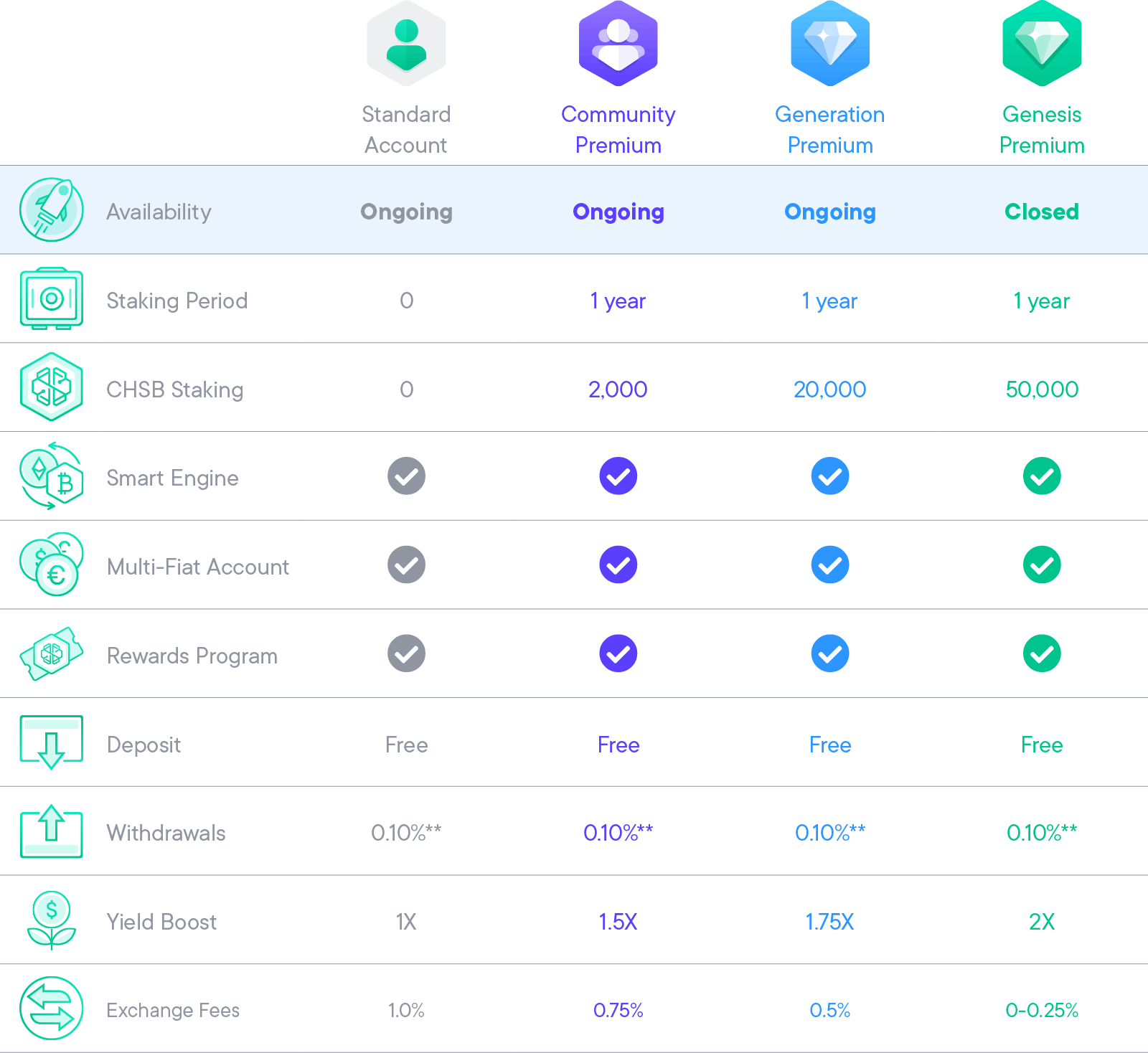 CHSB performance
The CHSB token, which is the very heart of our ecosystem, maintains stable price levels in volatile markets, and has continued to garner the interest of the crypto community.
The number of token holders in the last 12 months has almost doubled, serving as proof to us that more and more people recognise the true potential of CHSB.
We currently have around 128,958 CHSB token holders, and we expect that number to keep growing thanks to all additions we plan to implement in the ecosystem.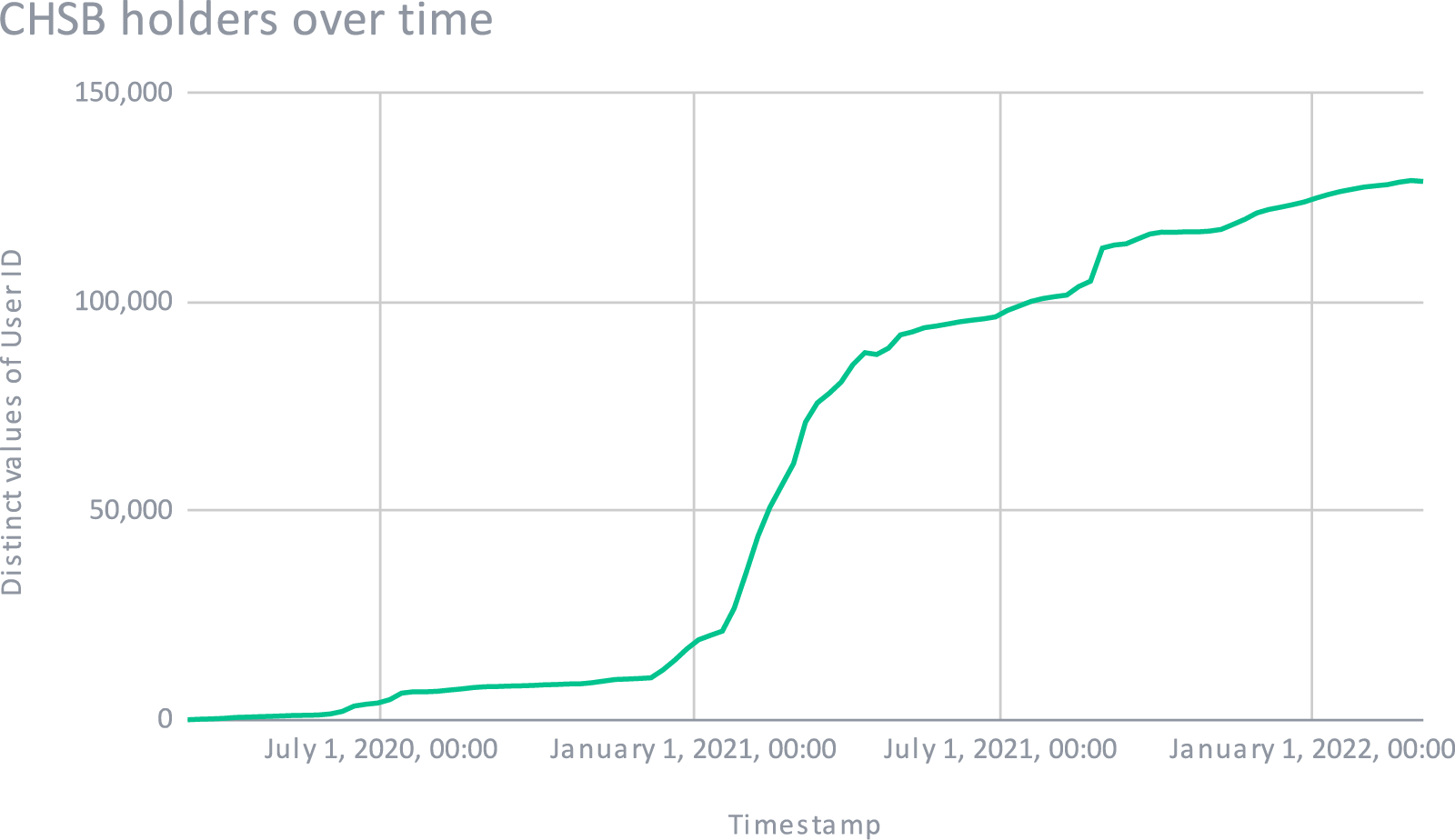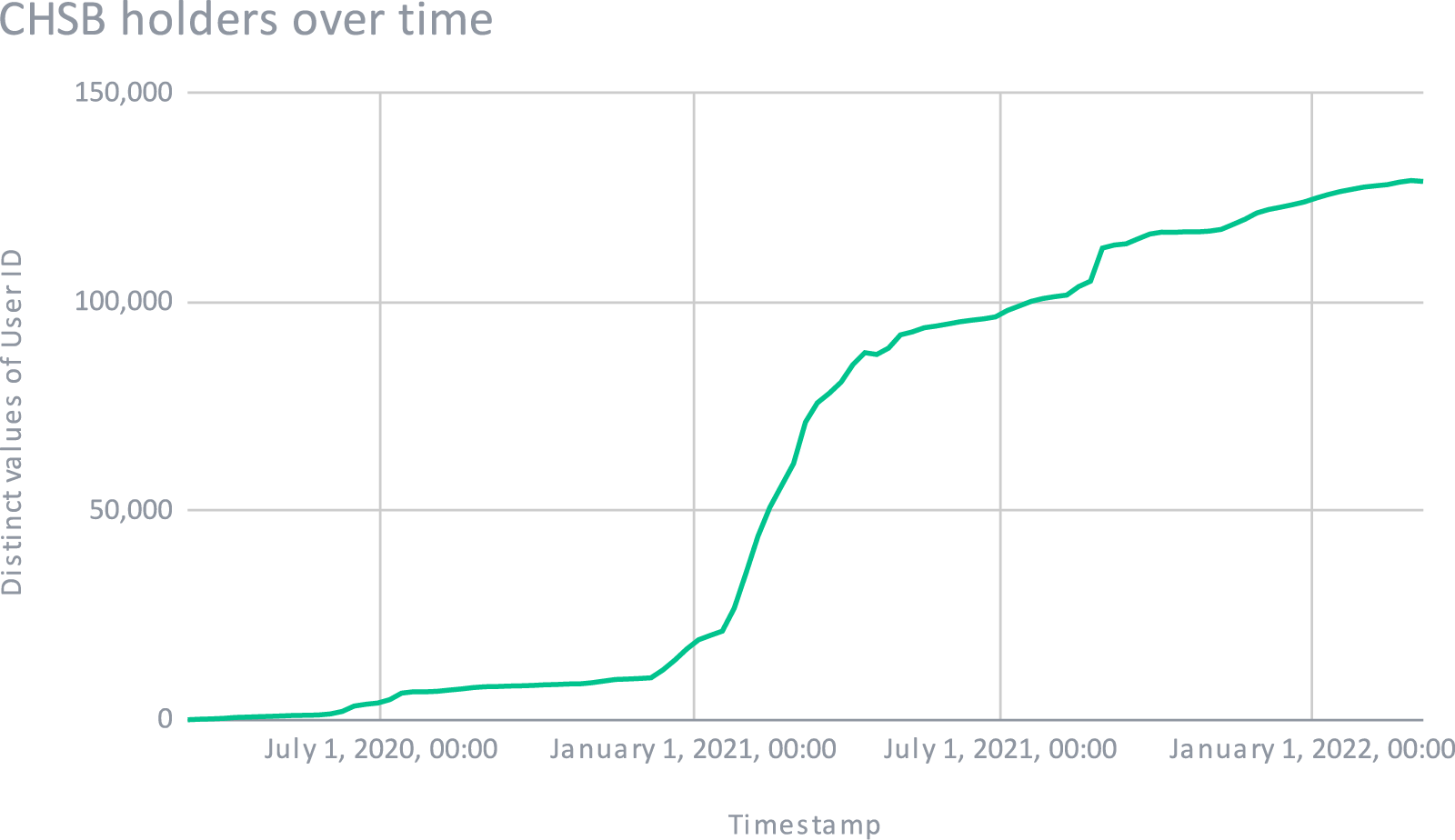 To be in the loop with how our token performs over time and what we do to protect it, be sure to check the CHSB performance metrics.
Premium users
We are happy to say that the number of Premium users is steadily growing and currently standing at 30,800+. Those Premium users are responsible for staking 187 million CHSB, which is 26.58% of the circulating supply.
The number of users in each of the Premium accounts is:
Genesis Premium: 5,503

Generation Premium: 227

Community Premium: 25,089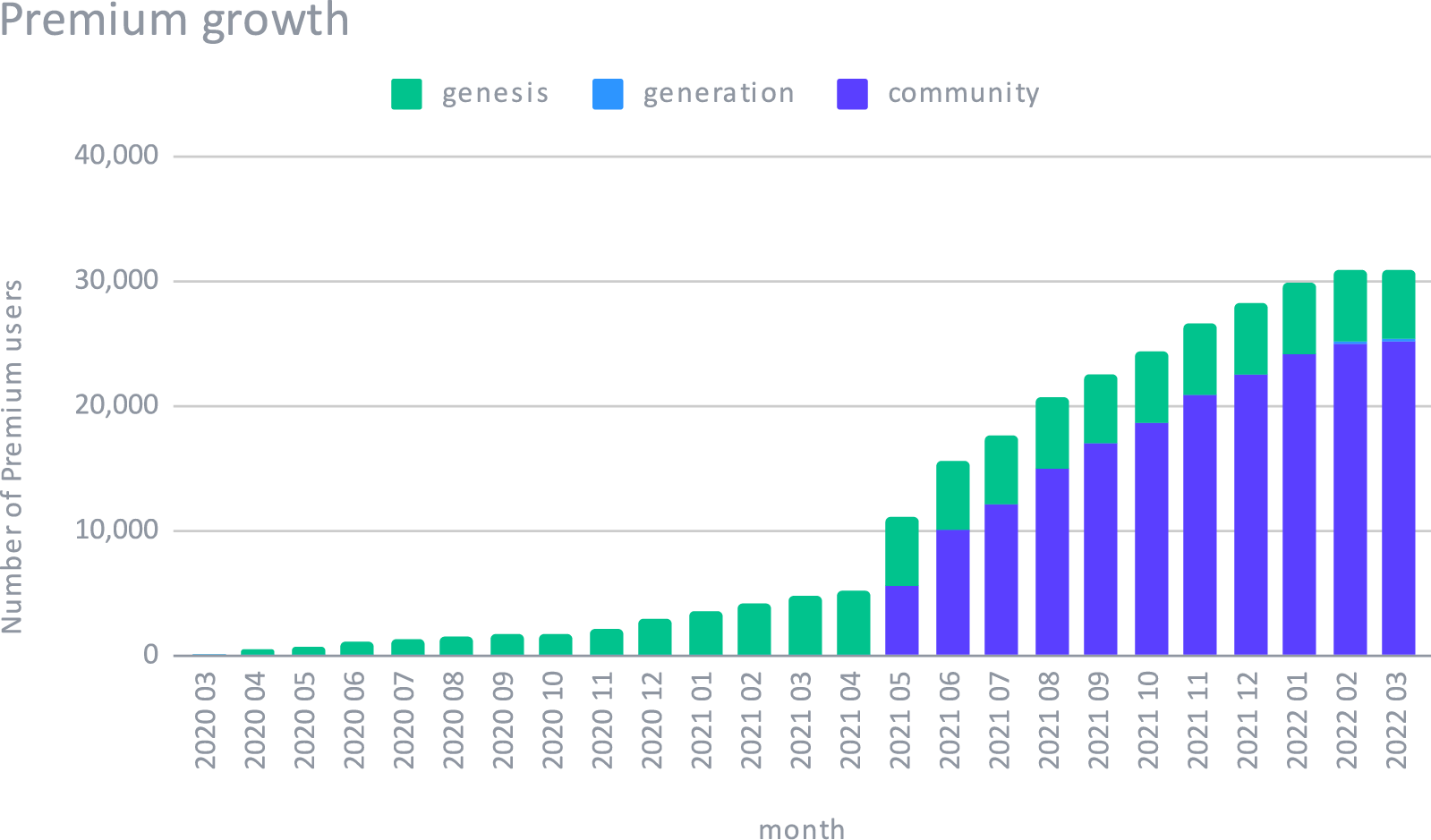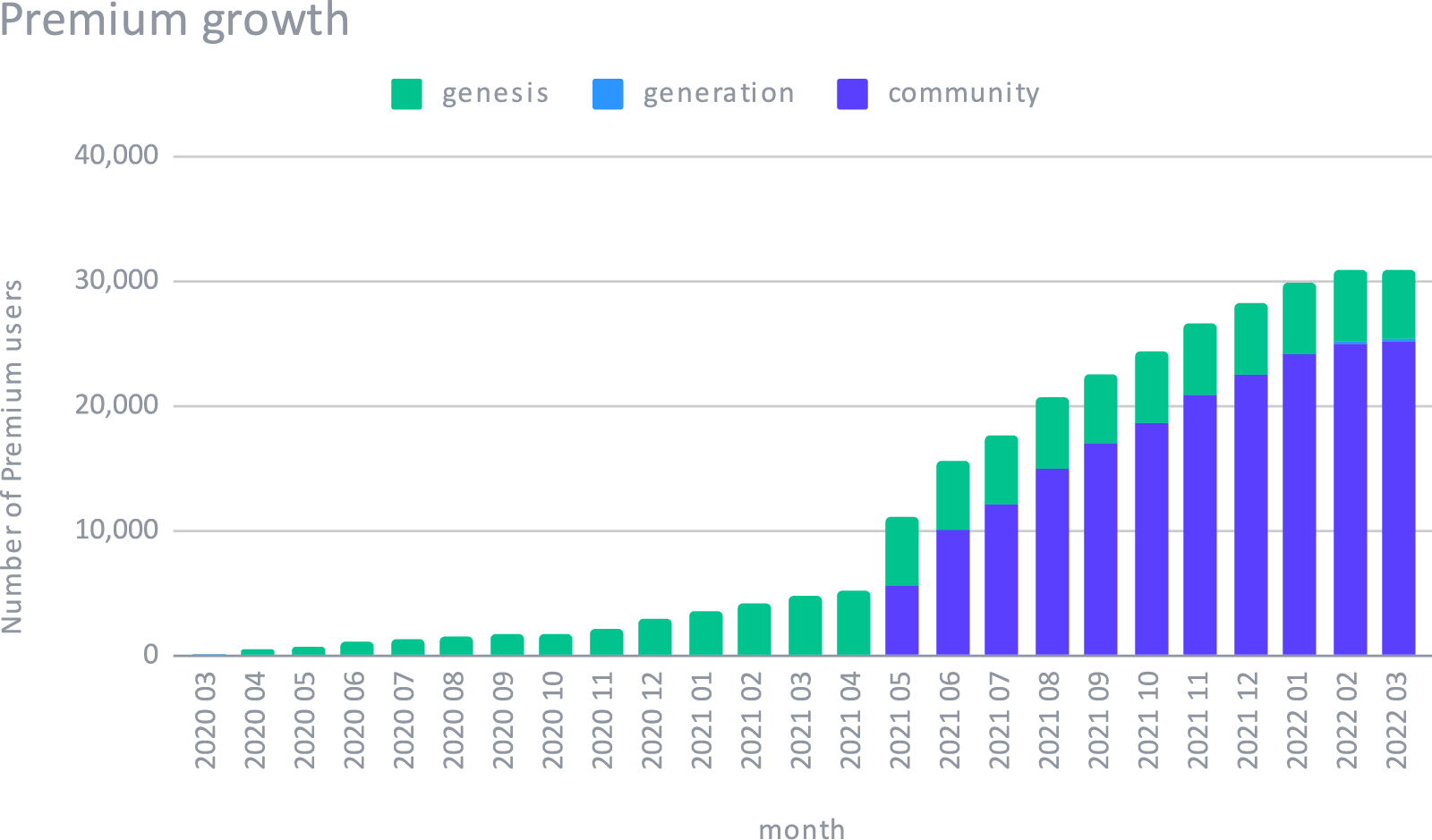 True indicators of the benefits our Premium users enjoy are the $47 million saved in fees and the total yield boost of $21 million.
With everything we have planned for the evolution of SwissBorg's Premium accounts, we will continue rewarding our loyal token holders and adding a range of perks and bonuses to the ones they already receive.
Where are we headed? 
The last year has been a period of tremendous growth for both our app and our team. With more things already in the works and plans to expand our team and community further, we are beyond excited to see what the next twelve months have in store for us. We are confident that in our next birthday celebration post, we will have even more reasons to be proud and hopeful to share with you.
If you are looking to learn more about it now, we invite you to follow our roadmap and watch the SwissBorg Annual Meeting 2022: