Nearly nine months ago, we announced some big changes to SwissBorg's Premium account options - first, the launch of a Community Premium account that would be more accessible for a wider range of community members. Second, the closing of our original Premium account - Genesis Premium.
Genesis Premium was intended to reward the early supporters of SwissBorg - many of whom held our CHSB token from our ICO through the crypto winter, believing in our token and team long before we had a product. For your support, we would like to say a big thank you!
And, as promised, we will be closing the Genesis Premium account on February 1st, 2022. 
What's next for SwissBorg's Premium accounts?
Our Product team is hard at work on the next evolution of SwissBorg's Premium accounts, which will offer options that are more tailored to you and your investment goals. Ultimately, your Premium account will act as your SwissBorg citizenship status, and will unlock a range of perks and bonuses.
This is a significant project and will be launched in the second half of 2022. Until then, we wanted to offer a new tier for those users who are looking for something more than our Community Premium account - Generation Premium!
Generation Premium will be available from February 1st, 2022. The account will be available for 20,000 CHSB and will offer a 1.75X yield boost and exchange fees of 0.5% on all tokens.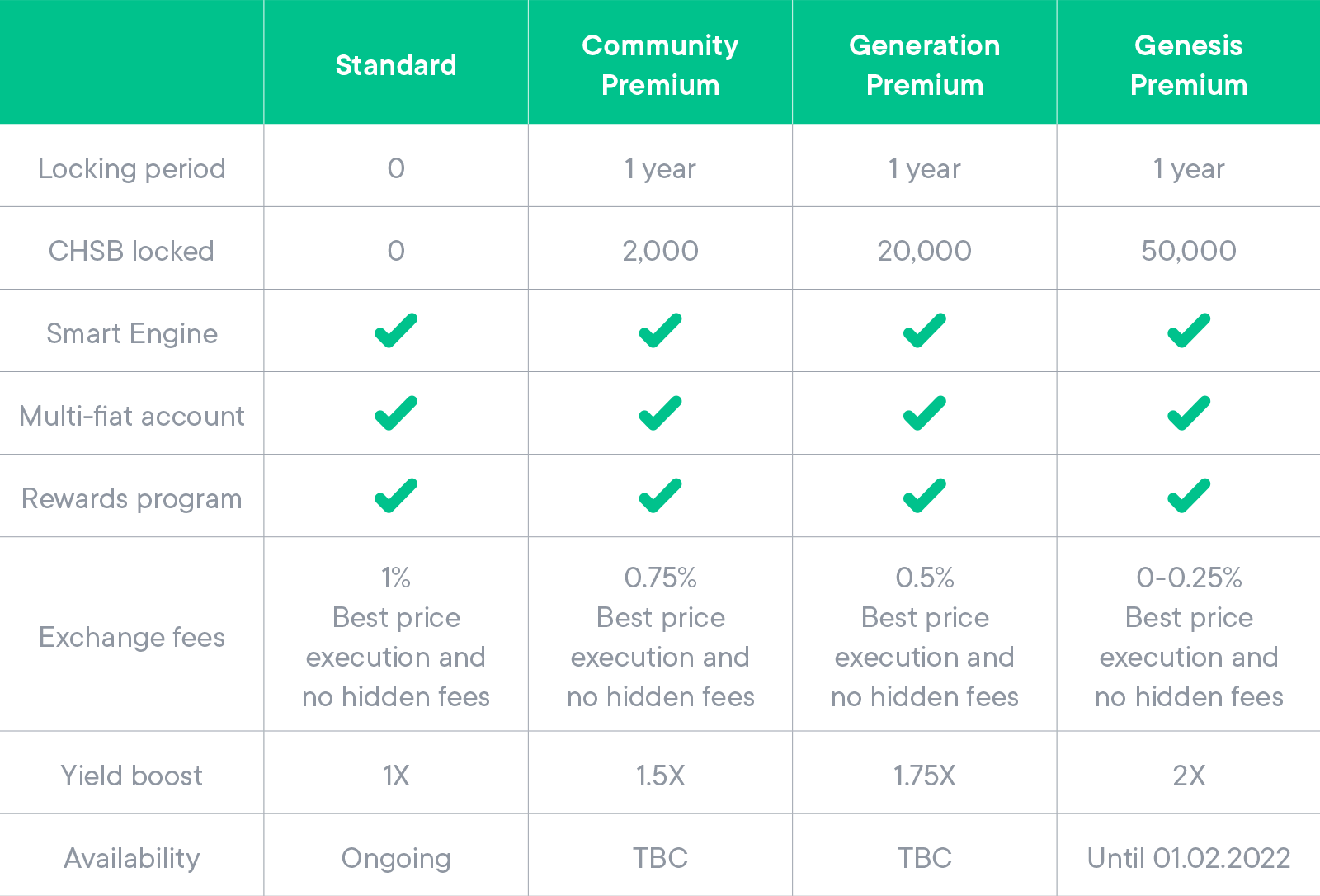 Comparative table of Premium tiers
* ICO contributors will continue to benefit from the ICO discount, with a price of 2,000 CHSB for Generation Premium.
We will also be revising the prices of these tiers on a quarterly basis to accommodate changes in the market and to ensure every community member is locking a fair value for their benefits.
What will happen to Genesis Premium?
From 1st February 2022, Genesis Premium will be closed to all new users. If a current Genesis Premium user unlocks their tokens, they will never be able to rejoin Genesis Premium or get Genesis benefits. (This also applies to ICO members with a Genesis Premium account.)
All users who hold on to their Genesis Premium status until the close date will be rewarded with their unique NFT in February. They will also continue to receive the following benefits:
2X Yield boost on all yield-earning tokens in the SwissBorg app
Fees as low as 0% on exchanges 
20M CHSB Genesis Safety Net
We've also been working on a range of new features to be released in 2022. We don't want to spoil all the surprises just yet, but here's a sneak peek of what's to come:
Future NFTs that will unlock new benefits in the app
Exclusive access to IFOs/higher IFO rewards
Early access to thematics, and potential Genesis-only thematics
First in line for future token airdrops
VIP access to live events, like SwissBorg keynotes
And much more! 
2022 is shaping up to be a big year, and we have a roadmap to double the SwissBorg team so we can continue to build the best features to help you take control of your crypto wealth. Our Genesis Premium users will always get the biggest benefits available and we hope you are as excited as we are!