Protect & Burn is evolving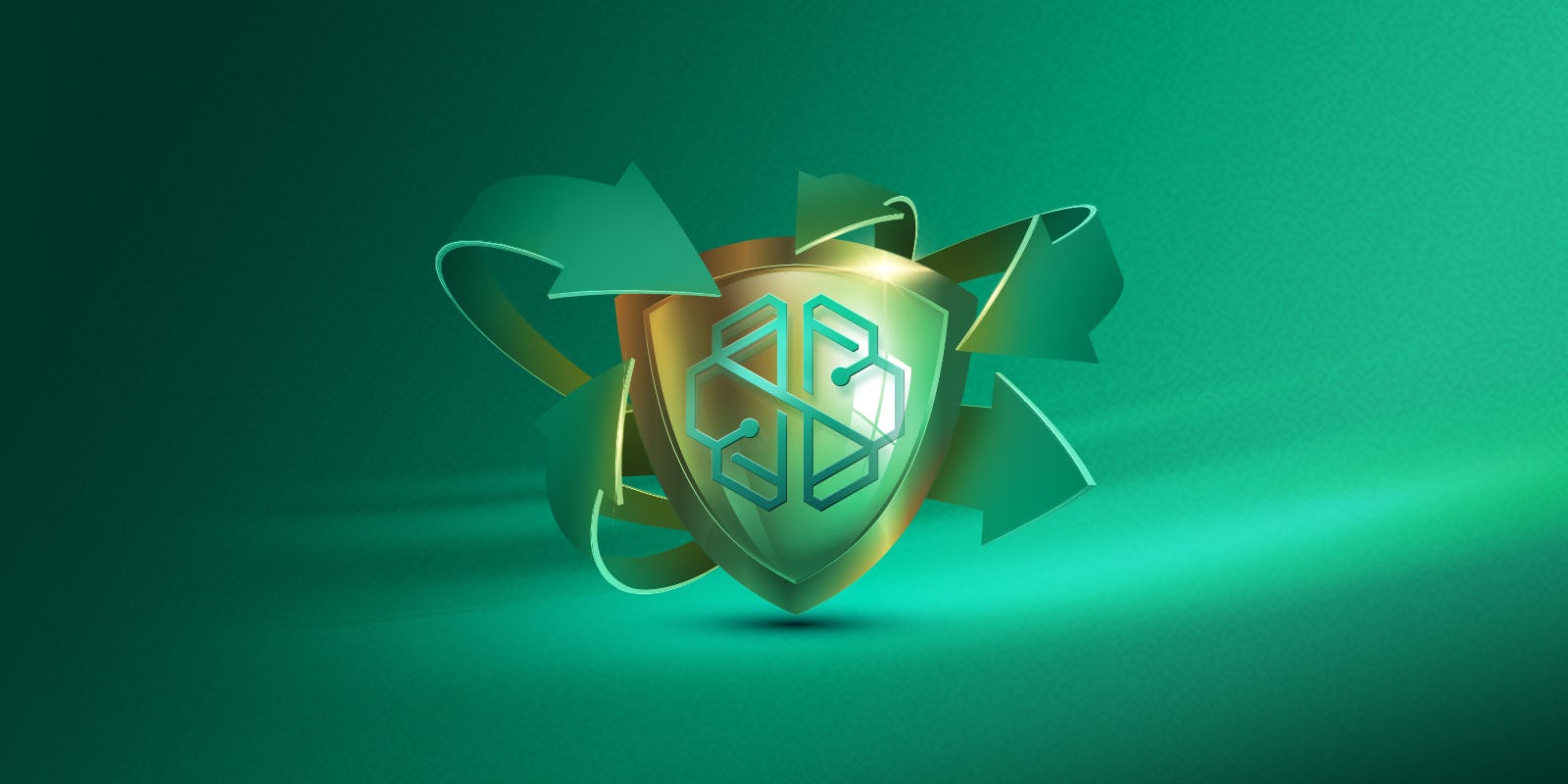 Bastien Muster
Chief Analytics Officer
The CHSB Yield 2.0 has come to a close. For the latest updates, please refer to this page. Thank you for your participation!
In 2020, SwissBorg launched the Protect & Burn program, which built on the more traditional 'buyback and burn model'. Now we are excited to share that Protect & Burn is entering its next stage of evolution - one where our CHSB token holders will have a voice in how tokens are used.
What is Protect & Burn?
If you're new to SwissBorg, Protect & Burn is a program where SwissBorg reserves 20% of exchange fees generated in the SwissBorg app and uses these to buy tokens on the market, and permanently remove them from supply.
Traditional buyback and burn mechanisms tend to run on a periodic basis - which makes them vulnerable to speculators who buy the token before the buyback takes place only to sell once the price goes up. By contrast, the Protect & Burn mechanism only bought back tokens when the price of CHSB moved into a bearish zone. This not only made it more difficult for speculators to take advantage of (thereby rewarding long-term CHSB holders), but it also meant we were supporting the price of CHSB when it was most necessary.
Unfortunately, after nearly two years of following this model, we encountered some challenges.
The challenges of Protect & Burn
We ran our first token burn in May 2020, and for the next year, the Protect & Burn results were very positive.
In the week following 77% of burns, CHSB's price increased. We burned more tokens than we would have if we followed a periodic burn schedule. And the mechanism appeared to be building a strong price support over time
Following May 2021, though, the market conditions changed. In the previous year, the crypto market had experienced a massive bull run - especially from November 2020 to March 2021. In the summer of 2021, though, the market lost 50% of the gains it had made, and since then the market has been moving sideways - with many tokens ranging between their previous all-time highs and the lows of June and July 2021.
We continued burning throughout this period, with another six burns from June until the end of the year. And, having burnt in both bullish and sideways market conditions, we made a key observation:
If the entire market is crashing or ranging, the Protect & Burn mechanism isn't enough to break CHSB free from those trends.
This meant that, the ideal scenarios for the Protect & Burn program were:
Bullish markets, where CHSB was falling

Bullish markets, where CHSB was ranging

Ranging markets, where CHSB was falling
Bearish or ranging markets where CHSB was also in a bearish trend or ranging, where markets where the Protect & Burn mechanism was simply not effective.
We have been experiencing these markets for several months now, which gave us two options. First, we could continue with the Protect & Burn program, even though we knew it wouldn't have a meaningful impact (which would be the equivalent of throwing money away for no benefit). Or second, we could try something new.
We decided to try something new.
A more community-centric Protect & Burn
The Protect & Burn program has two components - 'protect', which involves buying back CHSB, and the 'burn', which involves removing the tokens from supply.
We still believe the 'protect' part has a lot of value and it makes sense to continue contributing 20% of exchange fees towards this. However, there is the potential to use the burn more effectively, and to get our community of token holders involved.
So the program will become a Protect & Choose program. Simply:
SwissBorg continues to perform the buyback with 20% of fees, periodically and in the optimal market conditions to support the price.

Every quarter, we will have a community vote on what we should do with this pool.
First, token holders will be able to choose:
Should the tokens be burnt? Yes or no

What percentage of the tokens should be burnt
If most holders vote not to burn, or not to burn all the tokens, there will be a third question on what should be done with the tokens, where you will be able to choose between options proposed by the SwissBorg team. (This includes a majority 'no' vote on token burning, as well as a majority 'yes' vote with the average percentage proposed being less than 100%.)
Depending on market conditions and opportunities, some examples of the options you might be able to choose between are:
Boost CHSB Yield 2.0: These tokens would go to the community by boosting the CHSB Yield budget and increasing the yield.

Offer a yield for Premium tokens: Tokens would be used to pay a yield on the tokens staked to become Premium for the next quarter.

Use in DeFi: The tokens will be used to expand our ecosystem in the DeFi space (liquidity pools, borrowing, etc.).

Invest in the SwissBorg DAO: These tokens would be given to the SwissBorg DAO treasury for DAO projects and development.

Boost the SwissBorg app Rewards program: The pool would be used to increase average Reward Tickets rewards for the next quarter.

Hodl bonus for CHSB yodlers: Users who hold tokens in CHSB Yield 2.0 without removing them will earn a bonus yield.

Fund CHSB listings: The pool will be used to pay to list CHSB on more tier-one exchanges.
The options proposed will be ones that will have a higher value than burning the tokens at the time of the vote.
Like the Premium token vote process, token holders will benefit from a multiplier depending on their account status. The multipliers are:
Standard users: 1x voting power

Community Premium users: 2x voting power

Generation Premium users: 4x voting power

Genesis Premium users: 6x voting power
This scale will help ensure their commitment to the CHSB token is being considered throughout the voting process.
What happens while the pool is growing?
While we'll be holding votes once every three months, that doesn't mean we won't be using this time wisely! Before we buy back CHSB tokens, we will be converting the Protect & Choose pool into stablecoins and adding them to Smart Yield wallets. 
This adds a multiplier effect to the token pool (20% of exchange fees + annual yield), meaning that when it is time to vote, the pool will be even larger!
When will Protect & Choose start?
In Q2, we will put the current Protect & Burn pool into Smart Yield to begin growing the pool, and we will perform buy backs throughout the quarter, with the objective of using the entire pool by the end of Q2. 
At the end of Q2, we will then open the first Protect & Choose voting around! In the first week of July (once Q2 has ended), we will email all CHSB token holders who are subscribed to SwissBorg's emails with a link to a typeform to make the first vote.
At this time, we'll also include some thoughts from our team about how we think the tokens could be used based on the current market conditions.
Want to have your say? It's simple! 
If you aren't already a CHSB token holder, you can become one by investing in CHSB using the SwissBorg app. 
If you are a CHSB token holder but have unsubscribed from marketing emails, you can resubscribe by:
Finding an old marketing email in your inbox and clicking "manage your preferences" in the footer

Visiting this page (https://swissborg.com/newsletter-resubscribe/) and entering your email address. If it is marked as unsubscribed, a link will appear with instructions to resubscribe.