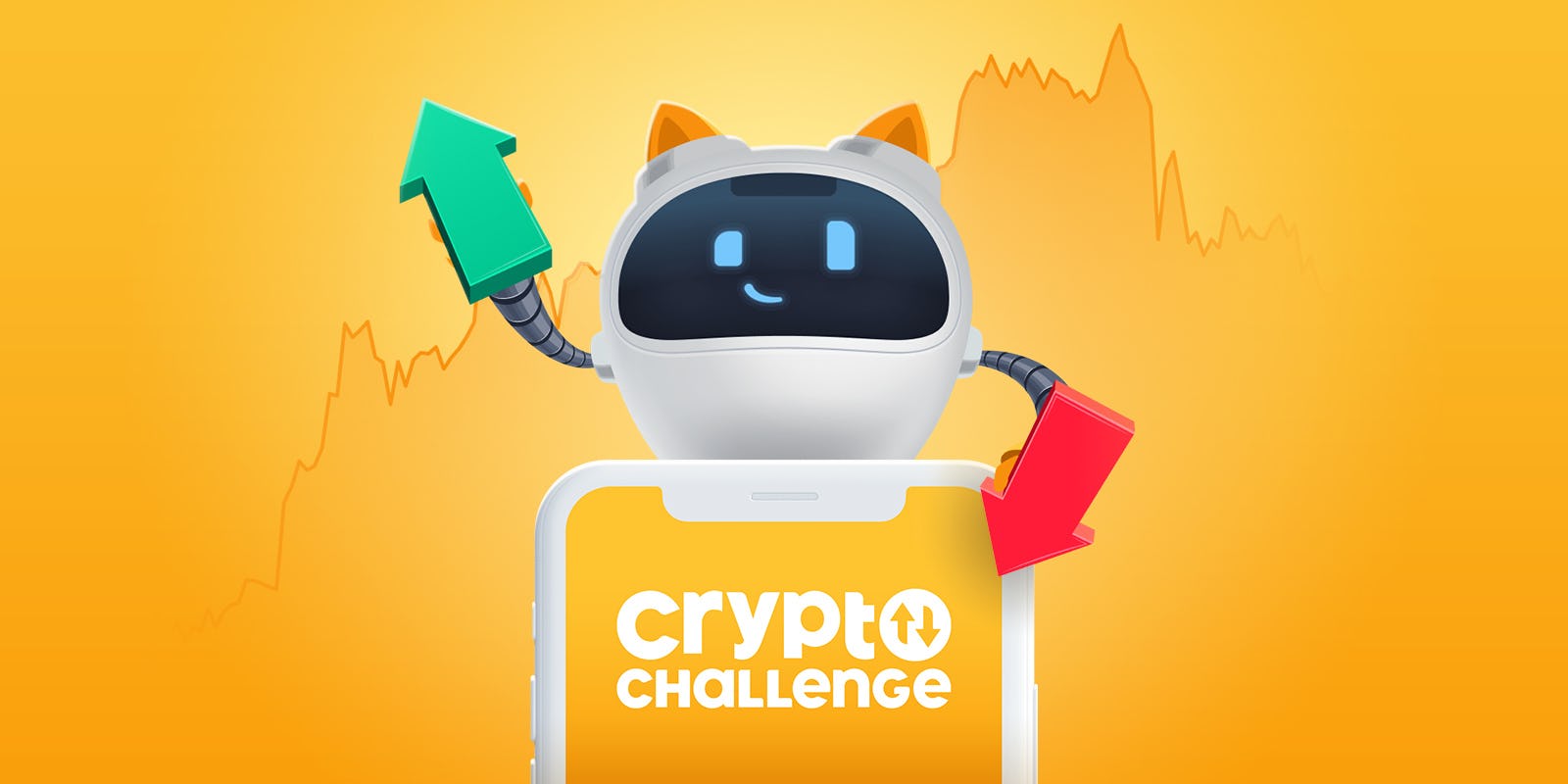 Jami
Social Media and PR Specialist
After several months of hard work, we're thrilled to announce that Crypto Challenge is finally here! 
SwissBorg's mission is to make the crypto space fun, fair, and community-centric. That is why, in 2019, we launched the Community App game. At that time, it was perfectly aligned with fulfilling the "fun" component of our mission. However, after launching the SwissBorg app in 2020, we decided that the Community App needed an identity of its own. 
The new Crypto Challenge app has a sparkling new mobile app and website. We've changed the face of the game to give it a new life and personality. Crypto Challenge has its very own mascot, who was named Soonie by our community members at @CChallengeSBorg on Twitter. 
The app is a fun, easy-to-use, and free game that allows users to learn about Bitcoin without spending a cent. Simply, the app lets users predict whether the price of Bitcoin will go up or down in the next 24 hours. and choose the number of points they are willing to risk. The more points they earn, the higher their rank and the higher their chance to win Bitcoin.
It is a pedagogical and safe way to enter the space or improve your insight into this fascinating and volatile market. 
While the Community App had a competition timeframe that ran for over two years, one of the exciting new features of Crypto Challenge is monthly competitions with rewards paid to the top 1,000 players. The app is integrated with the SwissBorg app, where users who hold an account in a country where the SwissBorg app is available, will be able to claim their rewards directly in the SwissBorg app.
The Community App met with much success, onboarding over 300,000 players from over 110 countries who, combined, made over 7 million forecasts of the BTC price. 
Crypto Challenge is excited to welcome old and new players to predict the price and earn free BTC. 
Hall of Fame winner? Here's how you can claim your rewards
As a Hall of Fame winner, you have also won a discounted Premium account:
Standard users - go Community Premium for 1 CHSB (instead of 2,000 CHSB)

Existing Community Premium users - keep your status for 1 CHSB (instead of 2,000) CHSB

Existing Genesis Premium users - keep your status for 48,000 CHSB (instead of 50,000 CHSB)

ICO contributors - get Genesis Premium for 3,000 CHSB (instead of 5,000 CHSB)
To claim your discounted Premium account, first, you will need to claim your badge rewards from the Crypto Challenge app. If you are already a Premium user, you will be able to cancel your existing Premium membership, and can then sign up for a Premium account at the lower price. Please see when and how can I claim/withdraw my rewards?
Once you have claimed your rewards, the SwissBorg team will be able to link your SwissBorg app account to your Crypto Challenge account and will update the Premium levels available to you.