Happy Birthday to the SwissBorg app!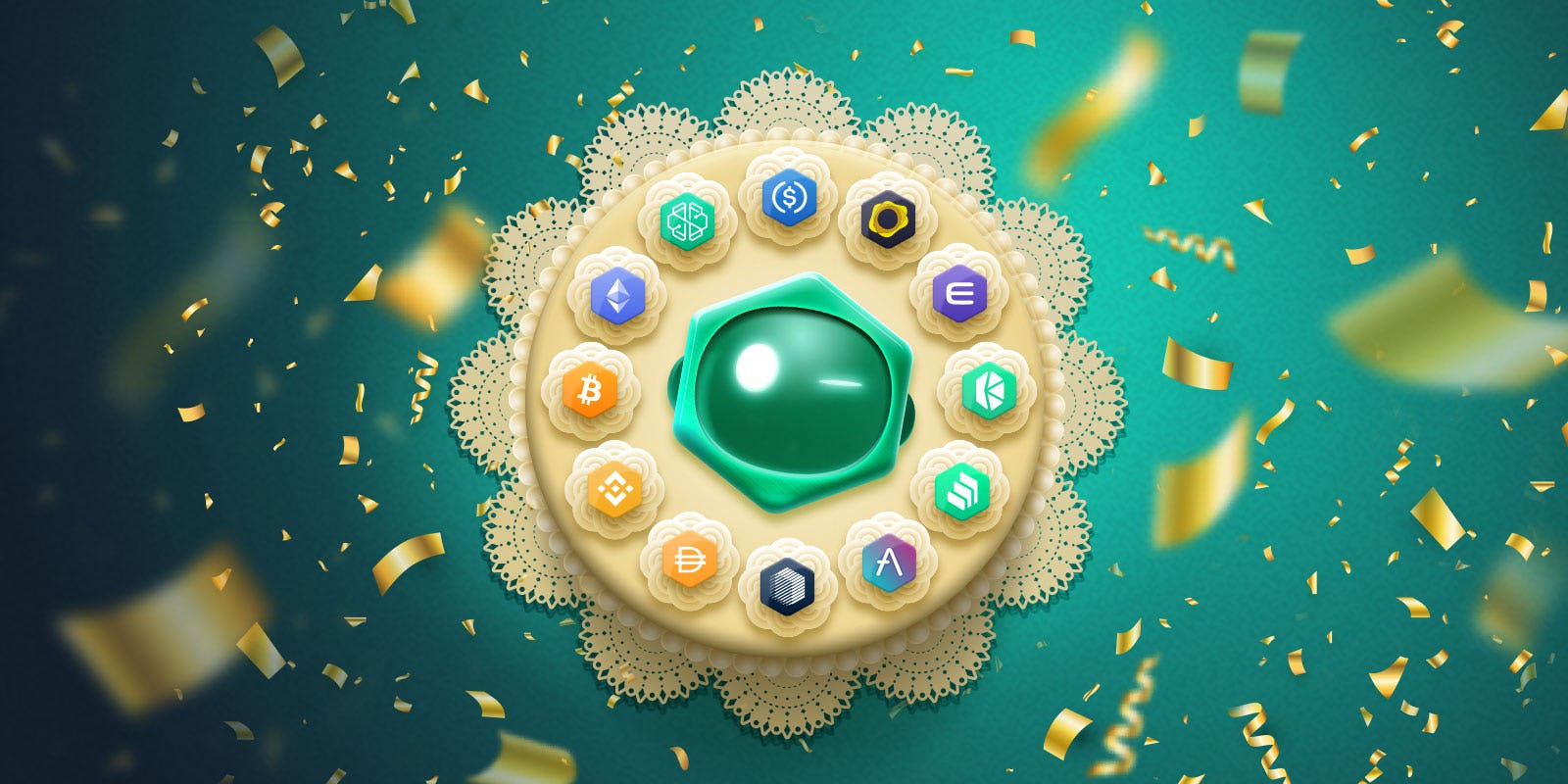 Jacqui Pretty
Head of Marketing
The CHSB Yield 2.0 has come to a close. For the latest updates, please refer to this page. Thank you for your participation!
Today it has been one year since we launched the SwissBorg app to our first 130 users in Switzerland. Now we have over 280,000 users in over 100 countries and our CHSB token has skyrocketed by over 8,600%!
Over the past year, we have worked every day towards our mission of democratising wealth management by making it fair, fun and community-centric. Today we are excited to be yet another year closer. Thank you to every member of our community who has believed in us - we are excited to continue building this new future together!
Who's using the SwissBorg app?
In the past year, the community using the SwissBorg app has grown to 281,556 verified users from 107 countries, with over $1 billion in assets under management!
Our largest user communities are:
France: 80,029

Great Britain: 54,699

Switzerland: 29,930

Belgium: 12,425

Italy: 11,358

Poland: 10,674
Or, if we consider assets held within the app:
Switzerland: $360,188,455

Great Britain: $165,854,040

France: $162,318,340

Japan: $67,624,225

Germany: $46,570,206

Netherlands: $38,122,794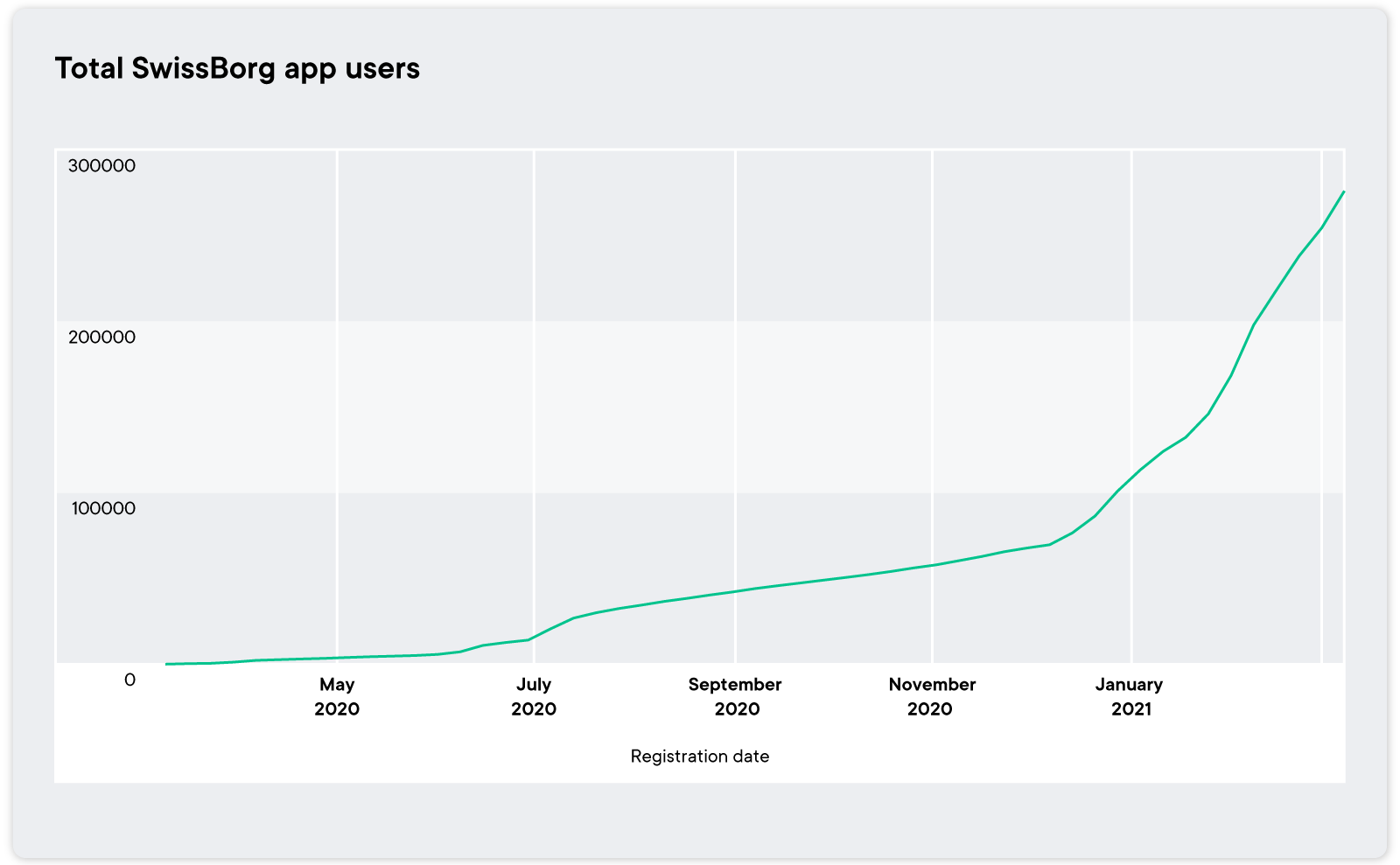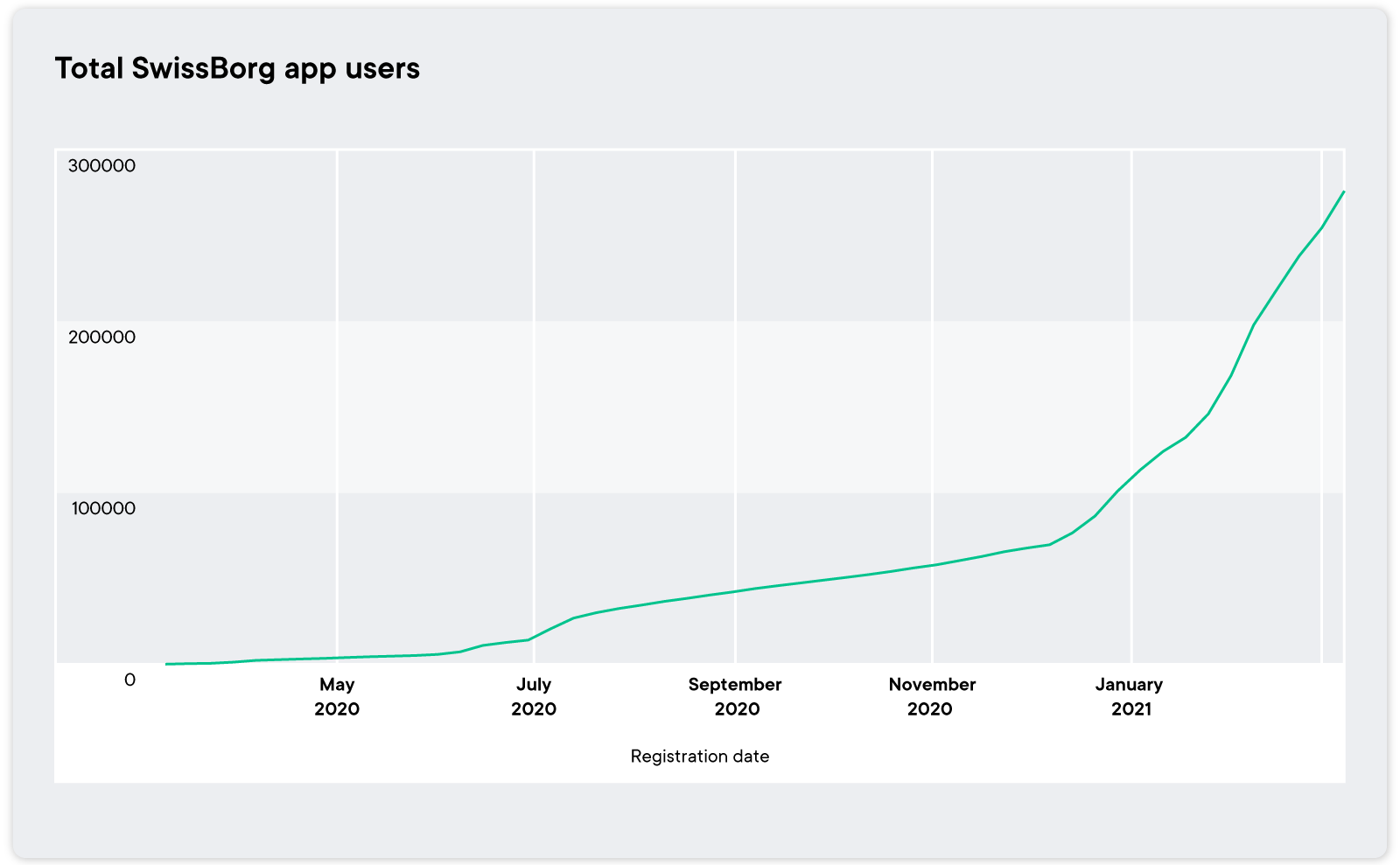 Our community members have deposited a total of $326,371,648 and exchanged over $2 billion! The weekly record for exchanges was 168,549.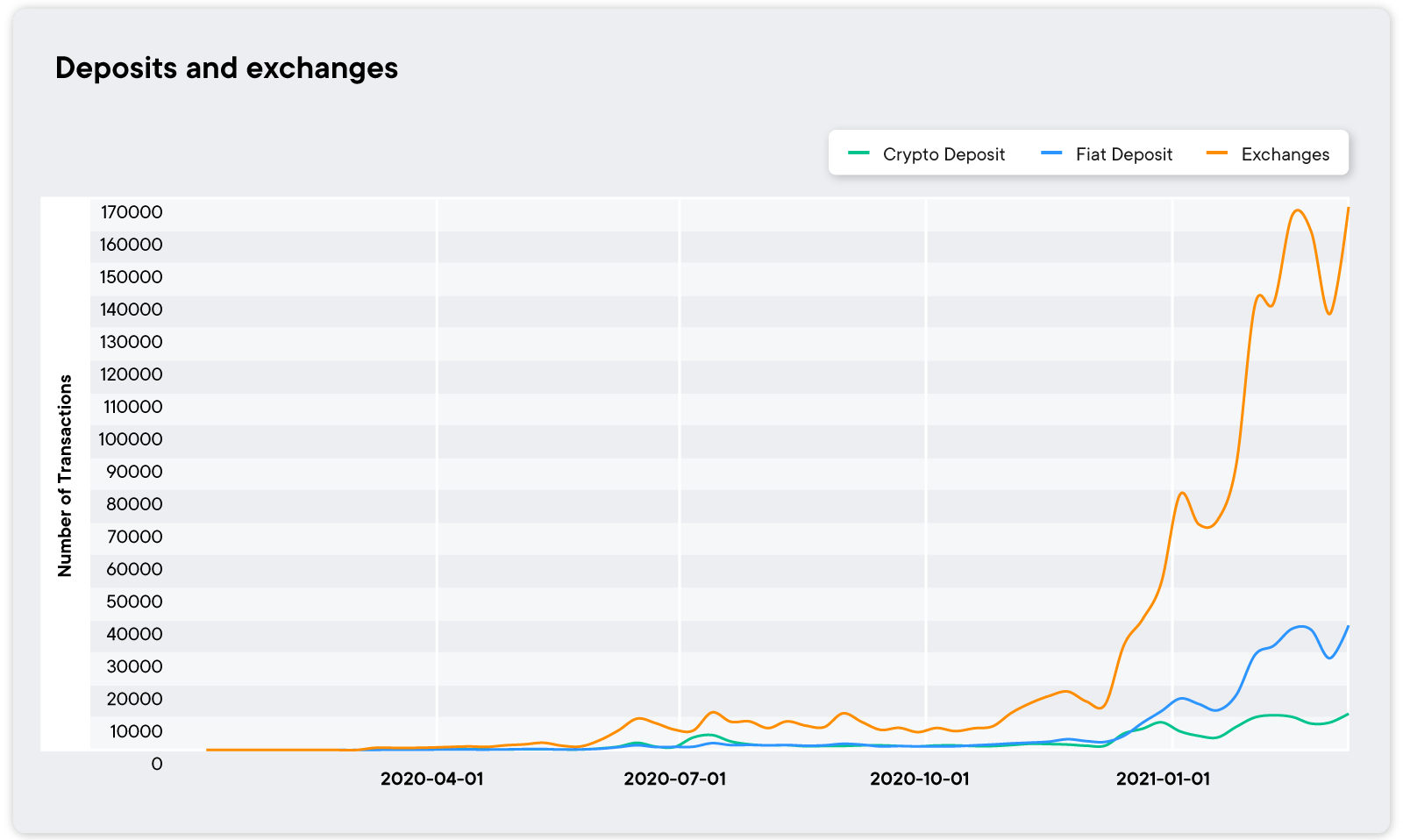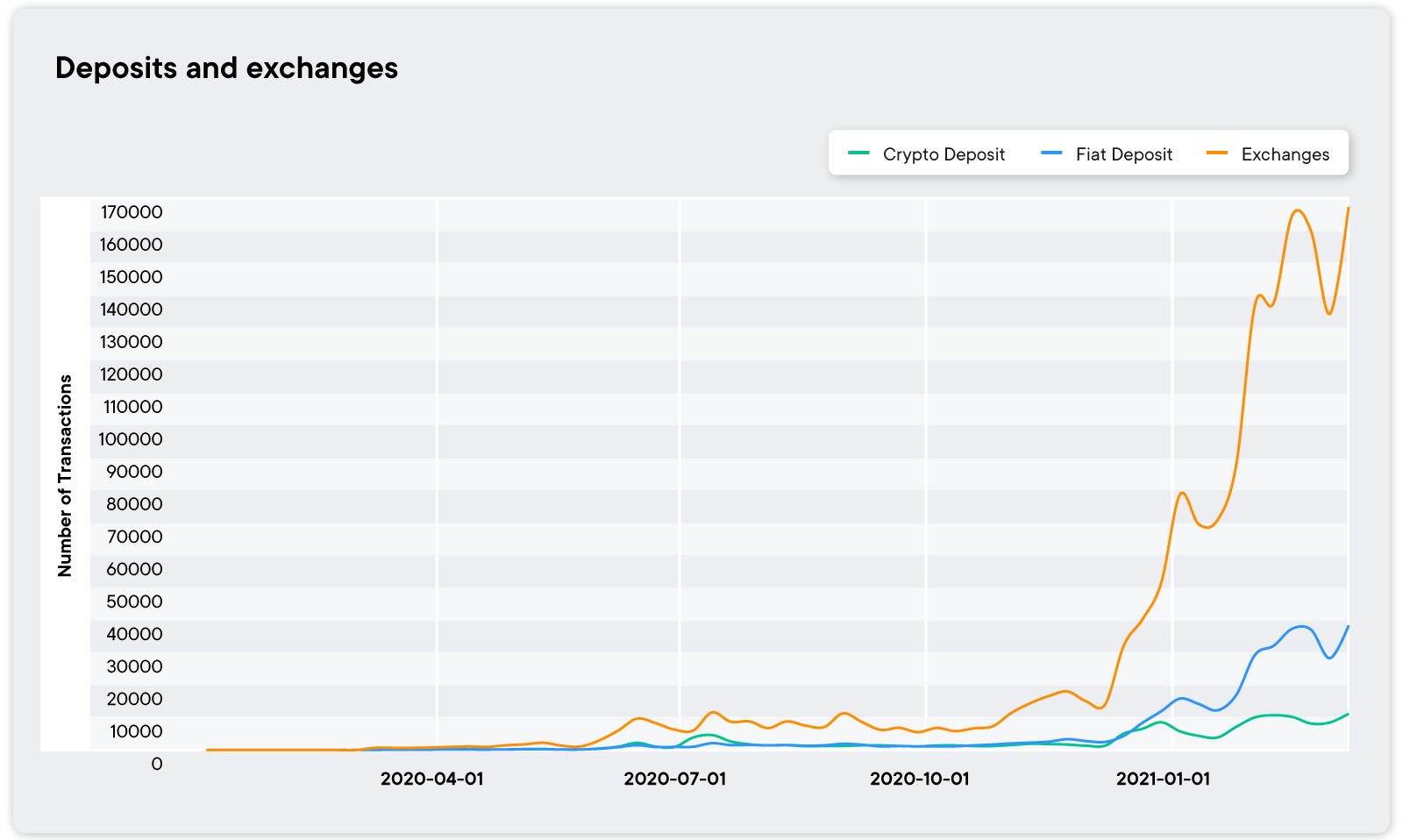 What have we built?
In the past year,  rarely a month went by where we weren't announcing a new feature or new token on the SwissBorg app. Here are some of the highlights:
The SwissBorg Smart Engine
The Smart Engine is our multi-node Order Execution Management System, which checks the Binance, LMAX, Kraken and HitBTC exchanges on every exchange to get our users the best price.
One of the key features is that the Smart Engine creates fiat and crypto pairs that don't exist on any exchange, such as CHSB/CHF, saving our users precious time by allowing them to make these exchanges in just one tap.
In March 2021, our users made 1.5 million exchanges, with the median processing time being just 0.5 seconds, and the total exchange volume to date just hit $2 billion!
Yield wallets
SwissBorg's yield wallets are a smart, simple and secure way for investors to earn a yield on their favourite crypto tokens!
Our first yield wallet, USDC Smart Yield, optimises earning a yield on crypto assets with the goal of finding the best return for the lowest risk. In the three months since we launched, the wallet has earned up to 32% p.a.!
Meanwhile, our CHSB Yield Program is designed to reward CHSB token holders by tying the yield offered to the performance of the SwissBorg ecosystem. Every week the yield is calculated based on SwissBorg's Community Index, which measures our ecosystem based on the price of CHSB, the level of activity in our apps, and the level of engagement on social media and in our DAO.
Currently there are 38,816 users holding $292,506,565 in the CHSB Yield Program, and 18,155 users holding $54,851,163 in the USDC Smart Yield wallet.
Hourly asset analysis
Powered by AI, the SwissBorg app's free asset analysis feature gives investors the information they need to make smart investment decisions for every asset listed in the app. This free analysis suite includes:
The CyBorg Predictor - A machine-learning algorithm that forecasts an asset's movements for the next 24 hours

SwissBorg Indicator - A market-trend indicator that combines popular technical indicators

Community Sentiment - A sentiment indicator based on the number of app users buying or selling

Support/Resistance - Current price levels between which a price is ranging, where a break could signal a new trend
Just go to the Marketplace screen of the app and tap the asset you'd like to analyse, followed by the Learn card.
Portfolio Analytics
Portfolio Analytics is a free portfolio analysis tool, featuring in-depth investment statistics in an easy-to-understand format. With the goal of making the complex world of crypto investing simple, Portfolio Analytics empowers you to analyse your portfolio's performance without leaving our app.
Portfolio Analytics shows your Profit/Loss, fees paid, running account balance and asset allocation. Check it out by tapping the chart icon in the top-right corner of the Portfolio screen.
Rewards program
Our Rewards Program gives users the opportunity to win between EUR1 and EUR100 in crypto by referring friends to use the SwissBorg app.
Simply share your unique link with a friend, and when they deposit EUR50 or more both you and your friend will get a ticket with your reward!
Since we launched the program, 155,795 tickets have been scratched for a total of $1,100,000! 
CHSB performance
The SwissBorg token, CHSB, has experienced a meteoric rise in the last year, currently consolidating near recent all time highs.
On 11th March 2021, CHSB hit an all time high of $1.55, delivering an excellent return to early investors.
One-year return: 8,612%

Six-month return: 1,475%

Three-month return: 954%

Two-month return: 321%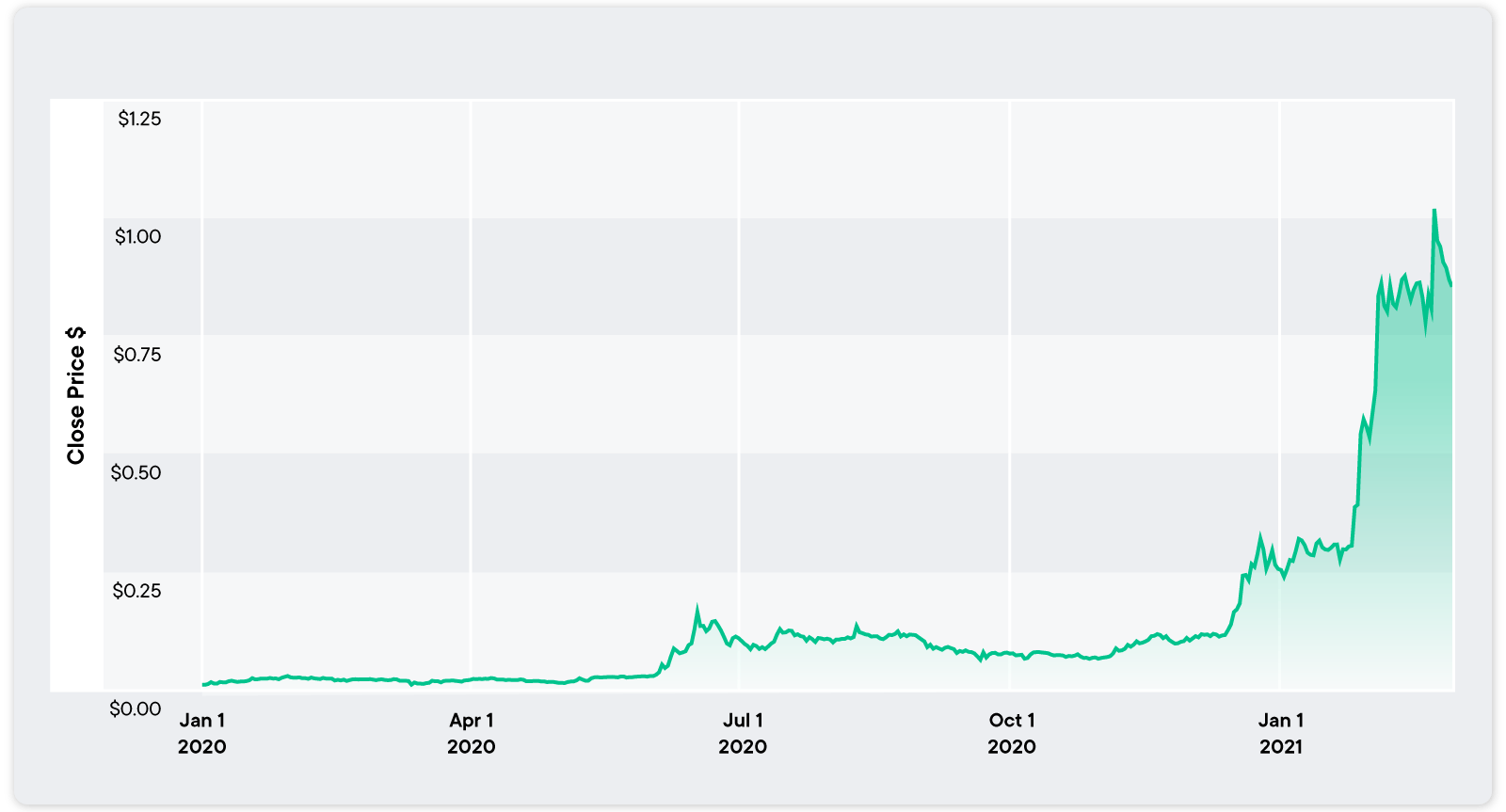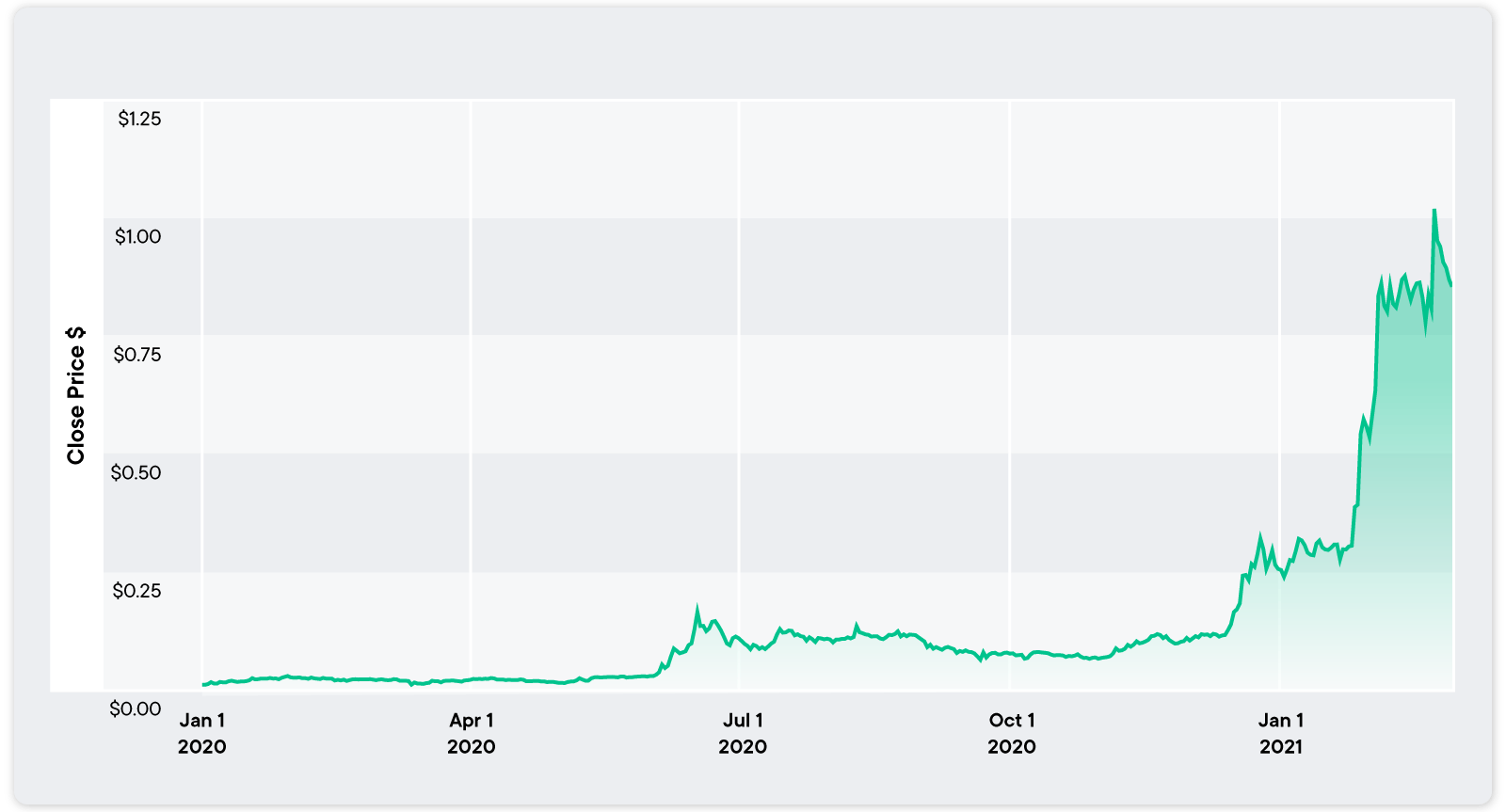 We ran 12 Protect & Burns, permanently removing 2,981,079 CHSB from the circulating supply. At the time of writing, there is over $1.6 million in the Protect & Burn pool, which will be used to protect the price of our token when it moves into a bearish zone.
Keep up to date with the latest CHSB performance metrics.
Premium users
Since the launch of the SwissBorg app, users have been able to stake 50,000 CHSB to access Premium benefits, including 0% fees on BTC, CHSB and stablecoins and 0.5% on all other assets. At the time of writing, there are 121 million CHSB staked, and 4,583 Premium account holders.
In the past year, Premium users have saved $9,788,833 in fees. However, what is even more interesting is the average amount of profit made by Premium users versus standard users. The average profit of a Premium user over the last year was 355%, while standard users made an average gain of 61%.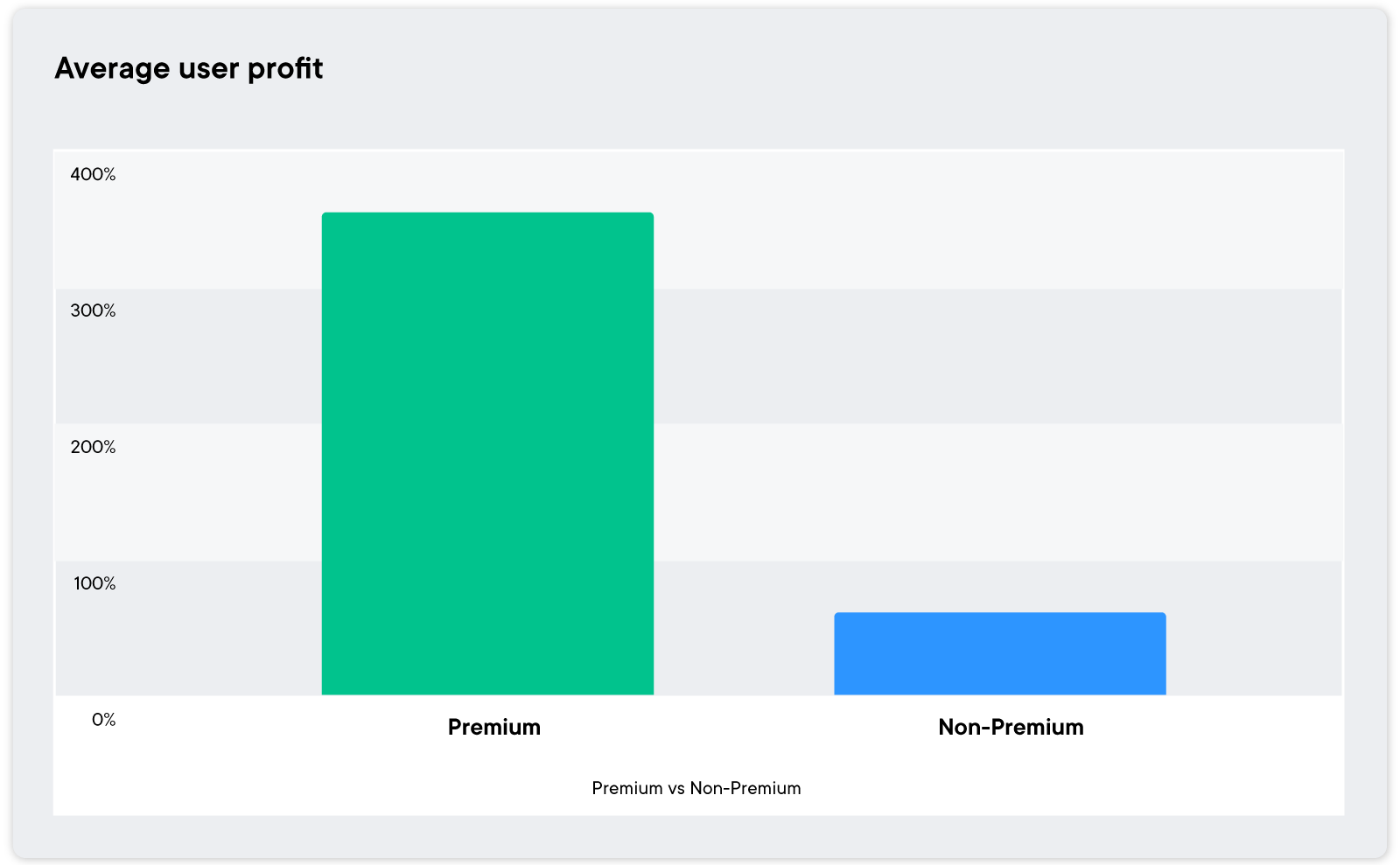 As we're always looking for ways to reward our loyal token holders, we didn't stop with the initial Premium offering.
First, in December we added a yield boosting utility to CHSB, where all Premium users would earn double the standard yield! This utility currently applies to the USDC and CHSB yield wallets, and will also apply to the ETH, BTC, BNB and DAI yield wallets when they are launched. 
Then, in response to our community's request for a more accessible yield account, last week we announced our new Community Premium and Genesis Premium accounts!
Genesis Premium is an upgrade of the existing Premium account, offering even lower exchange fees (0.25%!) on all other assets in the SwissBorg app, along with a range of other benefits. All existing Premium users were upgraded to Genesis on 10th March, 2021, and Genesis Premium will continue to be available until the launch of Community Premium.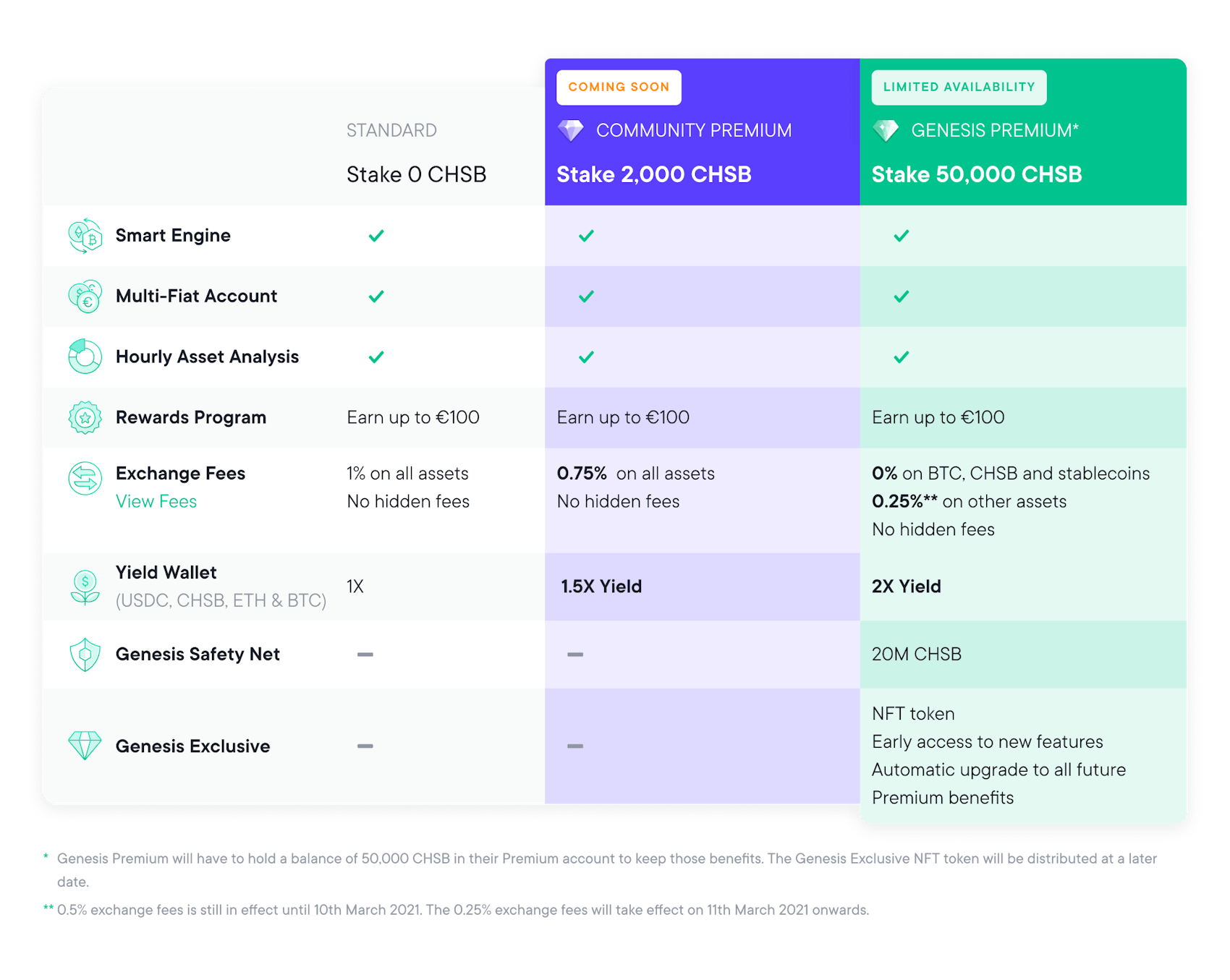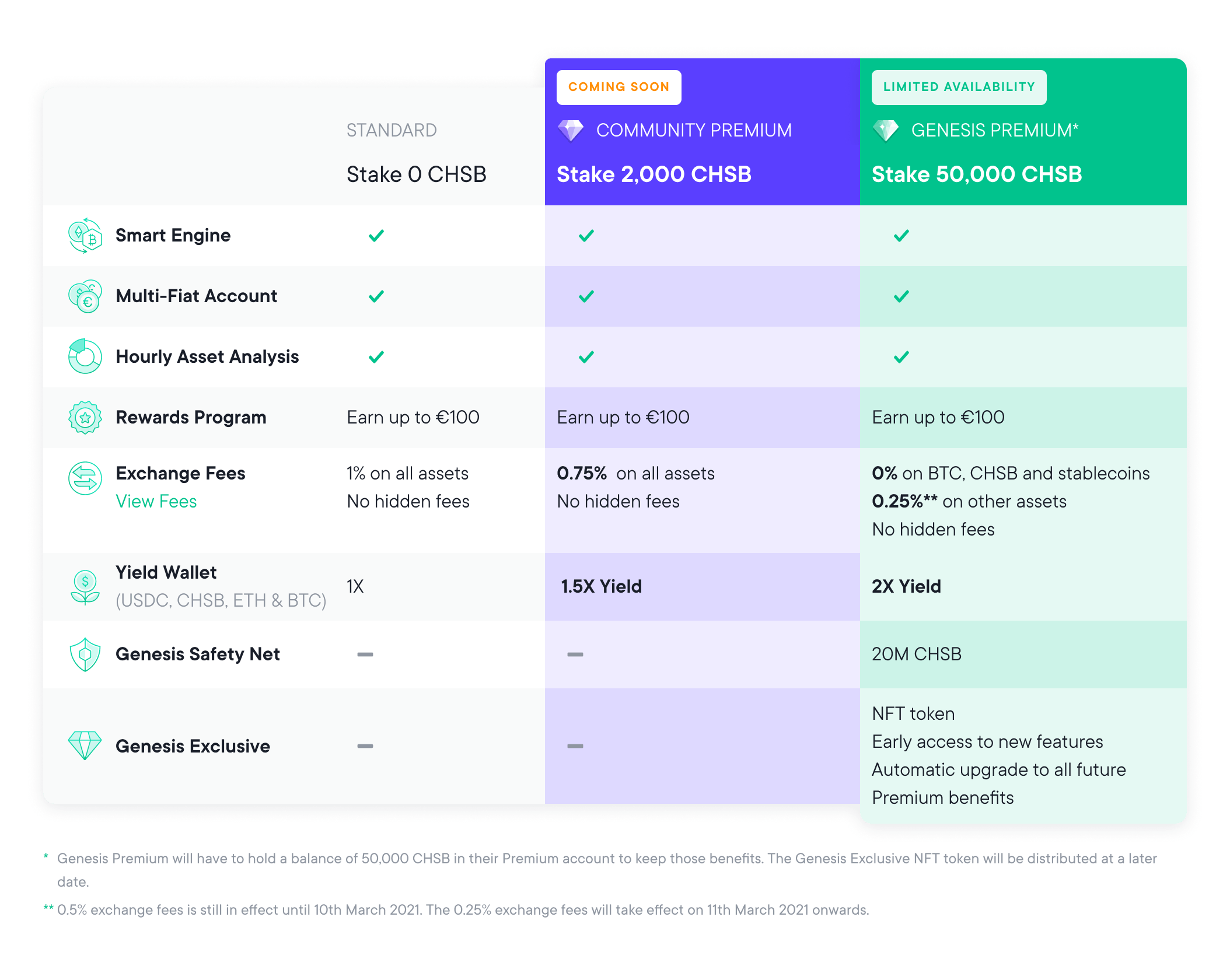 More room to grow
Over the past year, not only has our product developed into the best crypto wealth management app available, but our team and community have grown beyond our wildest expectations. We have so many reasons to be proud, and even more reasons to be hopeful with everything that is coming up on our roadmap.