Smart Yield Report: July 2022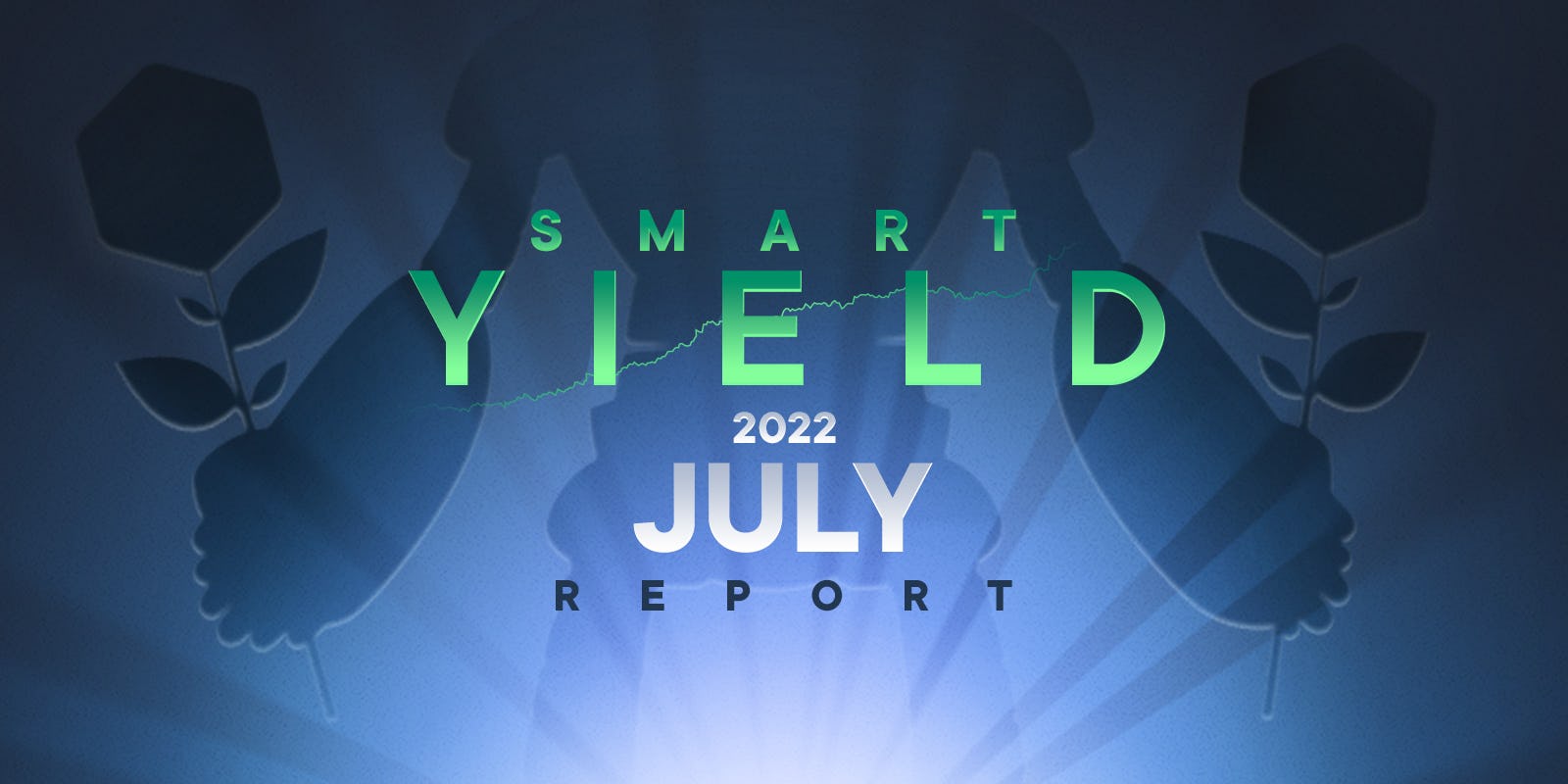 For the sake of transparency towards our community, on a monthly basis we aggregate our data to give you a report on the key figures related to SwissBorg's Smart Yield wallets. 
The content of this report will be subject to change based on your feedback and the evolution of the information we receive. The report has been cleared of overwhelming graphs and a new table has replaced them.

Smart Yield wallets covered in this report
The Smart Yield wallet simplifies and optimises earning a yield on your crypto, every single day. The goal is to find the best return for the lowest risk, while offering some of the best yielding conditions available in the market. Learn more about how Smart Yield works.
The DeFi landscape
The ECC (Ethereum Community Conference) led to many new announcements in the space. It includes advancement on zkEVM by Polygon, zkSync and Scoll, a combination of zk-rollups and EVM compatibility. This is big as zk-rollups are very efficient L2 but are difficult for dev to build on. With EVM compatibility, it will allow the full panoply to be deployed. 
Curve Finance announced working on a stablecoin. Being one the most used protocols for stablecoin trading, they have a good edge on the market. Uniswap is also under discussion for a relatively big business change, especially for its DAO. Until now, all revenues go to liquidity providers, but a discussion to redirect part of the fees to the DAO is taking place. The Uniswap community is taking its first steps towards flipping on the fee-switch on pools with deep liquidity, relatively high volume and least potential of impermanent loss.
The merge has a new event in the deployment planning: The Goerli testnet will perform the merge, the final test before Mainnet. It has been announced by Ethereum developers for August 6-12th. 
Smart Yield wallets analysis
Rewards have remained constant during the month of July. Prices have seen some nice swings but the TVL across platforms and their rewards have remained constant. Native blockchain tokens have seen some traction as they remain the most stable source of yield, the most used coins on their respective blockchains and are, consequently, less risky assets. However we noticed a significant reduction of users in the BTC yield and smaller reduction is the total pledged. The most exotic coins continue to see a rising adoption as SwissBorg becomes one of the few sources to get secure yield.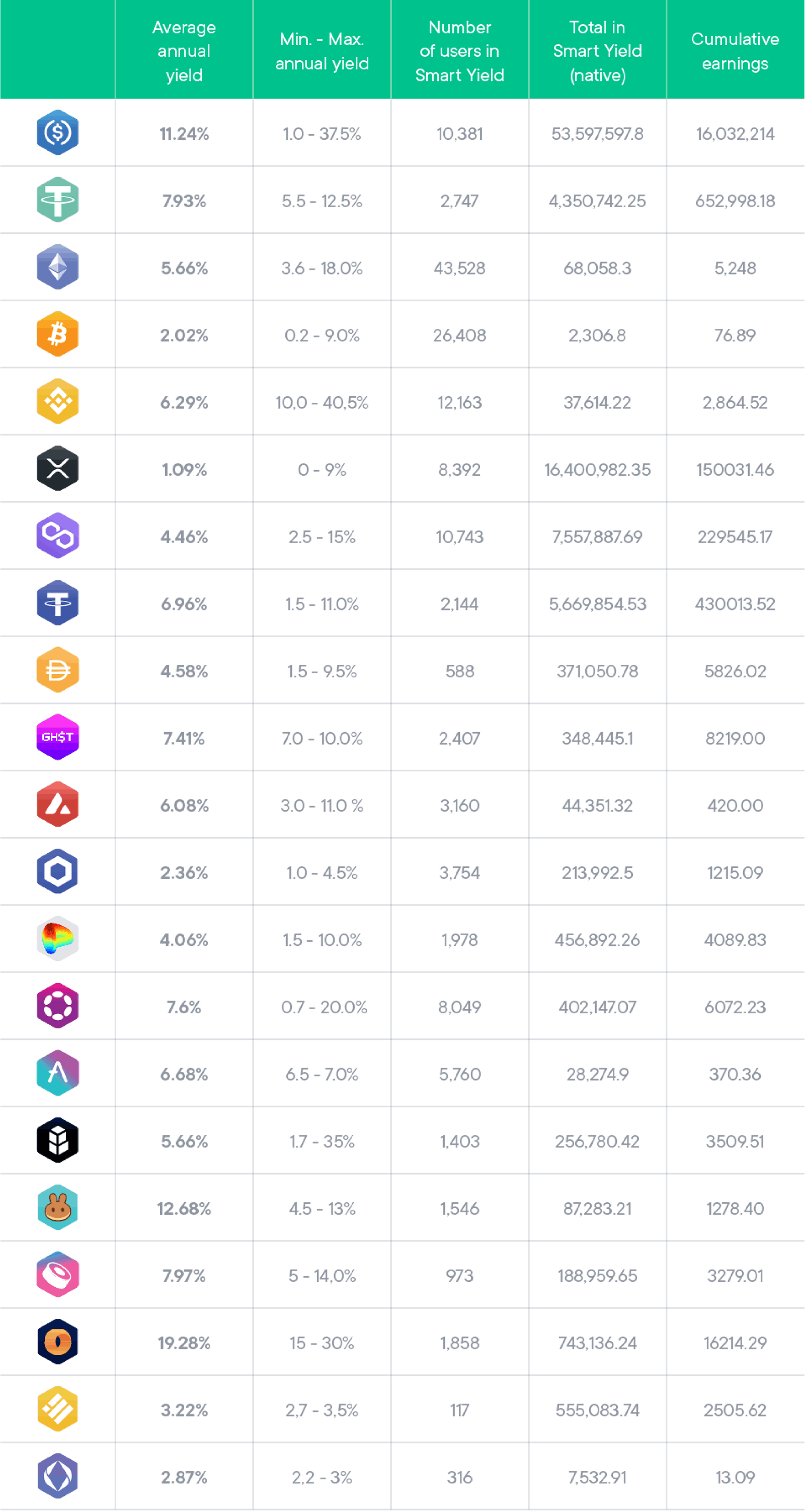 Smart Yields July Results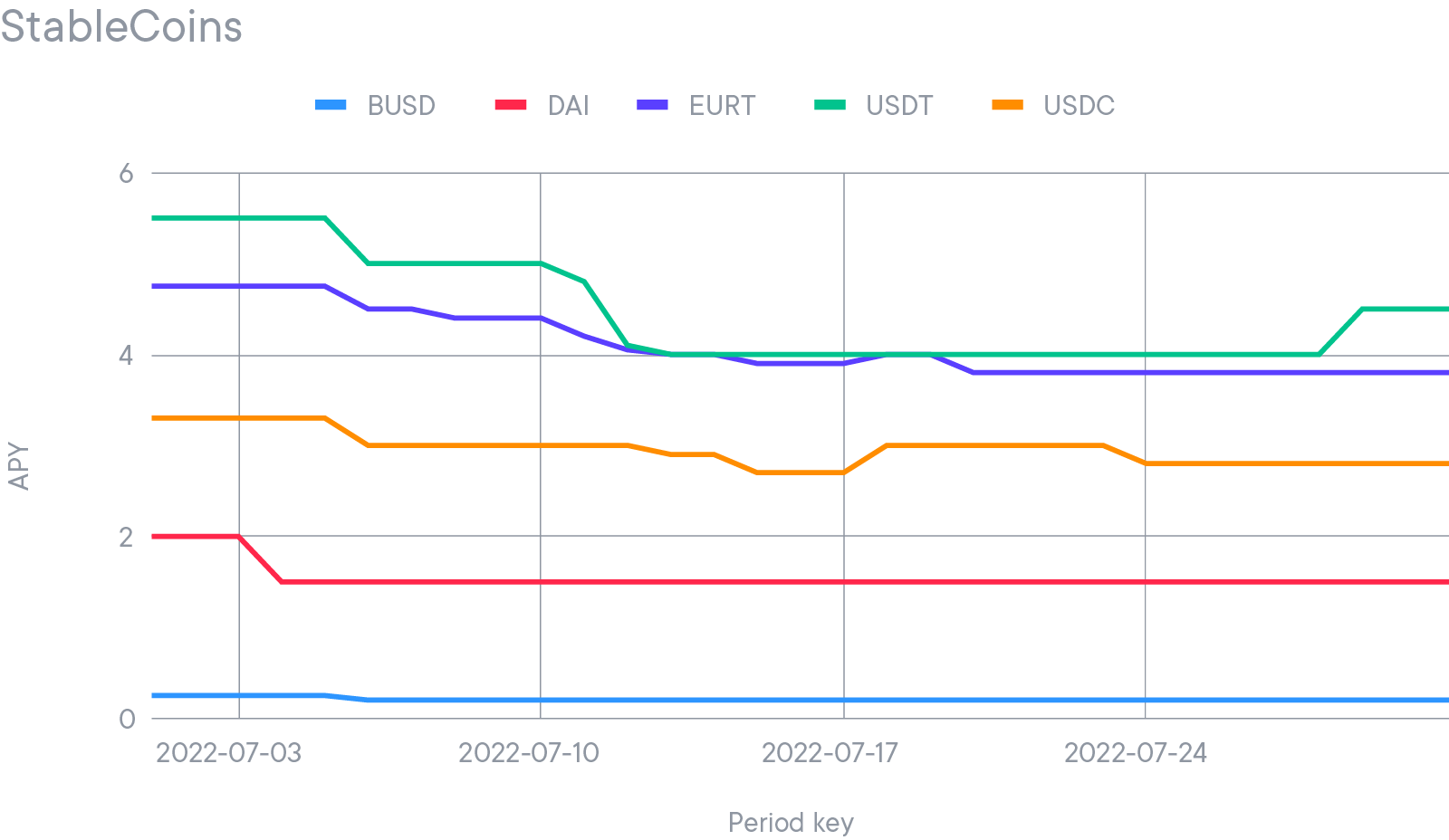 July APYs for BUSD, DAI, EURT, USDT, USDC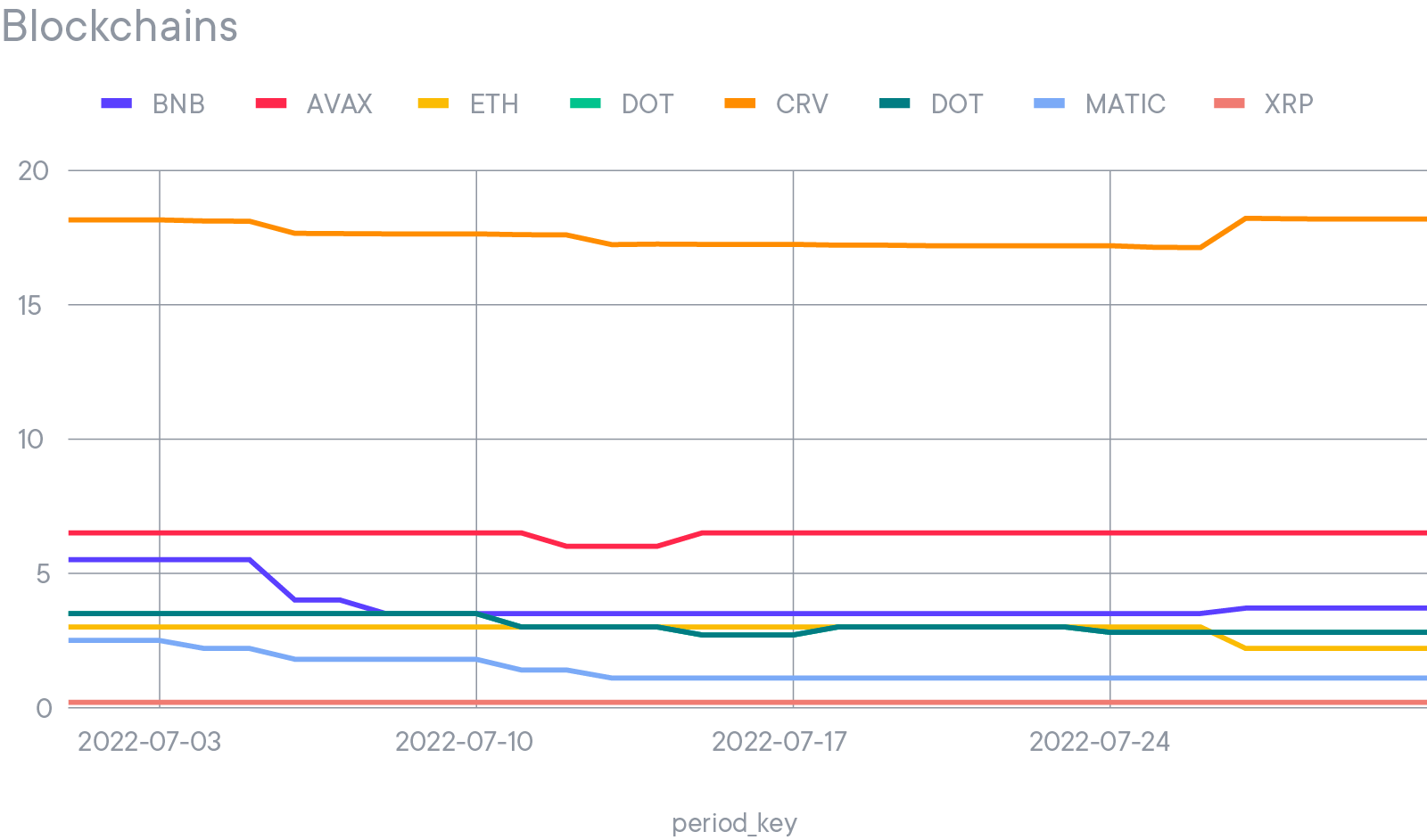 July APYs for BNB, AVAX, ETH, DOT, MATIC, XRP
Strategy optimiser
The strategy optimiser continues to allocate funds exclusively to blue-chip projects. These are:
Aave
Compound
Curve/Convex
Lido
InstaDapp
Venus
PancakeSwap
Alpaca
Beefy
Mimo
GotchiVault
Bancor
Merit Circle
Sushi
Euler
We recall that this selection of protocols always focuses on the less risky strategies out there and therefore may have more conservative APYs. Furthermore, the optimiser only keeps exposure to the underlying asset of the strategy and never spreads it across different assets (for example by swapping USDc to DAI). 
Alpaca protocol has been further used for the BNB and BUSD yield wallets, providing a secure and competitive APY. Matic rewards are now coming from liquid staking on Lido, as well as some native staking, the most secure yield source. DOT also saw some changes and is now staked in order to generate yield.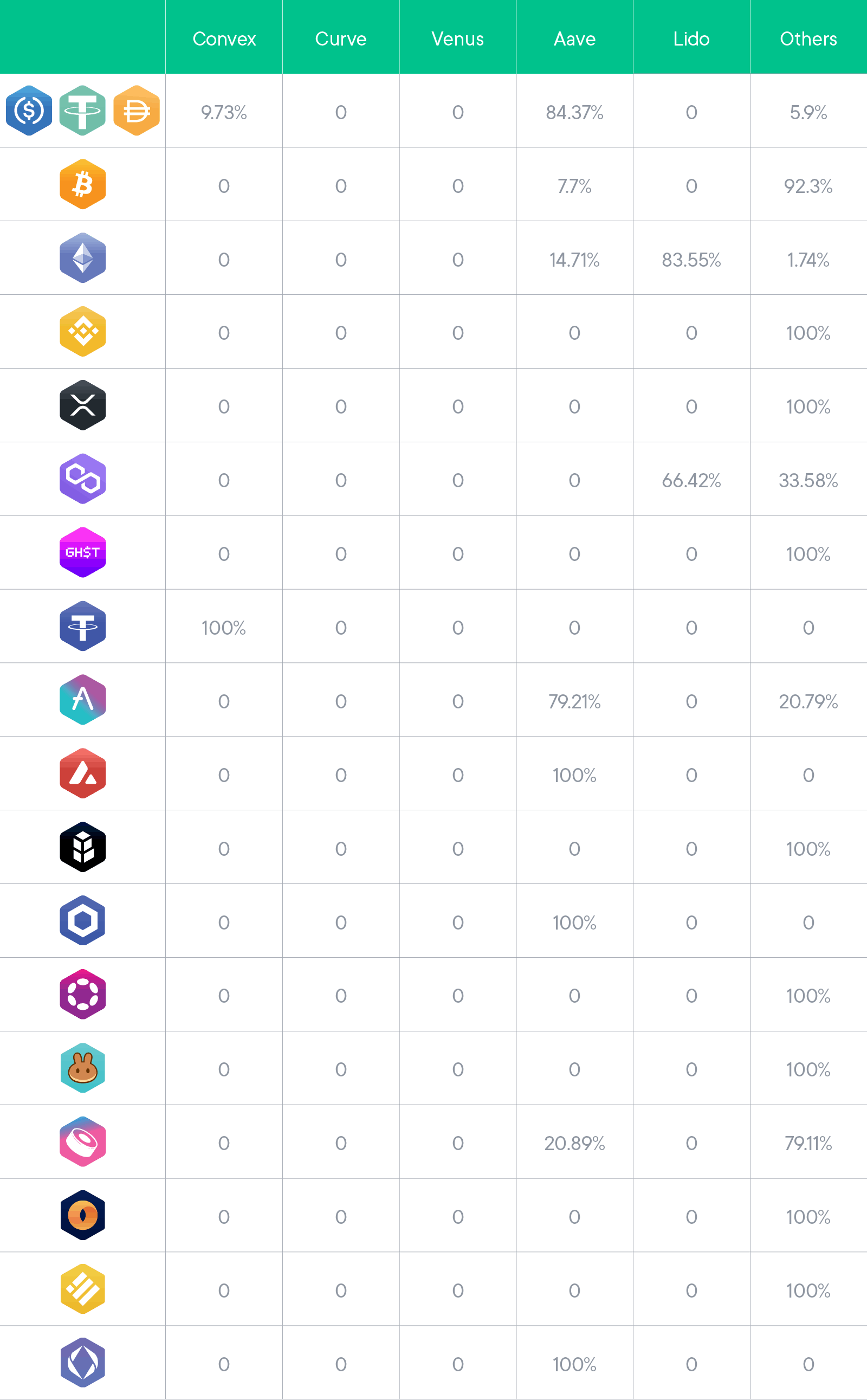 Strategy optimiser allocation