SwissBorg Launches Smart Yield on DAI and GHST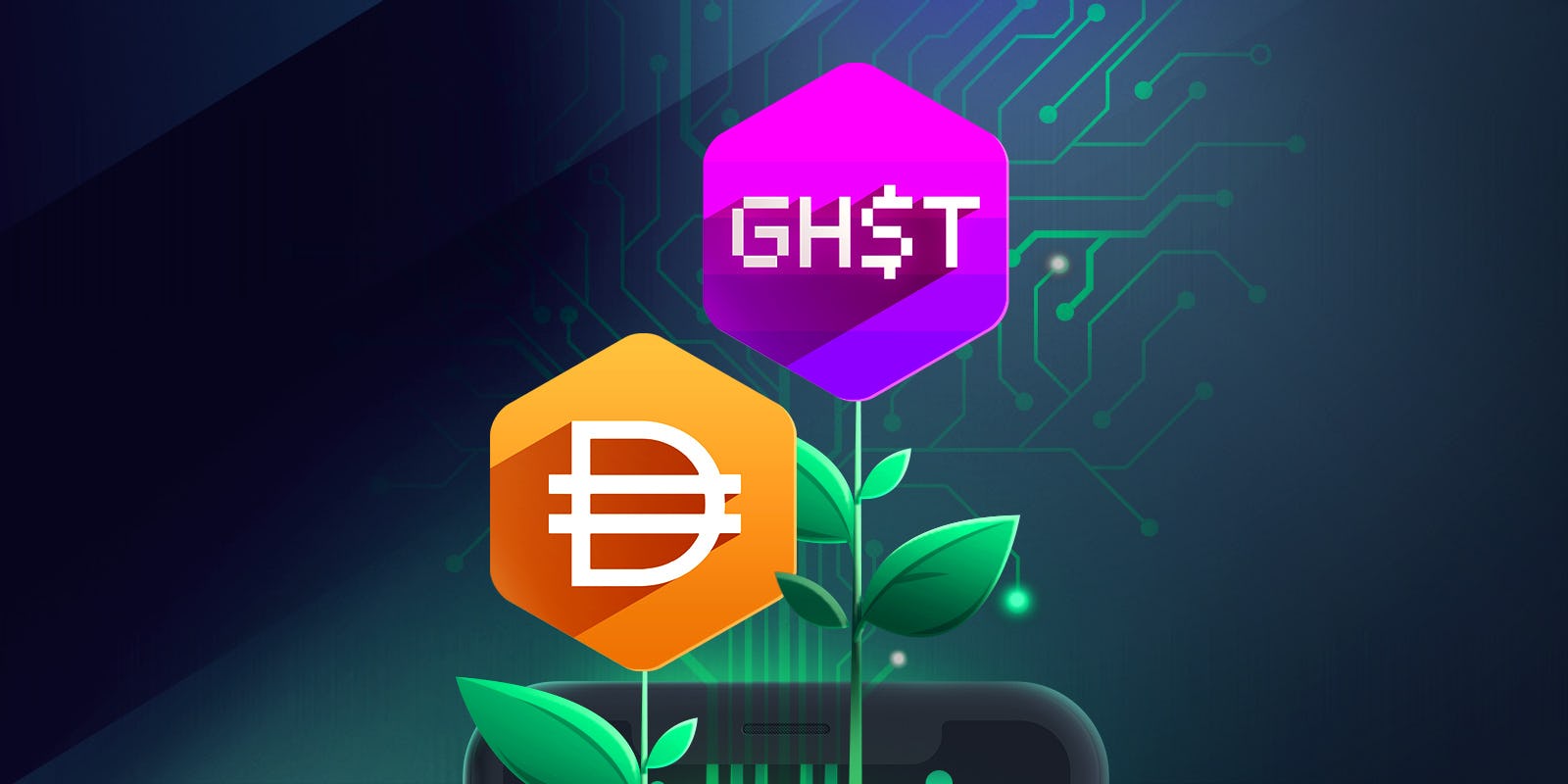 Dzenana Kajtaz
Content Marketing Specialist
We are excited to announce the long-awaited release of Smart Yield on DAI and GHST. As of March 23rd 2022, by activating their Smart Yield wallets, users can now earn a yield of 7% on DAI and 10% on GHST.
By adding both coins to the Smart Yield program, we aim to help our users grow their wealth with ease and give them a chance to make the most of the various assets in their portfolios.
Why did we decide on adding specifically these coins to the Smart Yield program, and why now? For those of you new to the crypto world, it's worth pointing out that both DAI and GHST enjoy a fair share of popularity in the crypto sphere and for a good reason.
DAI is a stablecoin similar to USDC and Tether that are pegged to the Dollar at a 1:1 and with an exchange rate that replicates US Dollar valuations against other fiat currencies. Unlike other stablecoins directly backed by USD, DAI is backed by cryptocurrency collaterals that can be seen publicly on the Ethereum blockchain. In other words, borrowers can use DAI as collateral for loans, similar to how a house is used as collateral for a mortgage or a loan.
GHST, on the other hand, is a non-fungible token that focuses on DeFi and runs on the Aave protocol. The GHST token, often called Aavegotchi, is an NFT avatar that enables exploring and interacting with the Aavegotchi universe. Aavegotchis can be used as DeFi collateral and thus bring in staking rewards, but they do have other utilities as well. For instance, you can use the token to buy and sell goods in the Aavegotchi universe or transfer it/have it transferred to you in standard cryptocurrency fashion.
Should you go for DAI yield, GHST yield, or both?
At SwissBorg, we love to give our users plenty of options to invest and earn with crypto. That is why we keep expanding our Smart Yield program as well as adding new features to our app. Since we know that each one of our 609,000+ users has different preferences, we can't give a one-size-fits-all answer to the question "what are the right yielding options for me". Instead, we will do our best to present the benefits of these two new yielding options and help you make the right decision.
Why earn a yield on stablecoins such as DAI? 
Since cryptoassets are known for their volatility, stablecoins are pegged to assets like fiat currencies and commodities, offering price stability in relation to other cryptos. 
As DAI is a stablecoin pegged to the US dollar, the DAI Smart Yield will offer users the opportunity to generate passive returns on an asset that can hold its value and hedge against the volatility of other crypto assets. 
Why earn a yield on DeFi-focused non-fungible tokens such as GHST? 
Even if you haven't heard about GHST, you've surely heard the buzz surrounding DeFi and NFTs. 
DeFi is not only revolutionising the financial industry with more individuals and institutions interested in tapping in, but it is also changing gaming as we know it, which is why it is one of the building blocks of Aavegotchi - a crypto collectible game.
NFTs are also becoming very prominent players in the crypto world by changing the way we manage digital artwork rights and serving as key elements in gaming, ticketing, authentification of luxury items, crypto collectables and more.
As an exciting cross between NFTs and DeFi, Aavegotchi has the potential to become the "next big thing". Backing up this bold claim is the GHST price chart which shows a 200% surge in price in late November 2021.
Why choose Smart Yield on DAI and GHST?
Yield farming can be complicated and risky, whereas the Smart Yield wallets make the process accessible to all investors in just a few taps.
The Smart Yield program also lowers your risk by only allocating assets to blue-chip platforms. If you upgrade to a Premium account, this will allow you to boost your yield.  
Depending on which SwissBorg Premium account option you go for, you will receive a yield boost ranging from 1.5X to 1.75X or 2X if you have the privilage to be part of Genesis Premuim.
To learn more, check out our page covering SwissBorg Premium account options.
How to activate Smart Yield
To activate your yield wallet in the SwissBorg app:
Update your app to the latest version

Deposit, buy or exchange to the coin of your choosing

On the Portfolio screen, tap on the coin

Scroll down, and tap the Yield Wallet card

Tap Top Up

Choose how much you would like to add to your yield wallet

Follow the prompts to start earning a daily yield!
Note that while there is no minimum investment period, redemptions are actioned every 24 hours. Once you ask to redeem funds, they will be transferred to your active account at 8 AM CET the following day.
Invest in DAI and GHST today with the SwissBorg app
Download now