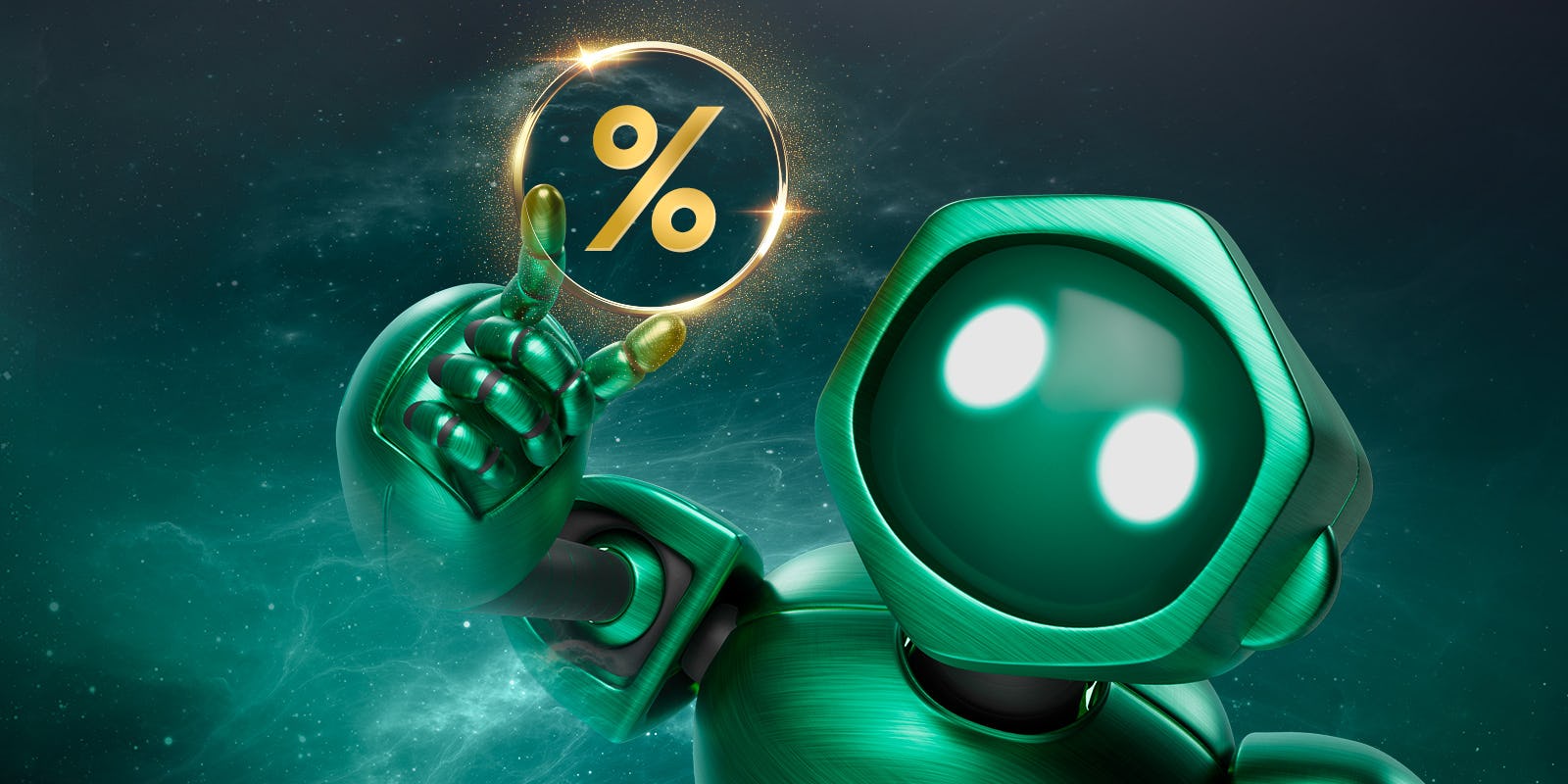 Daniel de Lophem
Thematics Product Manager
TL;DR
1. No more high entry & exit barriers!
2. The power of Thematics rebalancing & reallocation for FREE.
3. One simple, transparent and predictable subscription.
The best assets, the best automation, one simple fee. Cheers to that! 🍻
Let's hear the story :)
Imagine you're hiking through a dense forest, the trees are tall and you make your way underneath their leaves. You encounter many splits in the path with confusing trail markers, or sometimes none at all. As you progress, you become increasingly unsure if you're still heading towards your destination. 
Self-doubt creeps in, you lose orientation, you risk getting lost. 
But suddenly, a friendly guide appears, offering to lead you back on track through the forest. He knows the paths, the shortcuts, and even the pretty view-points. What a relief!
Together you continue your journey firmly, you enjoy the scenery and learn as he points out animals, trees & landmarks.
That's Thematics for you – we find the path so you can confidently follow your convictions and reach your investment destination.
Thematics identify the most promising trends and bundle top projects into one comprehensive basket of assets. They provide professional market research, technical due diligence, and continuous asset monitoring to keep your portfolio updated at all times. 
If you believe in a movement, trend, or sector, Thematics empowers you to follow your convictions and turn them into returns.
Today, Thematics just got better!
We're thrilled to introduce our new Thematics fee structure, designed to offer greater clarity and more value, for you to go even further with your convictions.
So what's changing exactly? 
We are saying "goodbye" to Rebalancing Fees, "au revoir" to Reallocation Fees, and "chömmed guet hei" to elevated exchange Fees. All that will be left is a recurring subscription fee set as low as 0.35%/month for our upper Premium users. 
All the best assets, the best automation, and one simple fee.
Our Buy & Sell Fees got a big haircut

-  we are reducing buying & selling fees for all our users back to the standard in-app levels. For Genesis users this means going from 1% to 0.25%! Yes! 4x less fees! 

Enjoy FREE Rebalancing & Reallocation!

No more paying up to 2% for each monthly rebalancing and reallocation. Lay back, relax and fully benefit from up-to-date & balanced positions at all times.

A monthly subscription as easy as ABC!

Market research, due-diligence, monitoring, rebalancing & reallocations – all for as low as 0.35% for Genesis users. 
What does it mean for me? 
Regardless of your premium tier, our simplified fee structure means that you no longer need to worry about how much you paid when you receive a Rebalancing notification. It means you can now DCA (dollar-cost-average) into Thematics and take profit by withdrawing without worrying about leaving up to 2% on the table for each transaction. It means that you can now easily calculate your annual fees and compare them to the value you receive.
Let's go down to the nitty-gritty: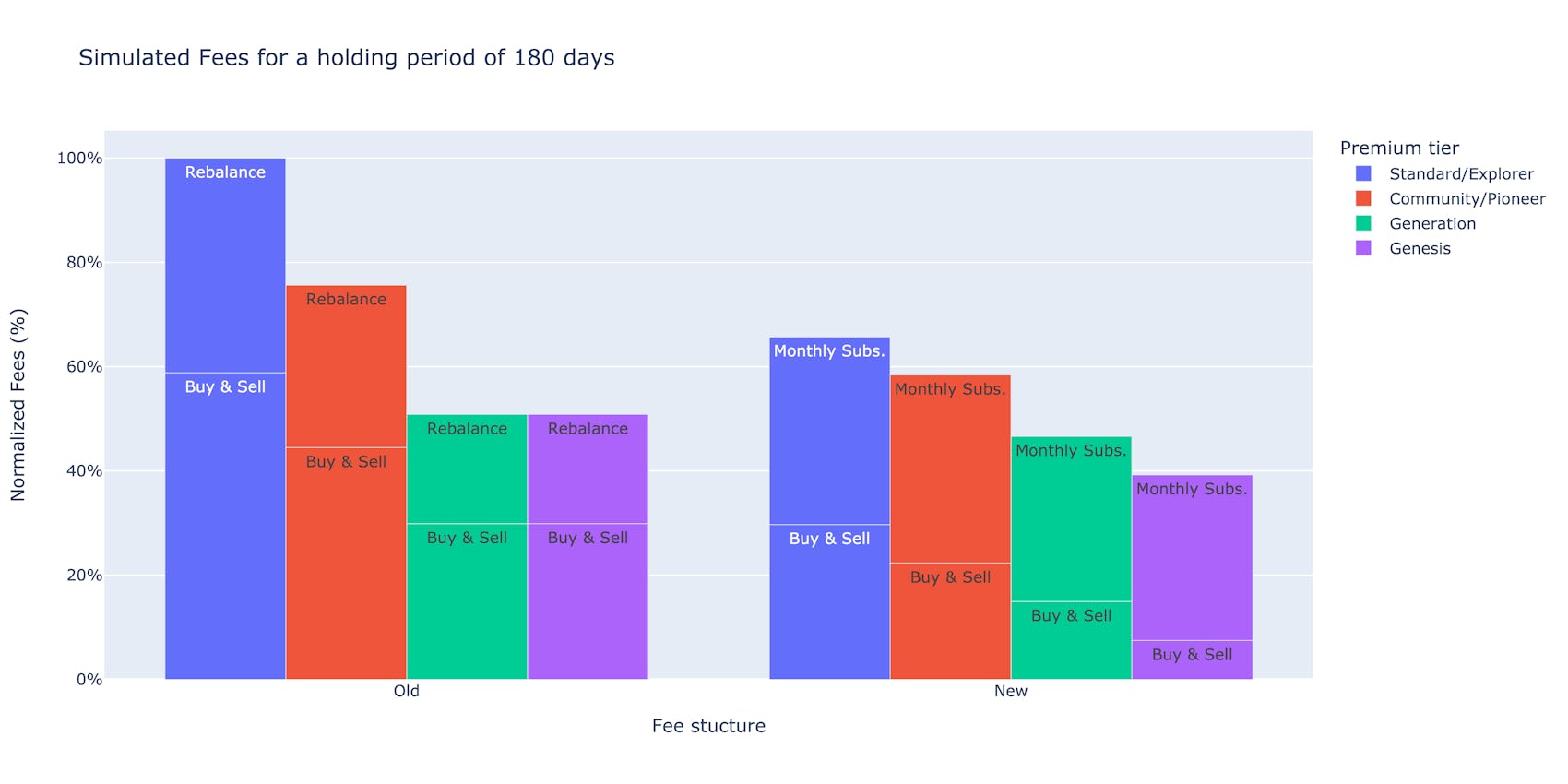 The fees are simulated for a thematic holding period of 180 days including buy and sell fees, with a 3-day sliding window, starting from 2020-11-01 in order to take different market regimes into account. We plot the fees normalised with respect to the standard fees of the old structure. The above chart shows how the new fee structure is more advantageous for all premium tiers.
The monthly fee for Thematics is typically determined as a percentage of the Thematic account balance, which is calculated on a month-to-month basis. The fee is always pro-rata and based on the number of days in which the Thematic account balance was non-zero. For instance, if the account balance was non-zero throughout the month, the fee would be calculated based on the average value of the account balance over the entire month.
However, if the Thematic account balance was zero for one-third of the month, the fee charged would be 2/3 of the average account balance.
Now, are you ready for the next Thematics?