6 months in: How the SwissBorg app has grown!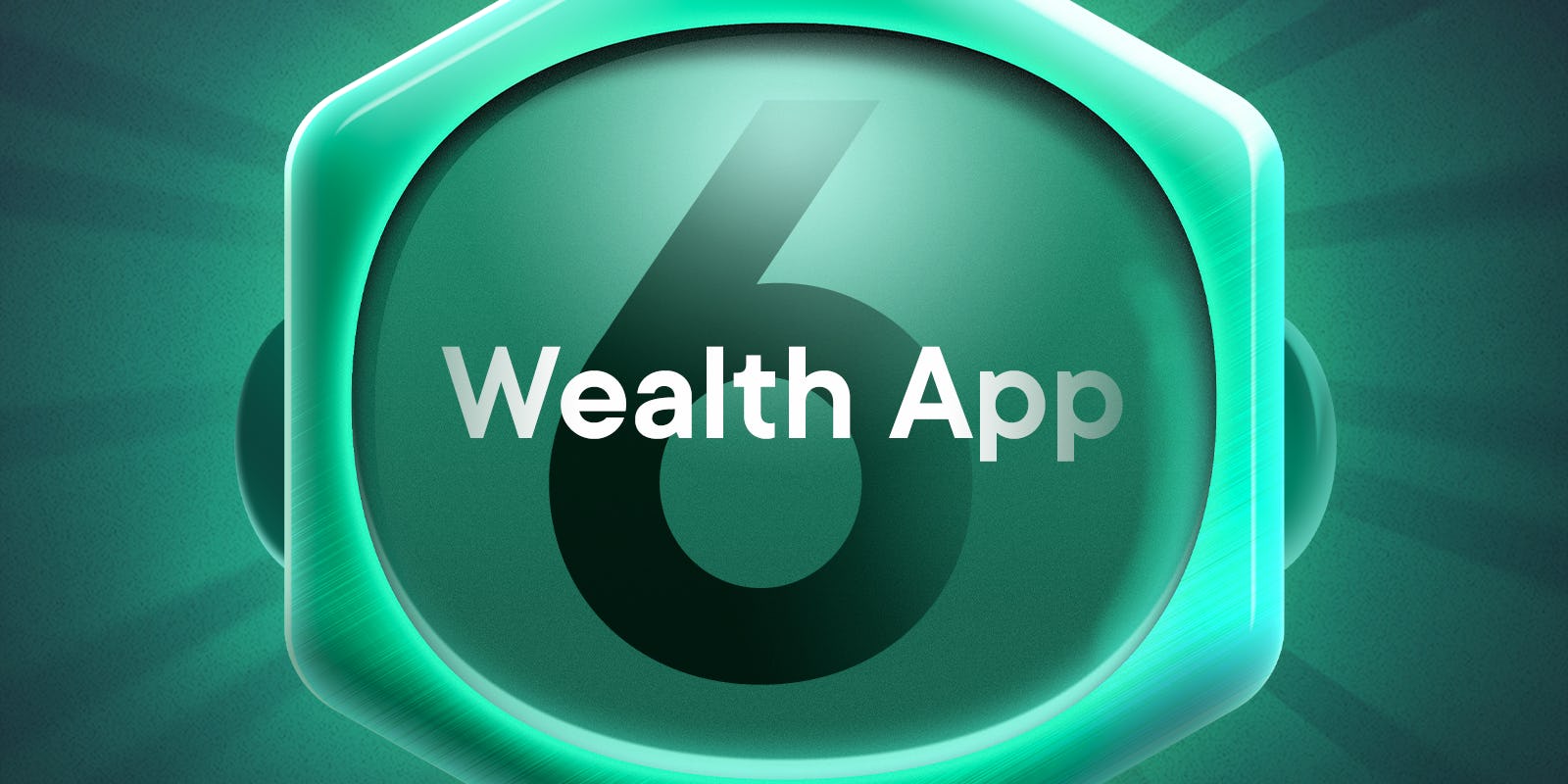 Jacqui Pretty
Senior Marketing Manager
It has been six months since we launched our SwissBorg app, and we're excited to share how the community has grown. Beyond the launch of the SwissBorg app, though, we'd like to thank all of the ICO supporters who helped us get to this point.
SwissBorg was funded by over 23,000 individual contributors in our 2017 ICO, right at the peak of the ICO bubble. Of over 100,000 ICOs, only 2,000 listed on exchanges and only 80 launched working products. Three years on, we're excited to be one of the 0.08% to have launched a successful product!
We're very proud to be here, so thank you to everyone who has believed in us so far - there are bigger and better things to come!
‍
Who's using the App?
After launching in April, the SwissBorg app community has grown to 46,573 verified users from 107 countries! 
The largest countries for the SwissBorg app are:
France: 5,454

Great Britain: 4,556

Italy: 5,204

Switzerland: 4,155

Poland: 3,869

Spain: 3,553
Or, if we consider assets held within the app:
Switzerland: $12,257,000

Great Britain: $3,417,000

France: $3,080,000

Netherlands: $1,458,000

Germany: $1,420,000

Japan: $1,363,000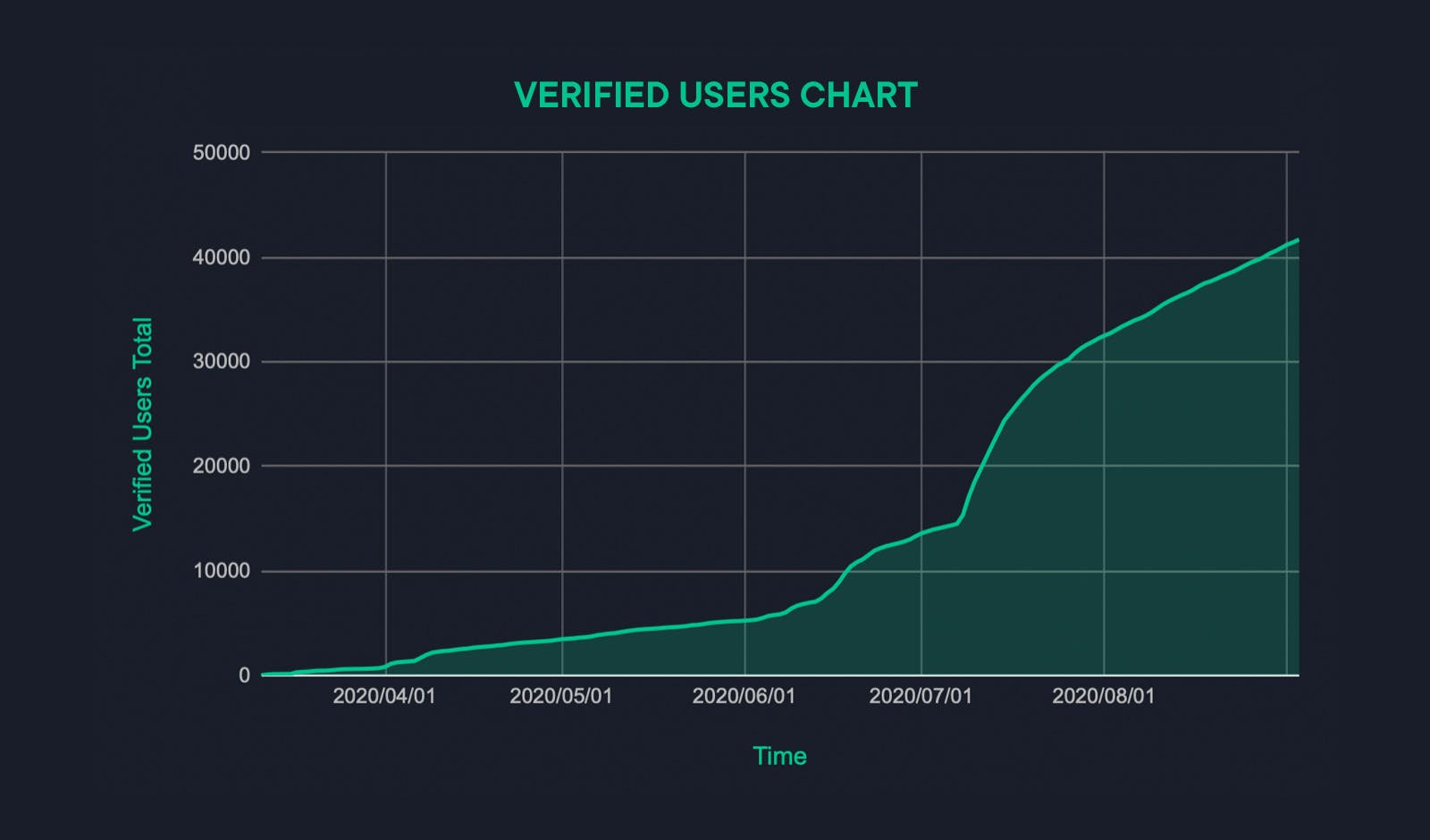 Our community members have deposited an equivalent of $57,029,000  and made withdrawals of $29,785,000. This brings the total assets held within the SwissBorg app to $29,689,000, which, even after recent market corrections, includes $2.4 million dollars of profit for our users! 
In the last 6 months our users have made a total of 141,600 exchanges, with a total volume of more than $121 million. 
Our busiest trading day: $3 million in traded volume

Best 7-day period: $11.2 million in traded volume

Best 30-day period: $36 million in traded volume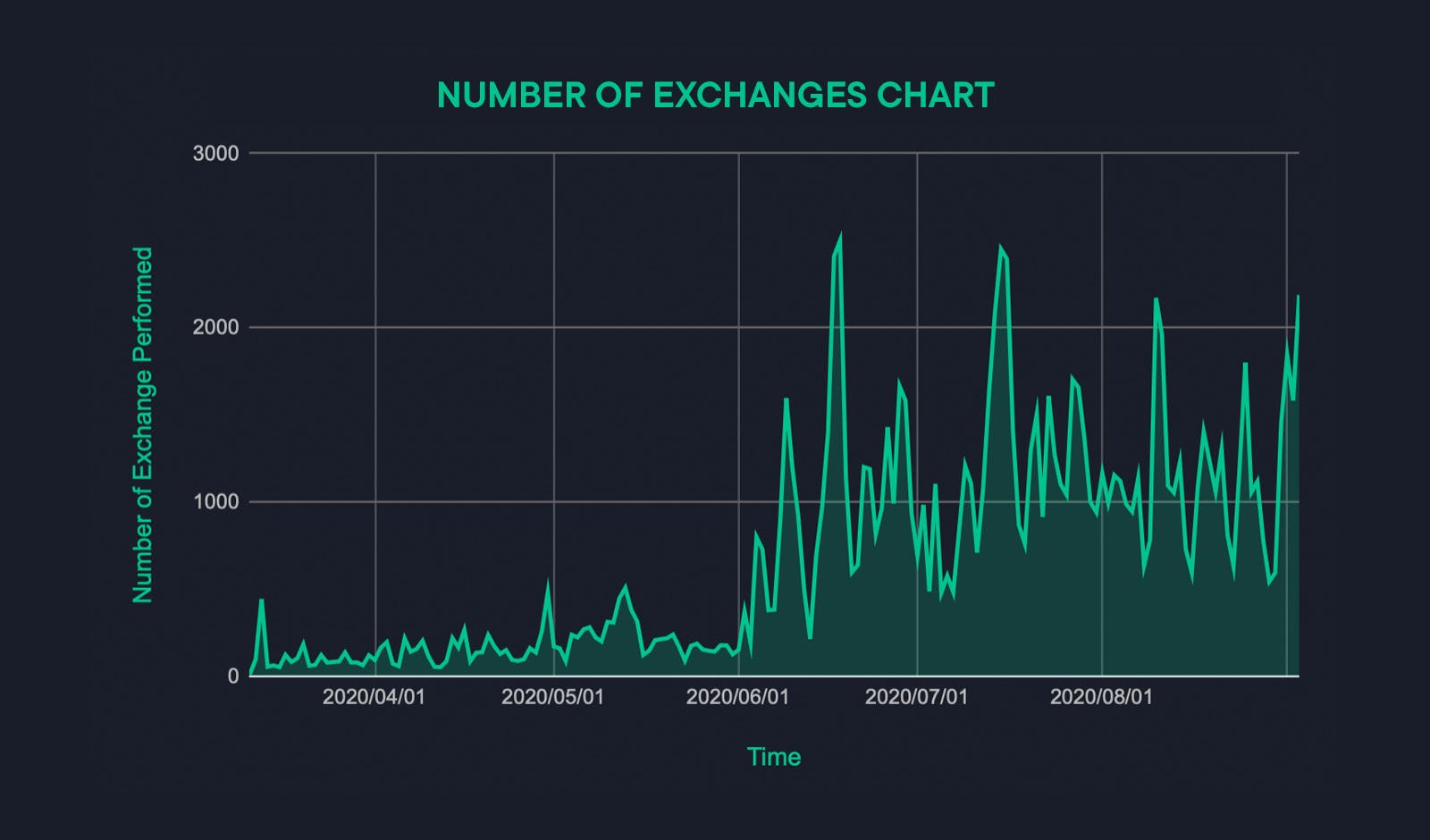 New SwissBorg app features
You didn't think we'd stop with our launch, did you? Since the initial launch, we also added a range of new features to the app, including:
New tokens!
When we released the SwissBorg app with BTC, ETH and CHSB, we knew we would need to continue expanding to provide our community with a single app where they could control their crypto wealth. So we have added another nine tokens in the past six months, with many more to come!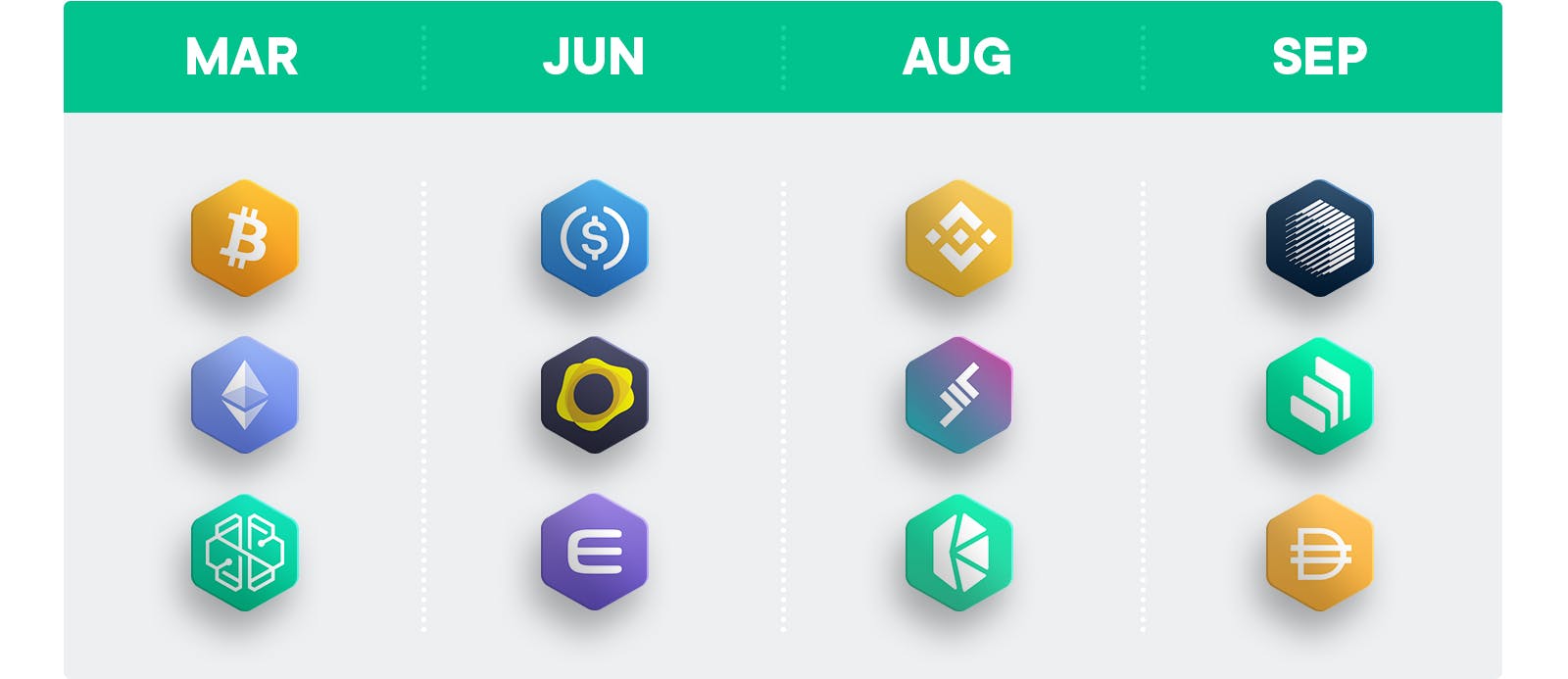 Hourly asset analysis
Powered by AI, the SwissBorg app free asset analysis feature gives you the information to make smart investment decisions for every asset listed in the app. The best part? Our community has viewed this analysis 1.2 million times!
Smart Exchange Report
You've probably heard of our Smart Engine, which checks four leading crypto exchanges in seconds to find you the best price. But did you know you can see the exact path your exchange took with our Smart Exchange Report?
This report has been viewed 32,000 times in the SwissBorg app. Try it yourself on your next exchange - once you get to the confirmation screen, tap the down arrow between the asset you exchanged from and the asset you exchanged to, and you'll see your report.
Portfolio Analytics
In the app, there is a reporting screen where you can see how your portfolio is growing, which has been viewed 373,000 times.
We recently expanded this feature, with our new and improved Portfolio Analytics. Portfolio Analytics shows your Profit/Loss, fees paid, running account balance and asset allocation. Check it out by tapping the chart icon in the top-right corner of the Portfolio screen.
Bitcoin rewards program
We also launched a Bitcoin rewards program in July, where you can win between EUR1 and EUR100 in Bitcoin by referring friends to use the SwissBorg app. Simply share your unique link with a friend, and when they deposit EUR50 or more both you and your friend will get a ticket with your reward!
In the three months since we launched the rewards program, our community has earned 21 free Bitcoins, worth $220,000 at the time of writing!
‍
CHSB performance
The SwissBorg token, CHSB, has also been on an exciting ride since we launched the app! 
In June, CHSB hit an all-time high of $0.17, delivering an excellent return for our ICO investors. This jump was spurred by our first Protect and Burn, conducted in May. Since then, we've conducted another five Protect and Burns, with a total of 1.4 million tokens burnt.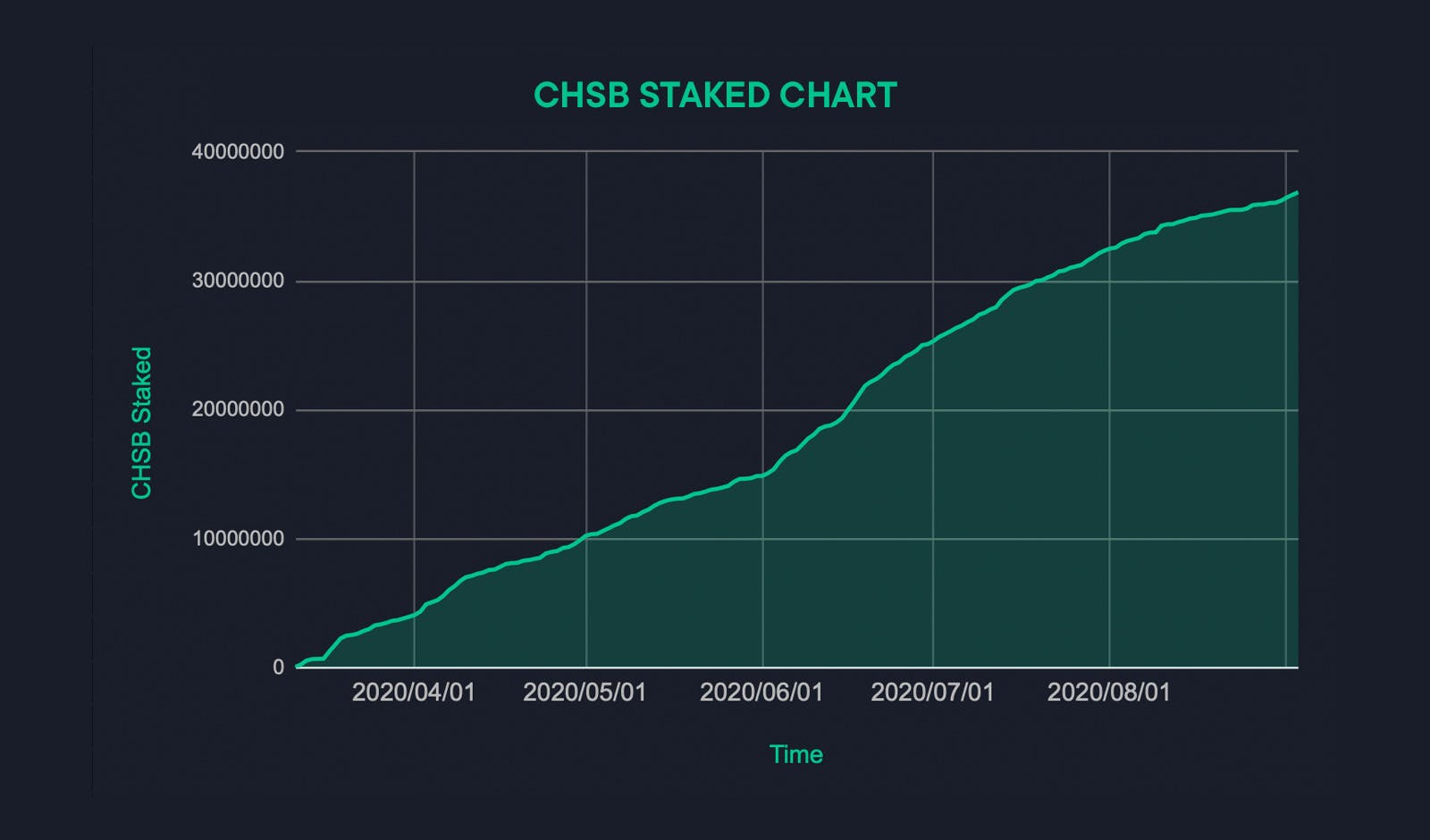 Our users are holding more than 250 million CHSB in the app. We've also reached 40 million CHSB staked, with those community members benefiting from Premium membership in the SwissBorg app and saving $1.3 million in fees.
Keep up to date with the latest CHSB performance metrics.
‍
Community App update
While the SwissBorg app and CHSB have been going strong, the Community App has continued to grow, with 157,000 players who have made 3.9 million forecasts about the price of Bitcoin.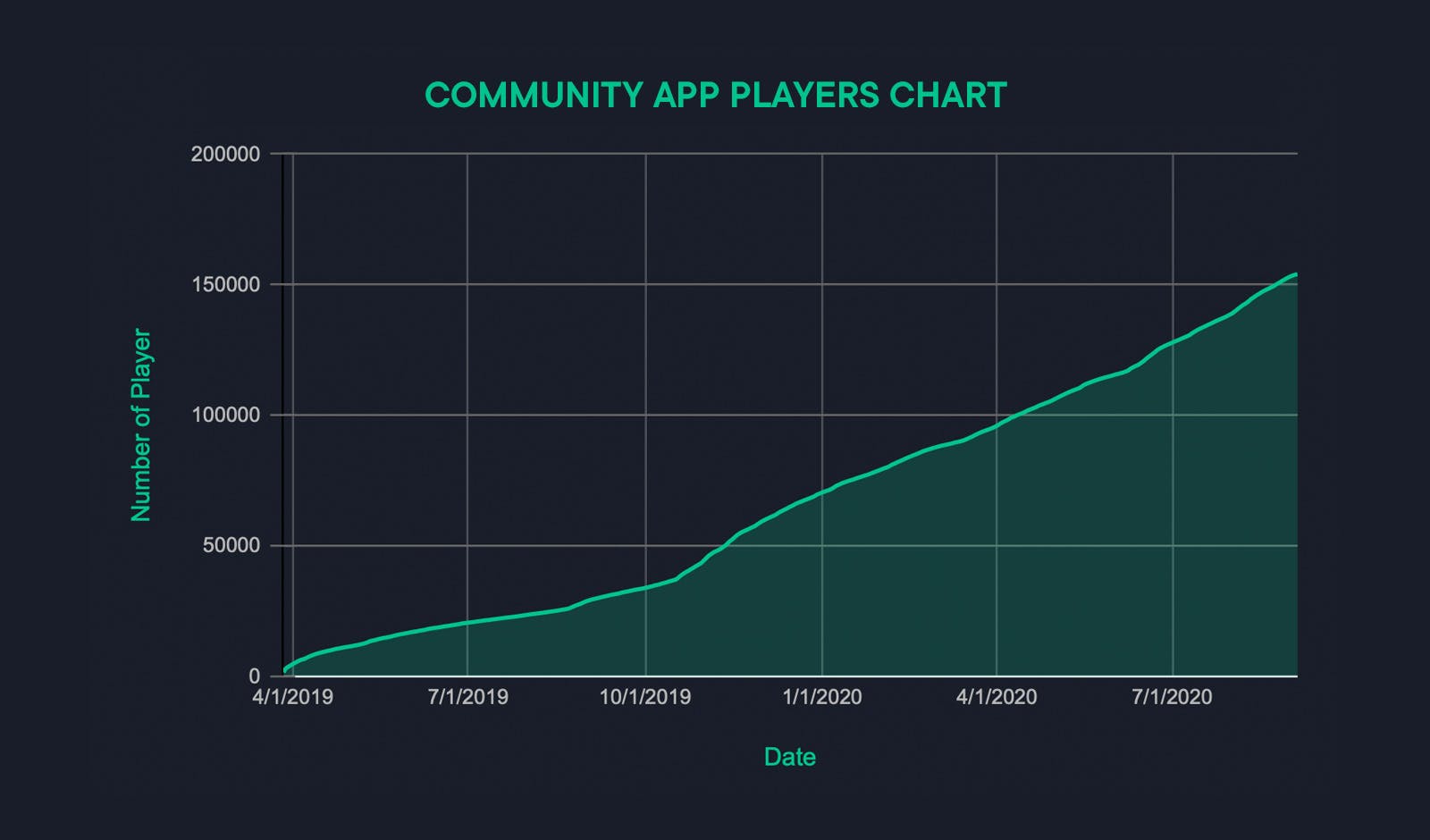 These players have been hard at work earning badges in the app:
33,300 won all three Risk Taker badges

26,700 won all three Loyal badges

22,400 won all three Psychic badges

15,500 won  all three Overachiever badges

1,090 won all three Friendly badge
Finally, 754 players won the Hall of Fame badge, which they earned by winning all of the available badges in the app! If you win the Hall of Fame, you can still win a reward of 250 CHSB as well.
The ongoing competition is still running in the Community App, where the more points you earn the larger share of the $150,000 prize pool you can earn!
Where to from here?
It's been a busy six months, but we don't intend to stop here! Here are just some of the things on our roadmap.
The Community App 2.0
Our tech team is hard at work on a new and improved Community App! This means our prediction competition will end and we'll distribute all rewards in the first half of 2021 as well as launching the new version.
The new Community App will keep all the features you love (with some new surprise features to be added), along with shorter competition timelines and more frequent prizes.
Product Roadmap
Beyond the new-and-improved Community App, we're also working on a range of new features for our SwissBorg app users and CHSB token holders.
Here are some CHSB updates you can expect:
A new and improved version of our Premium membership in the SwissBorg app, with benefits for different staking levels

Our yielding account booster, where Premium members can earn higher yields

Referendums made more accessible as an in-app feature
For our SwissBorg app users, we're also working on:
An optimised yielding program that merges the best of DeFi and CeFi

A new staking mechanism, including a Proof of Stake token

An updated marketplace with more new tokens

Thematic crypto baskets that are automatically rebalanced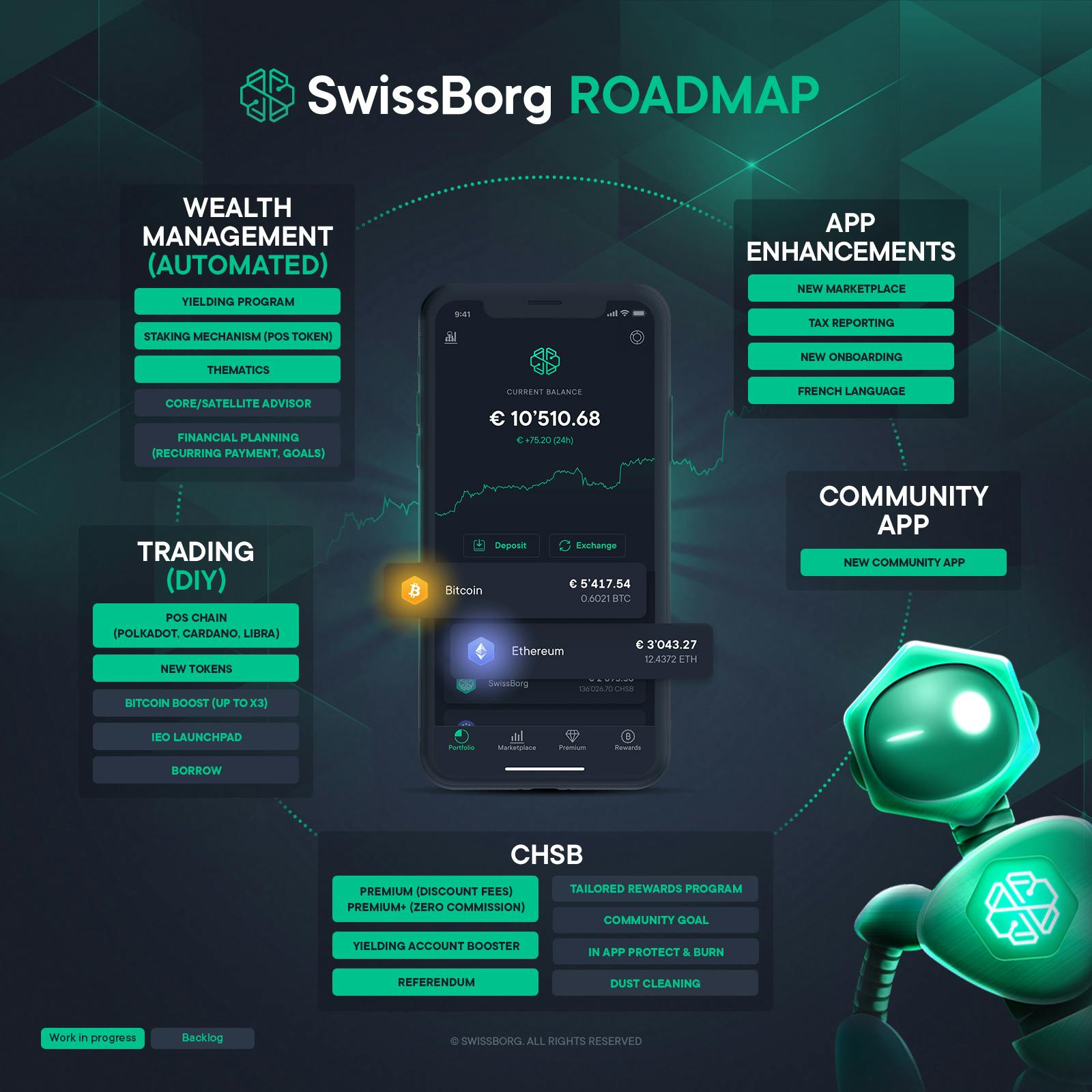 Want to come along for the ride? Then download the SwissBorg app today!
Download App