Smart Yield Report: December 2020/January 2021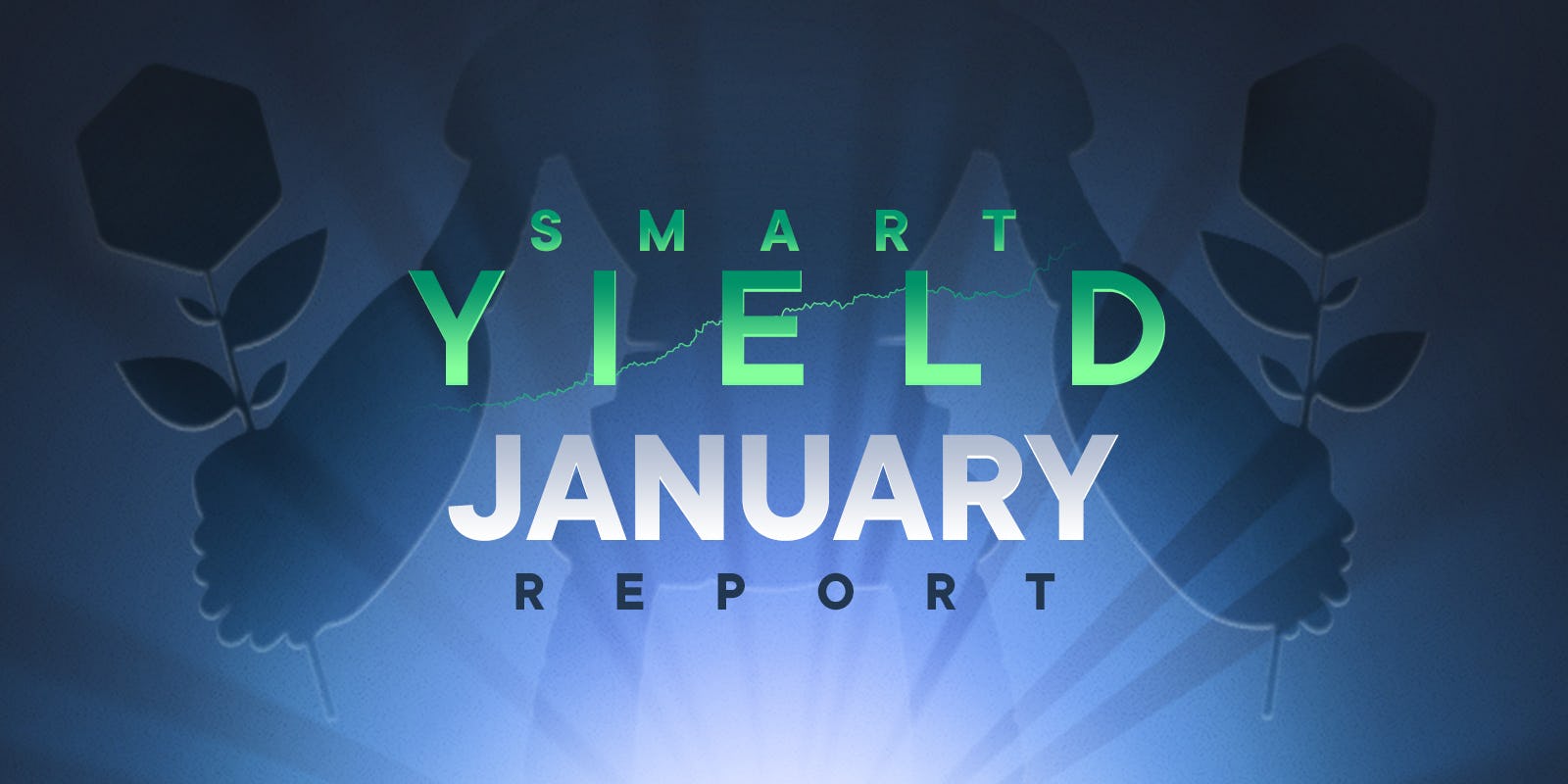 The Smart Yield wallet was successfully launched on December 14, 2020 and after a few weeks of limited access it is now available for all users of the wealth app. For the sake of transparency to our community, we will, on a monthly basis, aggregate the data to give you a report on the key figures related to the Smart Yield wallets.
The content of this report, updated monthly, will be subject to change based on your feedback and the evolution of the information we receive.
For this first report, we will cover the second half of December 2020 as well as the month of January 2021.
Smart Yield wallets results covered in this report:

SwissBorg Smart Yield wallets
The Smart Yield wallet simplifies and optimises earning a yield on your crypto, every single day. The goal is to find the best return for the lowest risk, as well as offering some of the best yielding conditions available in the market. To learn more about how it works, read our article: https://swissborg.com/blog/swissborg-launches-usdc-smart-yield
USDC
Performance Overview
After more than a month and a half, the average proposed annual yield is above 20% with a maximum yield of 26.82%. Nearly 10,000 users have benefited from Smart Yield for a total cumulative compounded return of more than $275,000.
In addition to optimising yield while minimising risk, SwissBorg has also established a USD1 million Safety Net Program in CHSB (8,333,333 CHSB) to protect against Smart Contract risk, and we put the equivalent of 25% of max yield earnings into that program to ensure it grows alongside our community's investments.

USDC Smart Yield performance, December and January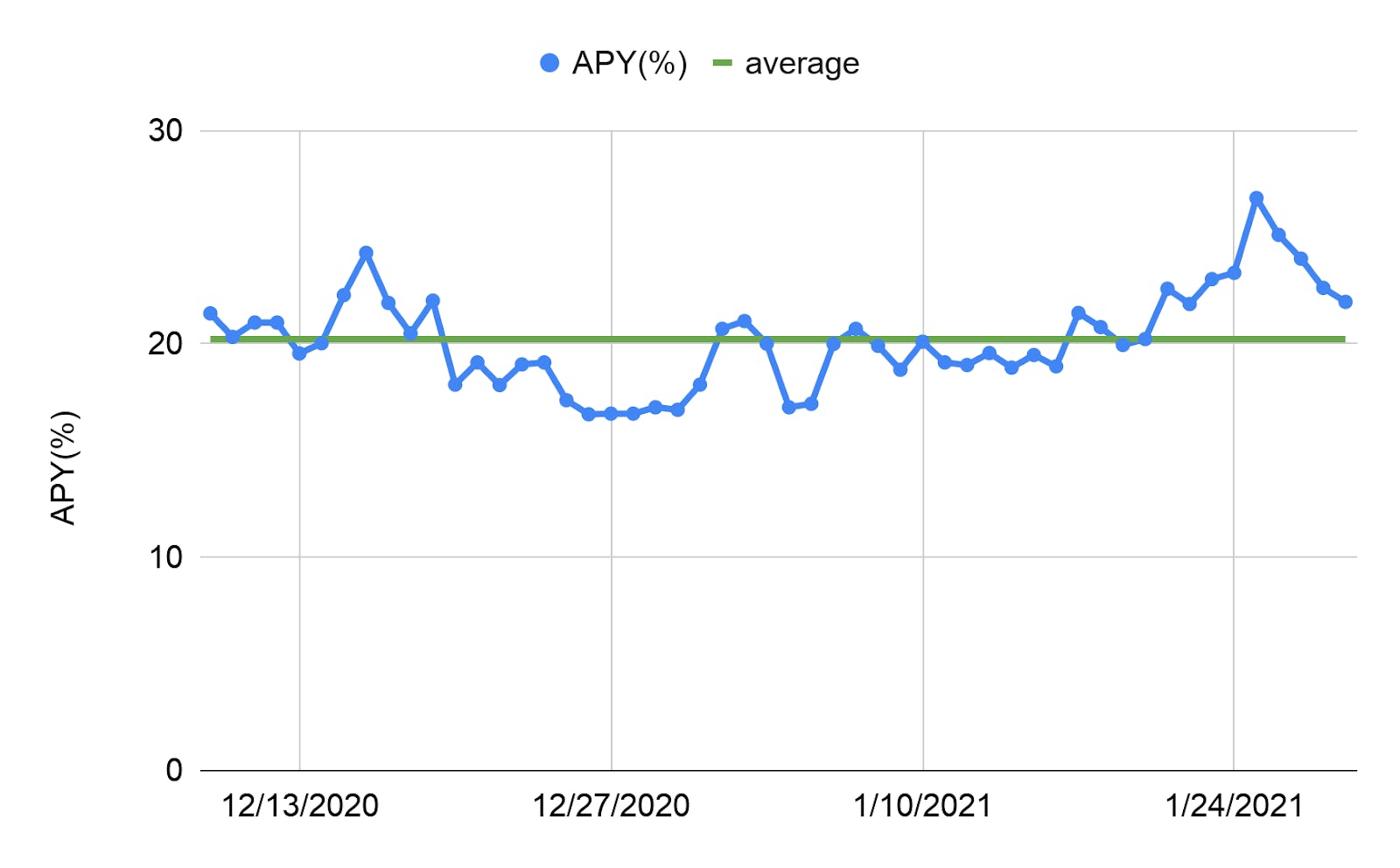 Optimised maximum yield (for Premium users) obtained daily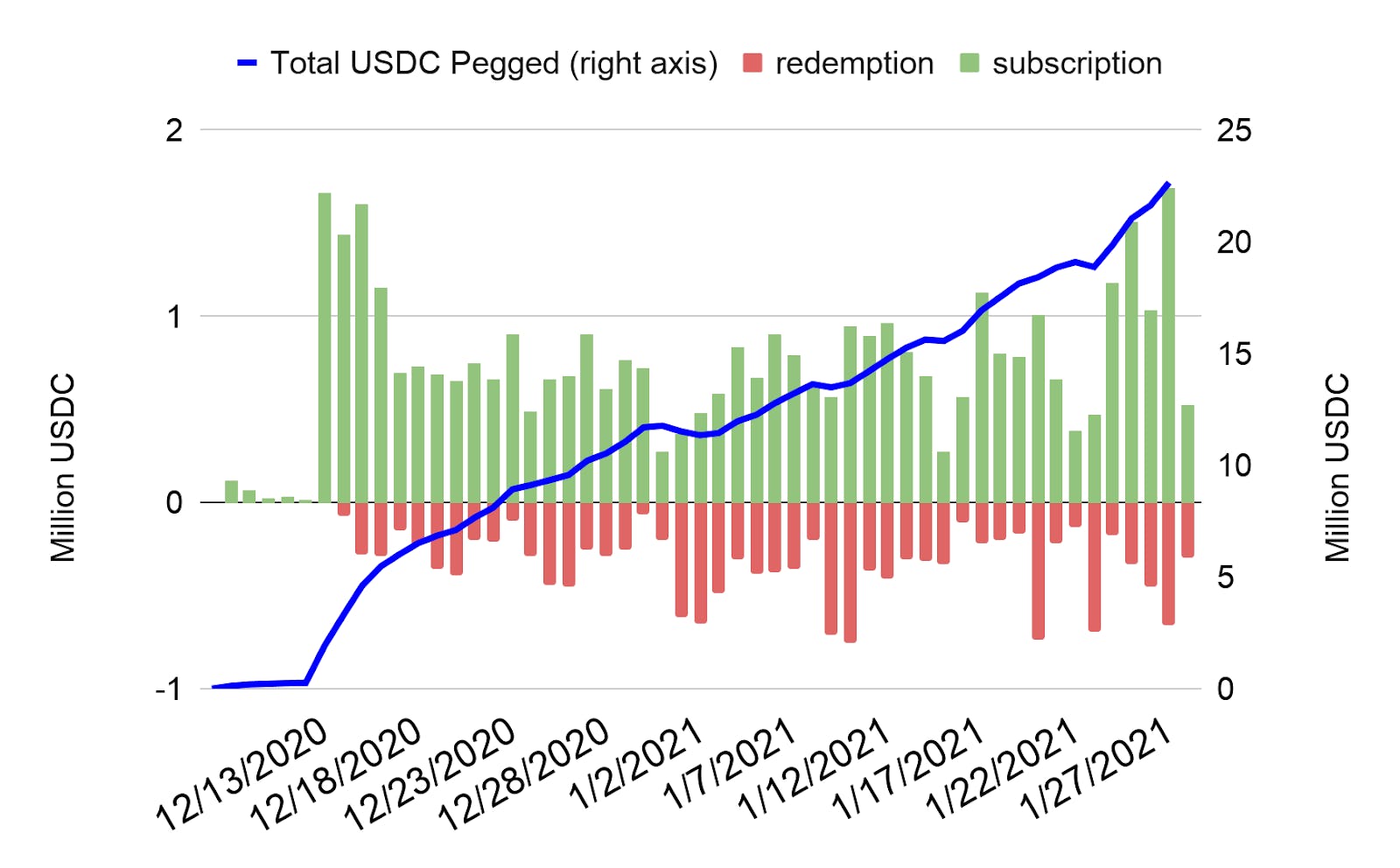 USDC growth in the Smart Yield wallet and daily user subscriptions/redemptions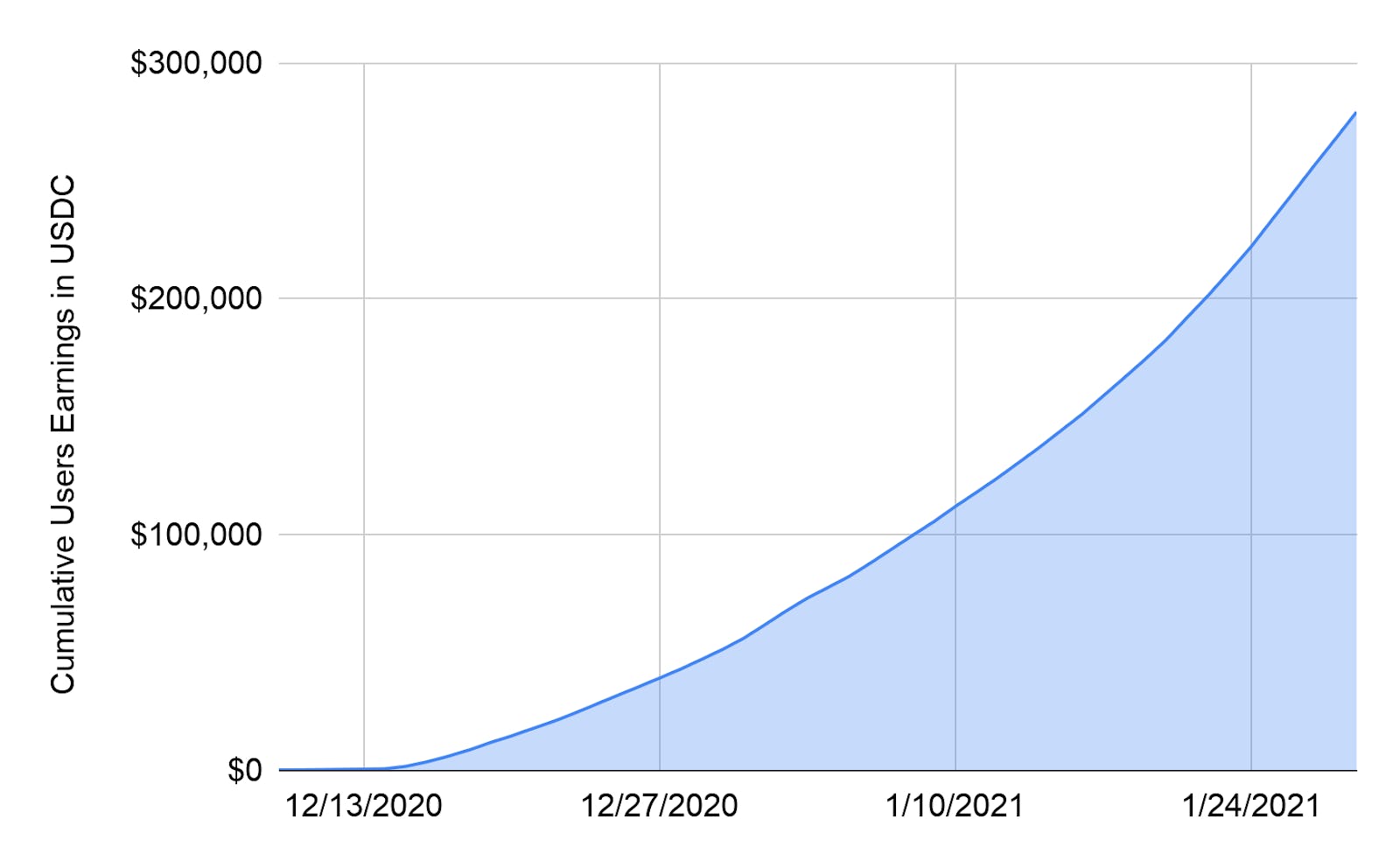 Cumulative earnings (includes Premium and Standard users)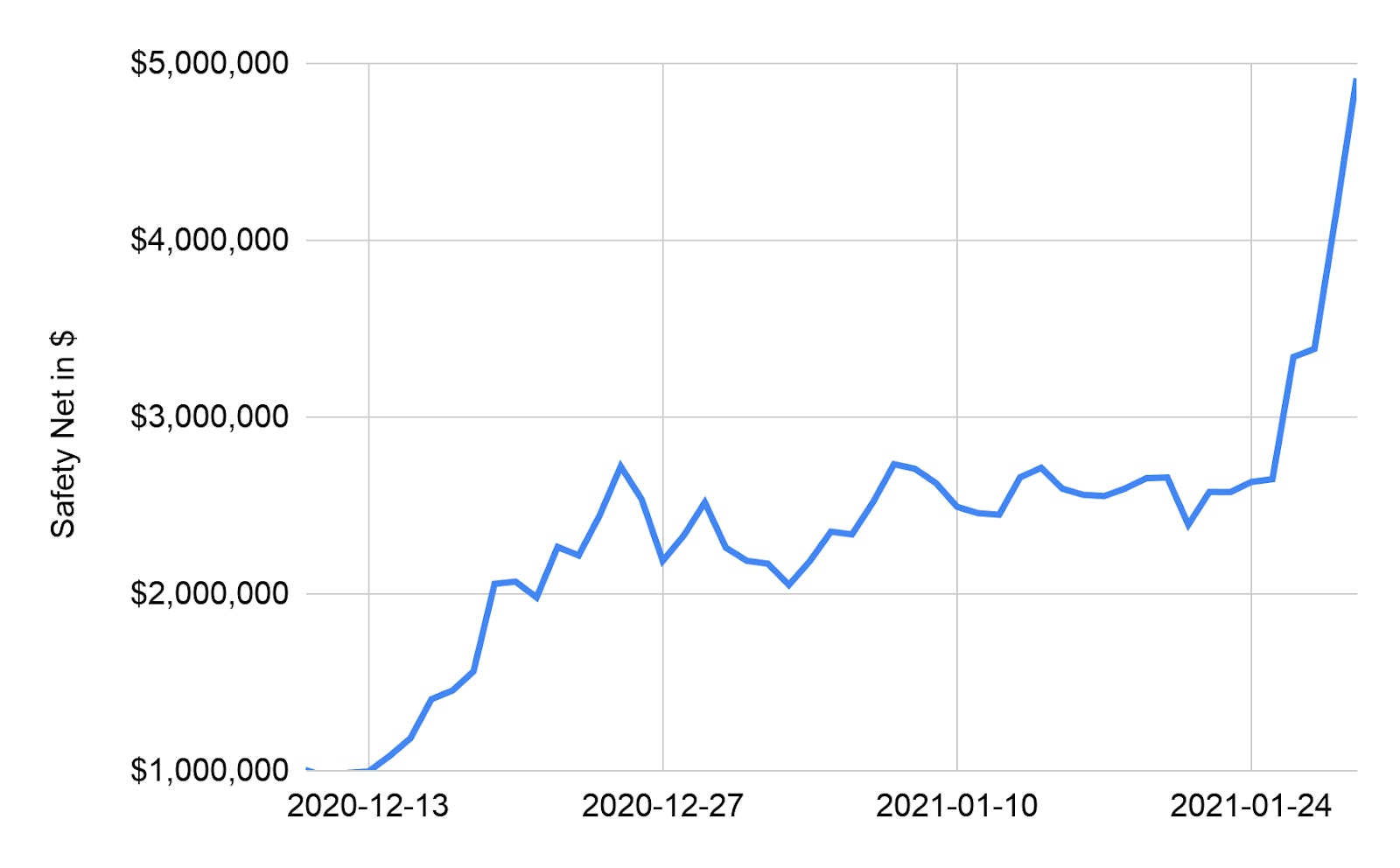 Cumulative earnings (includes Premium and Standard users)
Strategy Optimiser
In order to obtain the best possible return for an optimal risk, the optimisation of the strategy consists in diversifying into numerous DeFi and CeFi applications once they have been audited (Smart Contract and due diligence) in order to limit the risks. Nine different applications were used over December and January with a maximum diversification of seven different applications. It is important to note that these different applications are developed on the Binance Smart Chain or the Ethereum blockchain. Thus, it adds an additional layer of complexity.

To optimise the yield and to navigate between the different projects, many time consuming transactions were performed on the two different blockchains. In total, nearly 600 transactions have been performed since the launch of the Smart Yield wallet. It is important to note here that these transactions are performed securely. Indeed, a double signature is required for all transactions.

These transactions had a cost of $6,071 in transaction fees. Despite the fact that the Binance Smart Chain was the most used in terms of transactions, only 2.1% of the fees were paid on this blockchain.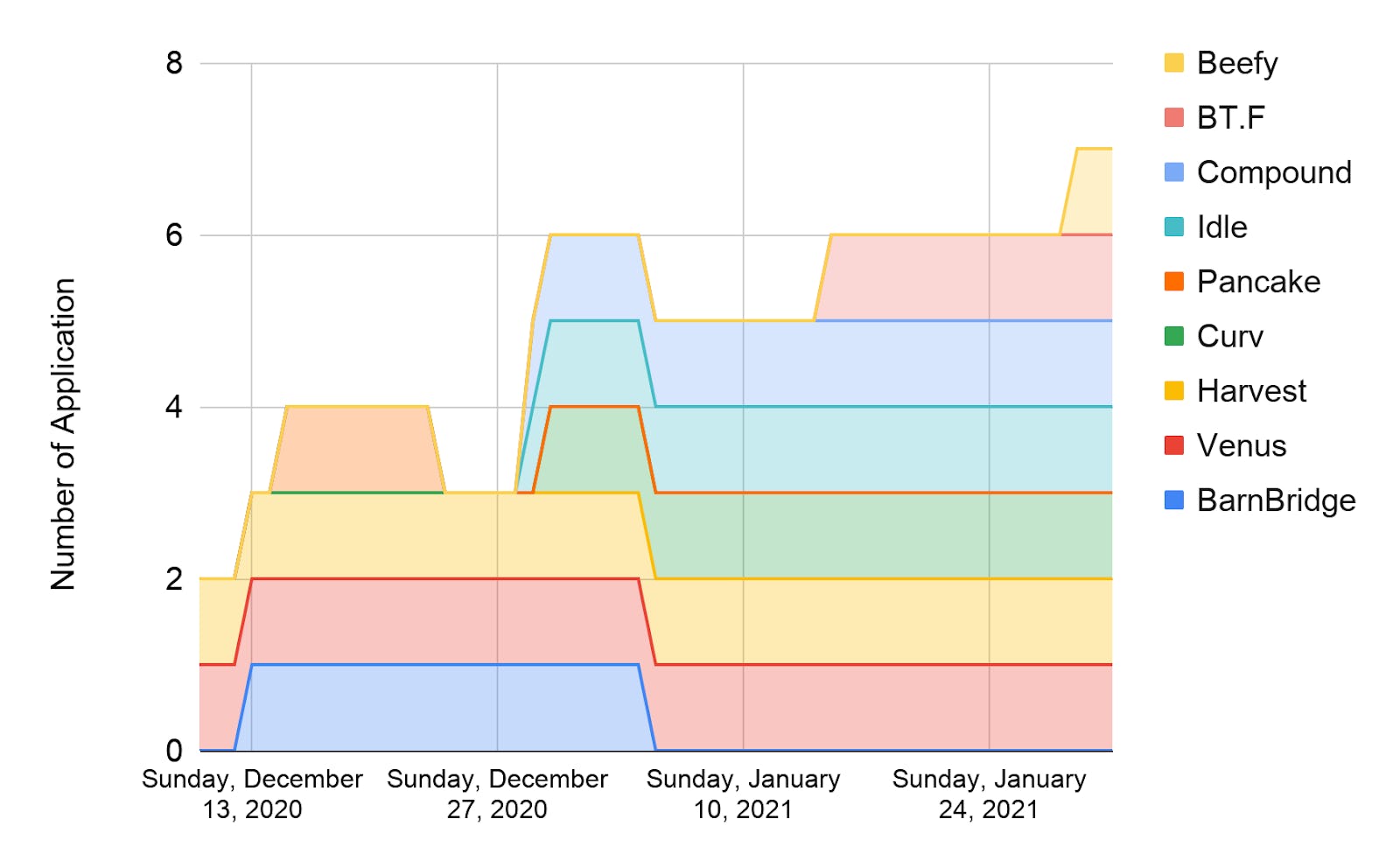 Smart Yield strategy optimiser allocation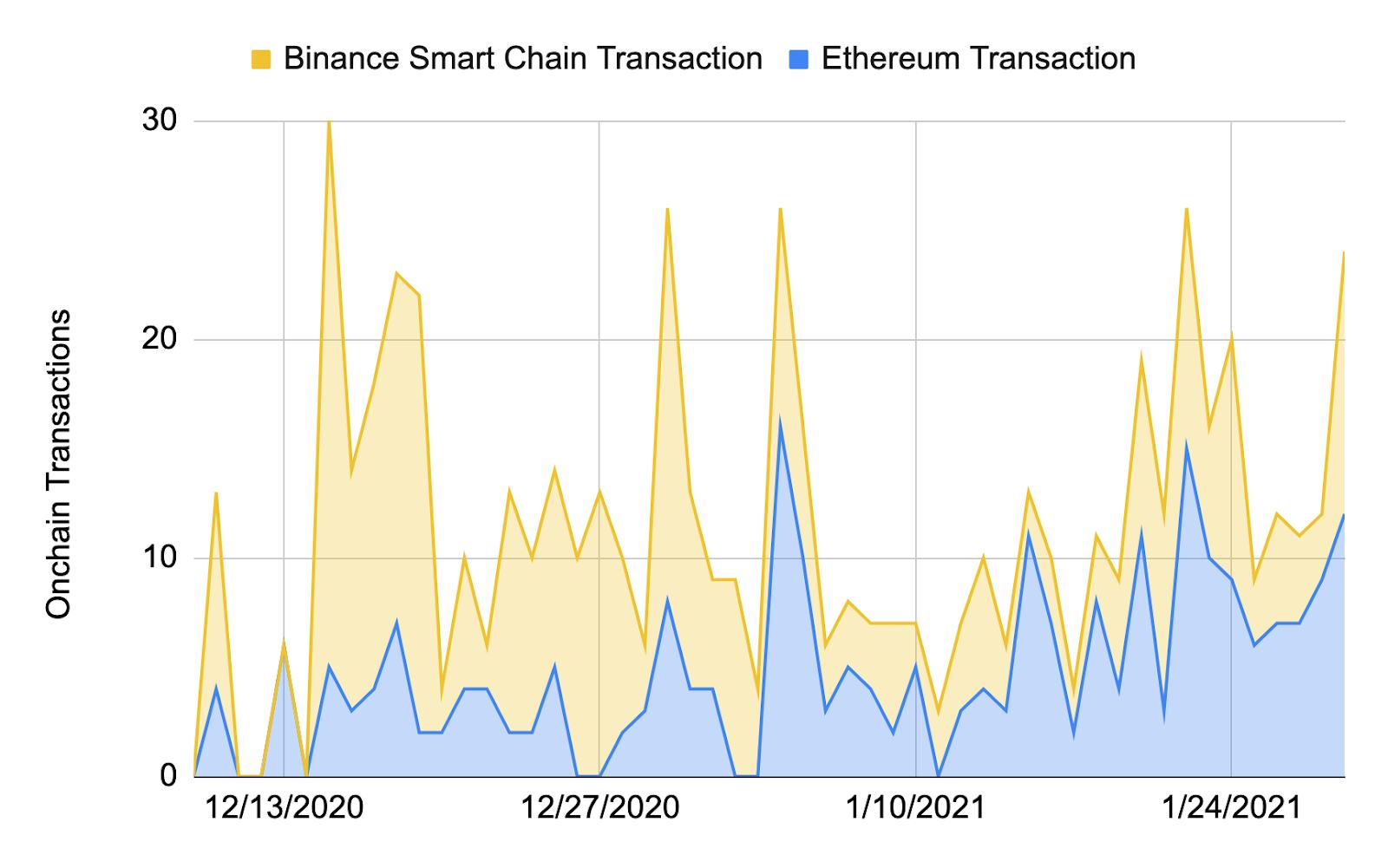 Smart Yield strategy optimiser transactions over time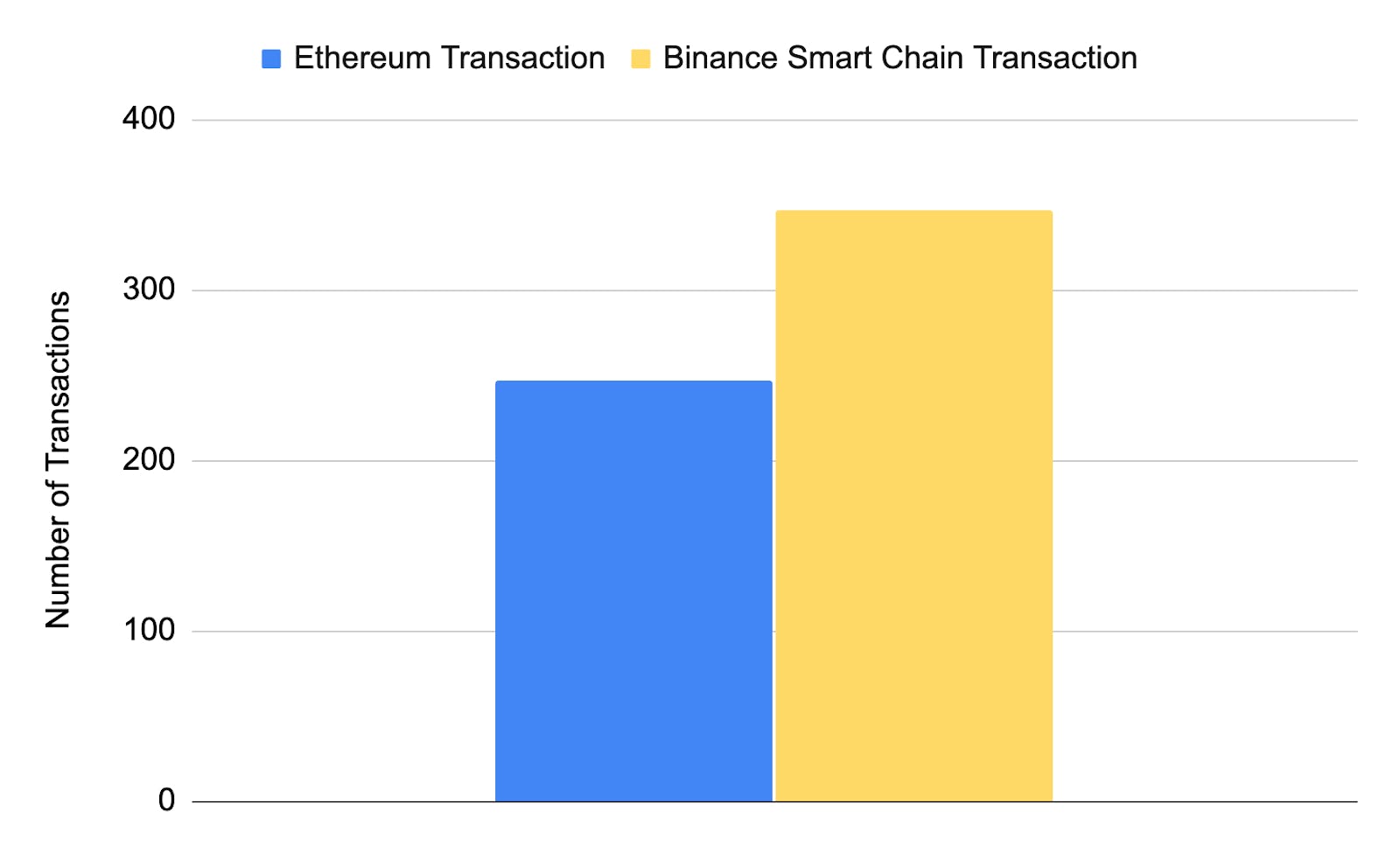 Total strategy optimiser transactions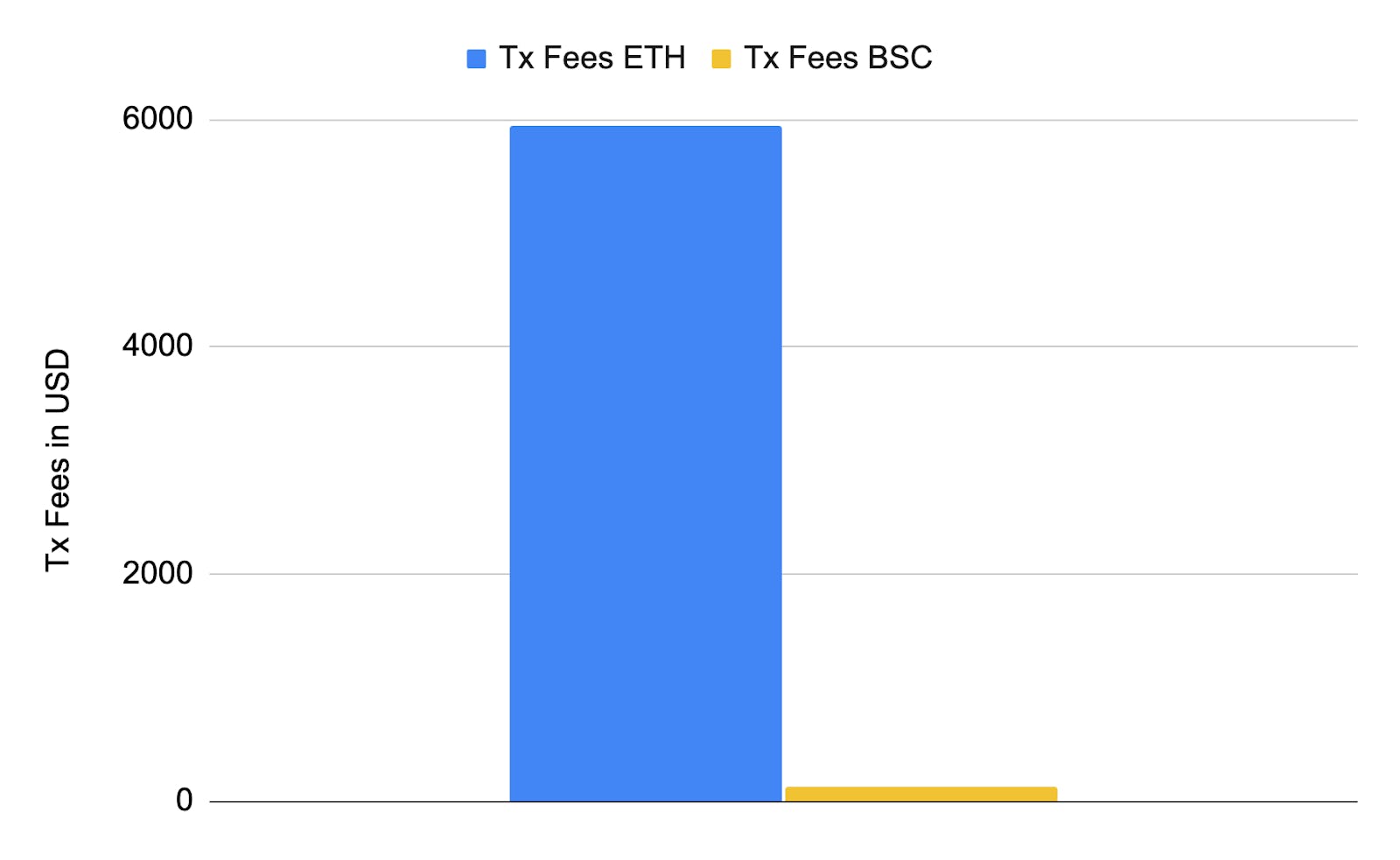 Transaction fees paid by the Smart Yield strategy optimiser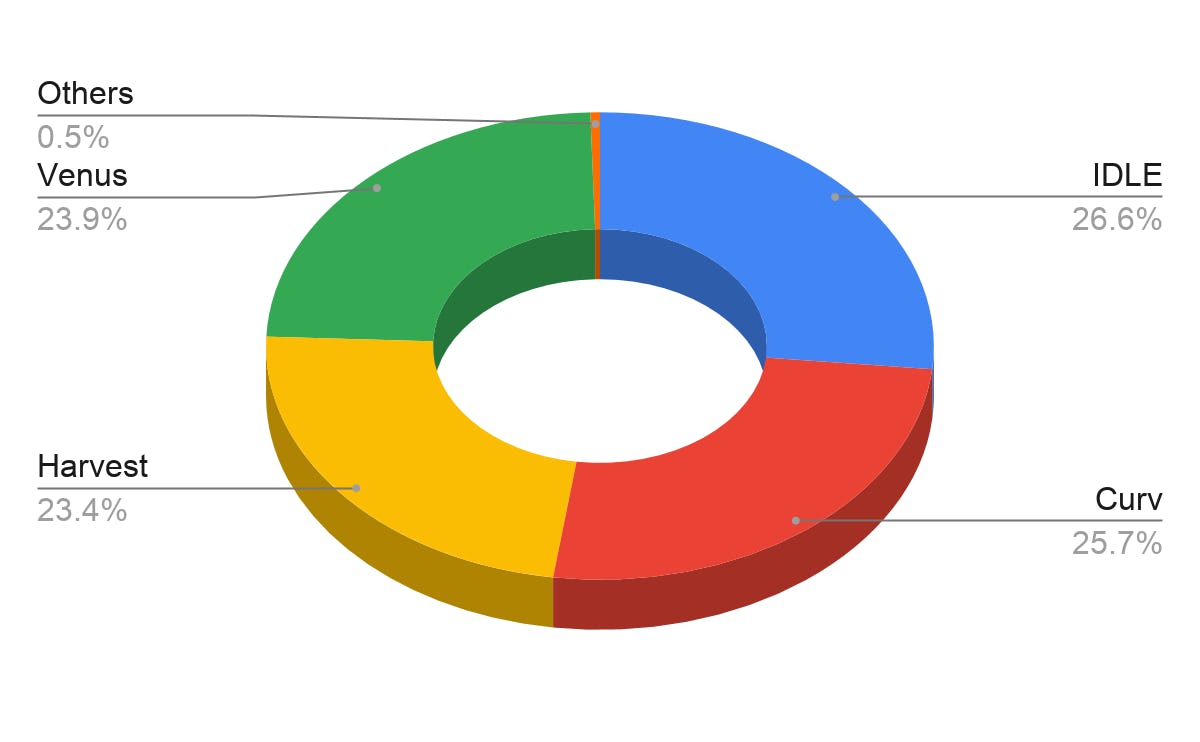 Smart Yield allocation as of 31 January 2021
Disclaimer: The information contained in or provided from or through this article (the "Article") is for informational purposes only, and does not constitute financial advice, trading advice, or any other type of advice. Neither SwissBorg Solutions OÜ nor its affiliates ("Entities"), make any representation or warranty or guarantee as to the completeness, accuracy, timeliness or suitability of any information contained within any part of the Article, nor to it being free from error. The Entities reserve the right to change any information contained in this Article without restriction or notice. The Entities do not accept any liability (whether in contract, tort or otherwise howsoever and whether or not they have been negligent) for any loss or damage (including, without limitation, loss of profit), which may arise directly or indirectly from use of or reliance on such information and/or from the Article.