Series A Referrals - The Race is on!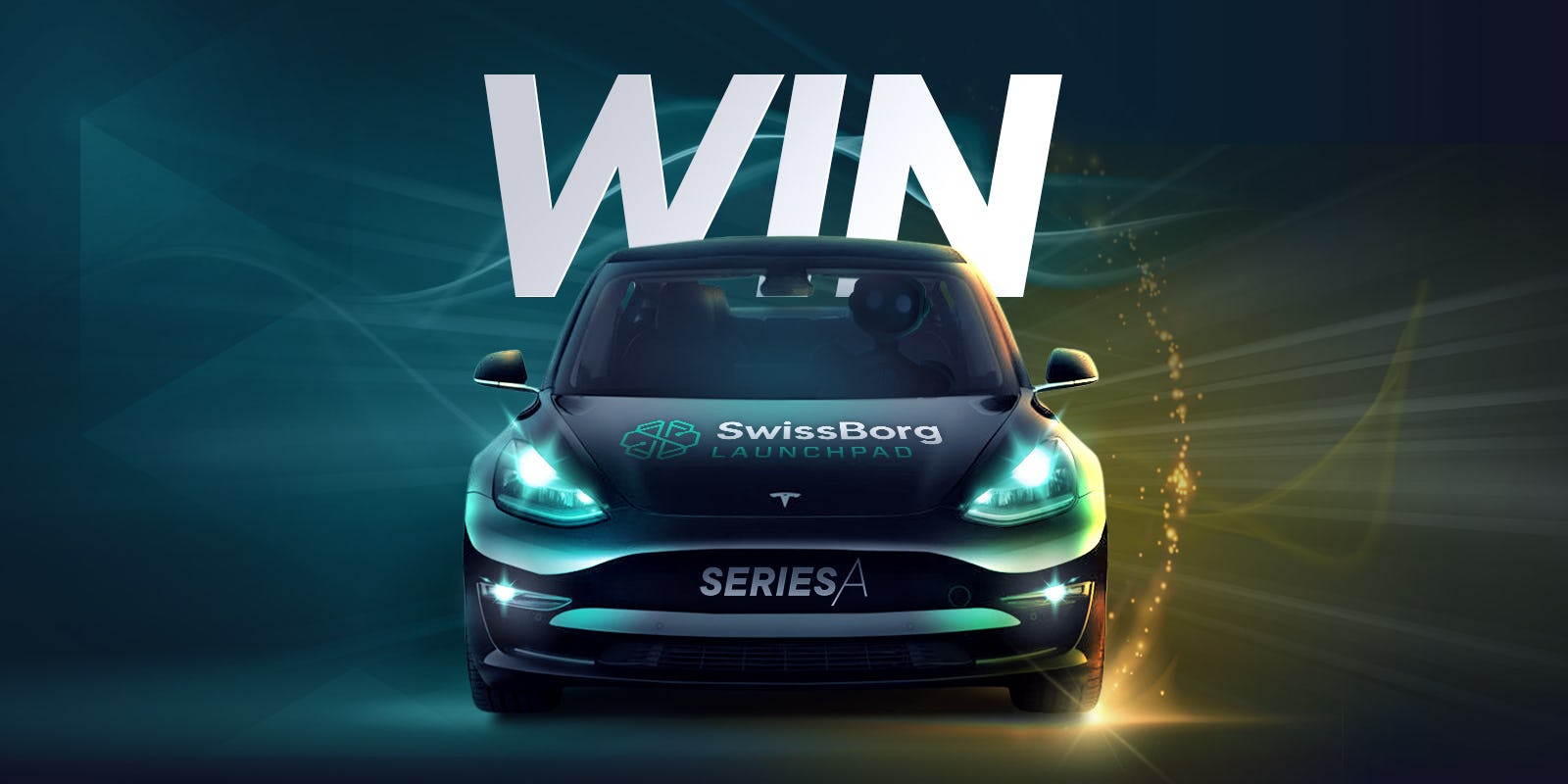 This Series A would not be a SwissBorg fundraiser without some extra fun & community centrism. 
Having one of the most vital communities in the world, SwissBorg has had the privilege of growing exponentially via referrals in the past. Our community has already spread the love to hundreds of thousands of people! Following our meritocratic ethos, we always seek to reward those who help us the most - the Series A is yet another beautiful opportunity to do so. 
We are therefore extremely excited to launch our most spectacular referral initiative in SwissBorg history: The SwissBorg Series A Referral Leaders Program!
What's at stake? 
Up to 5% in rewards on all your referral investments, 100'000 CHSB, and the official SwissBorg Tesla!
Here is how it works:
Become a SwissBorg Partner by investing in the SwissBorg Series A. 

Find your unique referral code located in the SwissBorg app's "Rewards" tab or on the SwissBorg Launchpad Menu as "Invite Friends" (once connected to the app).

Share your referral code to your private network and earn percentage CHSB rewards as well as points for every successful referral and for the total amount invested by your referrals. Existing or new SwissBorg users, your invitees must correctly add your referral code in their launchpad to be considered a successful referral.
General Rewards: Earn up to 5% Reward on your referral's investment. 
Spread the word about our Series A* and get a percentage of your referrals' investment!

Example: If your referrals invest a combined CHF100'000, you will receive CHF3'000 in CHSB straight to your app. 
Referral Leaders Rewards: Qualify for 100'000 CHSB & the SwissBorg Tesla.
Points Rule: 
Earn 1 point for every 1 share bought by you and your referrals combined, from now on, defined as "your network."
Earn an additional 250 points for every successful referral completed. 
For Example, you have successfully referred 3 users, and together the 4 of you have bought 1'000 shares. Your points= 1'000 + (250x3) = 1'750. 
The bigger and more invested your network, the more points you will earn, promoting you higher up in the leaderboard.
What happens when I reach the top 100 on the referral leaderboard? 
On top of earning a hefty amount of investment rewards - if by 31/01/23 you are among the top 100 referral leaders, you can also get your slice of the 100'000 CHSB prize pot!
Following our community app approach, everybody in the top 100 can place a prediction on BTC's price one week ahead… the 10 closest participants will each get 10'000 CHSB straight into their app account. In case of a tie, the person highest ranked on the leaderboard takes it. 
What happens when I reach the top 10 on the referral leaderboard? 
Those among our top 10 referral leaders will get their shot at our one and only SwissBorg Tesla ! 
Those in the top 10 will be asked to provide a short video pitch on why they should get the Tesla. AI tools are also allowed. Your creativity is the limit. After the pitches are submitted, the other 9 participants will take 1 vote each to crown the winner. You can not vote for yourself. In case of a voting tie for the winner, the highest ranked among the tied top contenders will take the Tesla home. 
Are you ready BatBorger?
Refer Now
Your referral code can be found by logging into the Launchpad in the "Invite Friends" menu option or the SwissBorg App's Rewards tab.