Powerful Portfolio Analytics - Free in the Wealth App!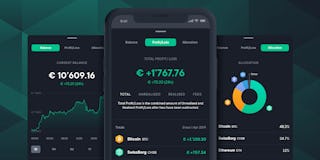 While many investors are eager to analyse their portfolio's performance, they often don't have the tools to do so. This is especially true for crypto investors. Their assets are held across a range of different wallets and websites, most crypto apps and websites don't share transparent information, and if they do try to review their portfolio, it's often a manual process of putting everything into a spreadsheet.
This is why we at SwissBorg are so excited to announce the latest addition to the SwissBorg App - Portfolio Analytics!
The SwissBorg Wealth App makes investing in crypto assets safe, fair and accessible, with the ability to deposit using fiat currencies, exchange to a range of popular tokens, get the best price from multiple exchanges, and track market movements with hourly asset analysis - all within a single app.
The Wealth App's new Portfolio Analytics is a free portfolio analysis tool, featuring in-depth investment statistics in an easy-to-understand format. With the goal of making the complex world of crypto investing simple, Portfolio Analytics empowers you to analyse your portfolio's performance without leaving our app.
Running Portfolio Balance
On the Balance screen, you can view your historical balance over different periods, including a quick overview of total deposits, withdrawals, fees and profit/loss. This provides insight into how your portfolio has grown over time, and the opportunity to analyse periods of high and low returns.
Profit/Loss
The Profit/Loss screen aims to give you a more realistic view of your portfolio's performance, by displaying both unrealised and realised profit and loss. Simply put, your unrealised profit looks at how your current assets are performing, while your realised profit shows profits you made upon selling an asset.
Plus, for even deeper analysis, the SwissBorg Wealth App displays profit and loss per asset in addition to your portfolio's total profit and loss, allowing you to identify opportunities in specific assets, along with making smarter investment decisions.
Investment Fees
No one else gives you this kind of transparency. While other apps hide their fees in their exchange rates, SwissBorg clearly shows when fees are charged, including a per-asset view.
Asset Allocation
A standard piece of investment advice is to diversify your assets. In the SwissBorg Wealth App, the Allocation screen gives insight into the weighting of your portfolio with a percentage breakdown of your assets. With this tool, you can analyse whether it's time to diversify your assets.
How can you access Portfolio Analytics?
To access this free portfolio analysis tool, simply go to the Portfolio screen of the Wealth App and click the icon in the top-right corner of the screen.
Ready to get started? Download the SwissBorg Wealth App today to take control of your crypto wealth!