Announcing SwissBorg's first Protect & Choose vote!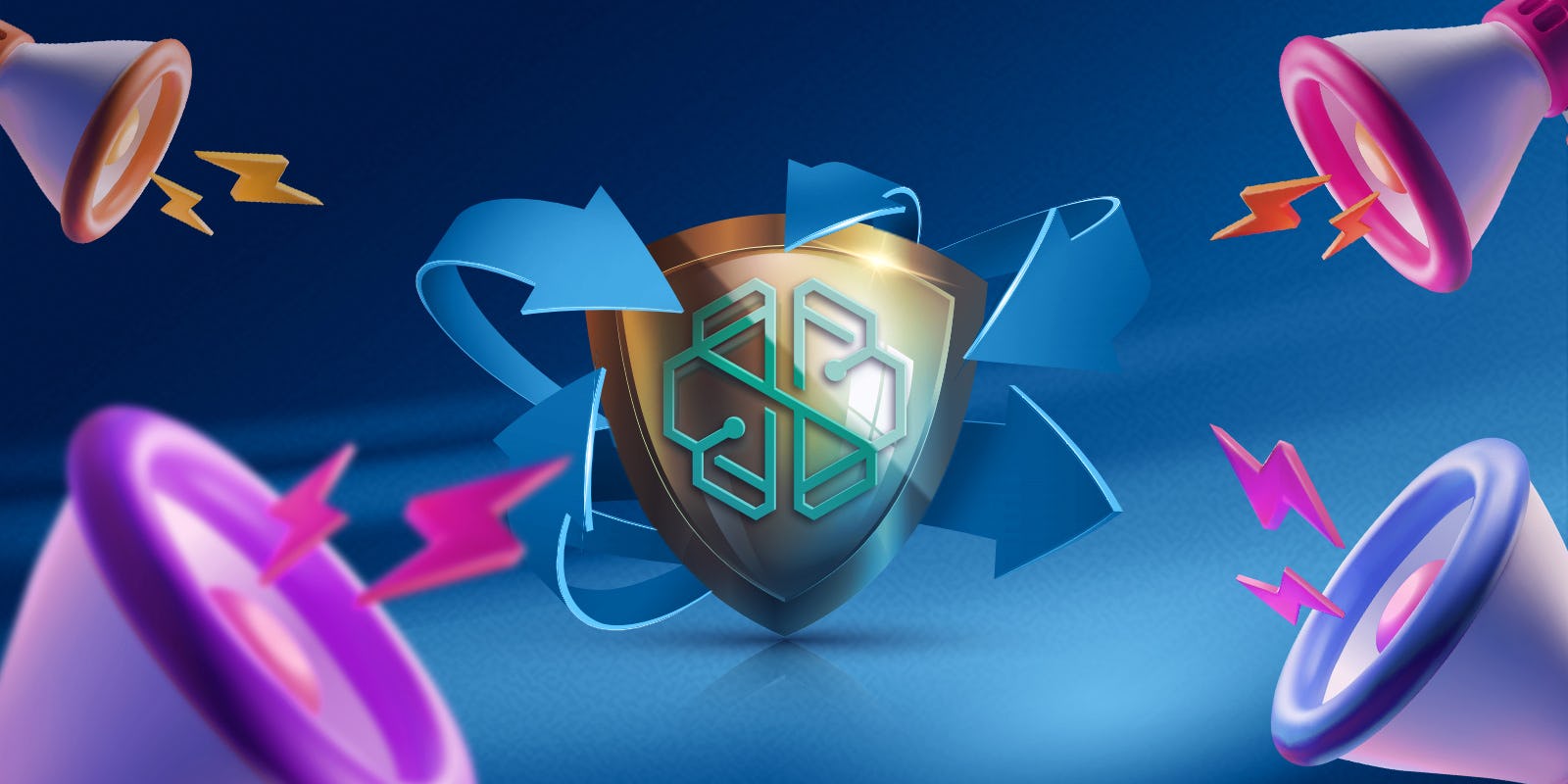 Jacqui Pretty
Chief Marketing Officer
In March we announced the evolution of Protect & Burn where, instead of burning CHSB tokens after they were bought back, we would put them into a pool where our loyal token holders could vote on how they would be used at the end of each quarter.
Now we are at the end of Q2 and it is time for the first Protect & Choose vote!
If you are a CHSB token holder who is subscribed to SwissBorg's marketing emails, on the 28th of June 2022, you will receive an email and in-app notification with a link to submit your vote later today.
If you missed the news about Protect & Choose, please keep reading to learn more about this mechanism.
What is Protect & Choose?
As mentioned above, Protect & Choose is the evolution of our innovative Protect & Burn program. You can learn more about why this evolution was necessary here.
Protect & Choose involves two components:
Protect:

Buying back CHSB tokens on the market to support the price of the token

Choose:

Giving our token holders the opportunity to have their say on how the pool of tokens should be used
The way it works is that we constantly put 20% of the fees generated by exchanges in the SwissBorg app into the Protect & Choose pool. We convert these tokens into USDC and put them into the Smart Yield wallet, which means the pool is generating a yield and thereby growing larger over time.
Throughout the quarter, we use this pool to buy back CHSB on the market. We do not announce when this is taking place, as we want to avoid rewarding speculators who buy before a buyback is announced only to sell after CHSB's price rises. Instead, we want to support our loyal token holders by putting pressure on the price over time.
At the end of each quarter, the entire pool is then put to a vote by CHSB token holders.
How many tokens are available to be voted on?
The pool available for the first Protect & Choose vote is 5.8 million CHSB. If our token holders choose to burn these tokens, it will be the largest burn in SwissBorg's history! 
These tokens have been bought back over the past six months for a total cost of $2.4 million, an average price of $0.413 per CHSB. As described above we performed buybacks to support the price of the token against Bitcoin. You can see when the buybacks occurred and the CHSB/BTC price action in the chart below.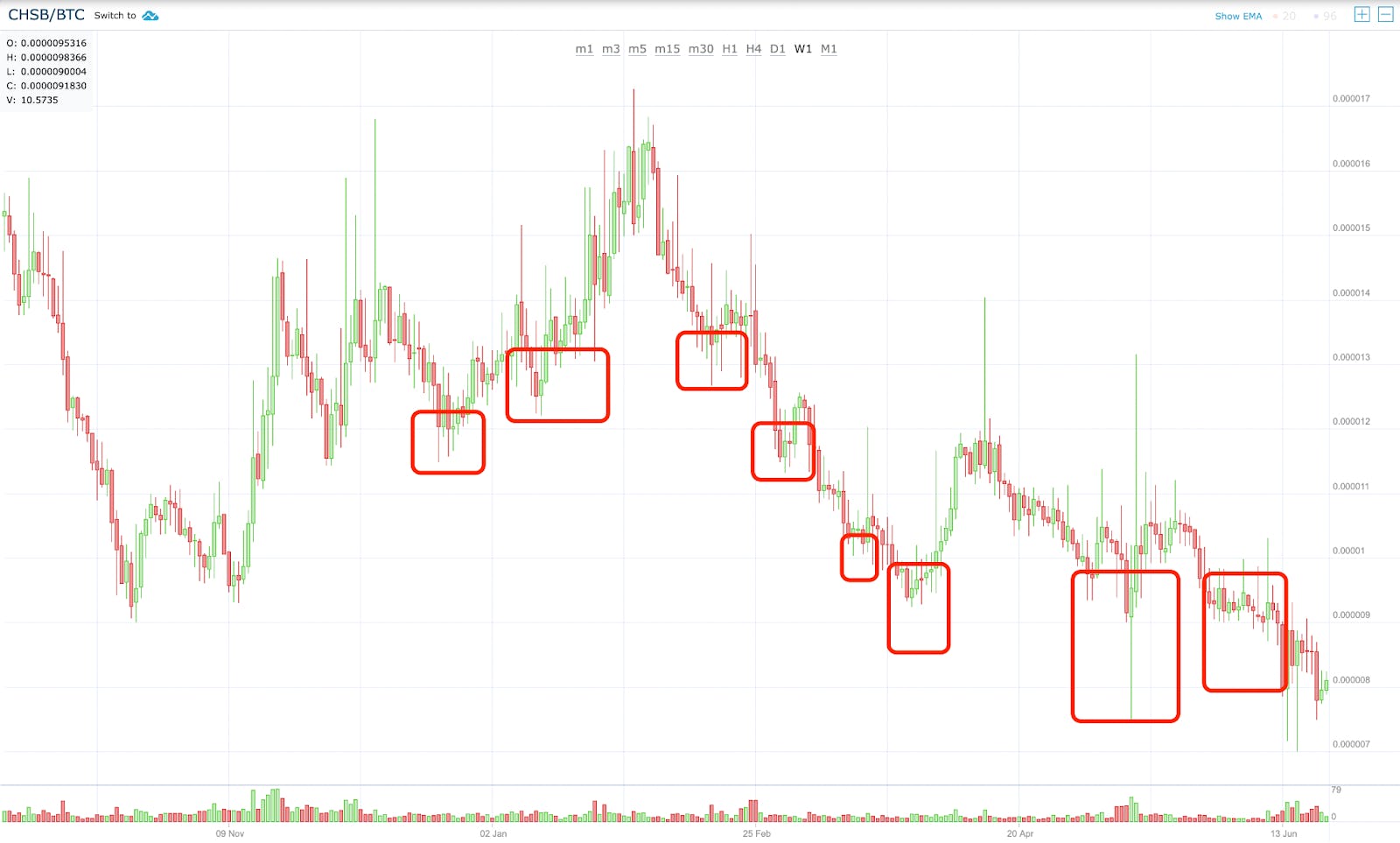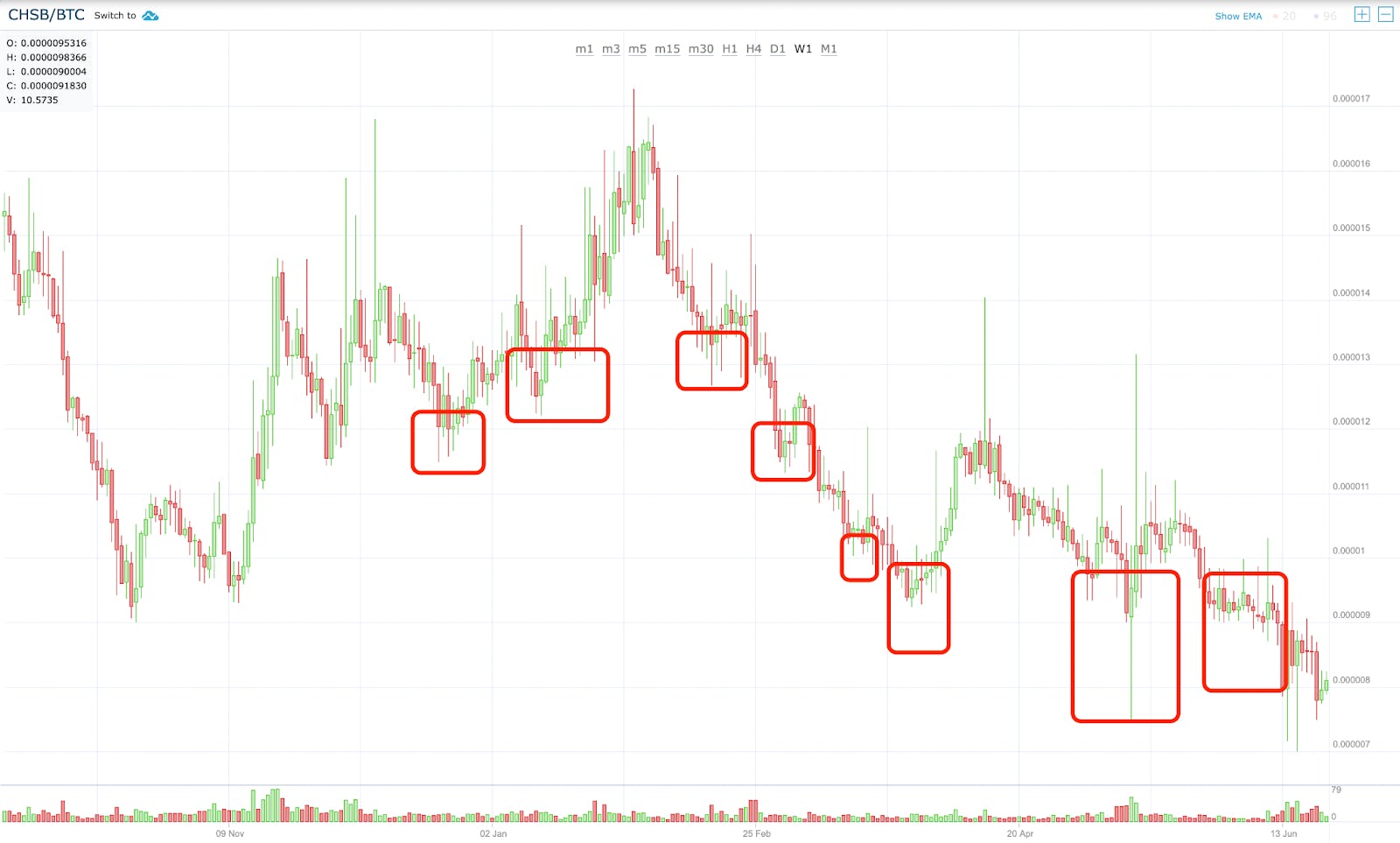 These buybacks were also triggered by limit orders, which were set to help lower the amount of selling pressure in the long term. In five out of the eight buybacks the price of CHSB held for over a week. Two other buybacks saw an immediate price boost, but unfortunately the price didn't hold.
However, when Bitcoin started crashing significantly, we observed that the buy back was not helping CHSB's price at all, which means we paused buying back while we waited for Bitcoin's price to stabilise.
For this reason, the remaining 1.5 million dollars in the pool will be reserved for next quarter's Protect & Choose vote. This pool will also continue to grow over the next quarter, as we continue contributing 20% of the fees generated by exchanges in the SwissBorg app, converting the pool to USDC and earning a yield on it. At the end of Q3, the community will once again have the opportunity to choose the fate of the CHSB we buy back in that period.
Which options can you vote for?
The Protect & Choose survey asks two questions:
What percentage of the tokens should be burnt? (0-100%)

If some tokens are not burnt, how should they be used?
Let's look at these in more depth.
Burning CHSB tokens
Burning tokens involves permanently removing them from the circulating supply. In this way, CHSB is deflationary, as not only will no new tokens be created, but the existing supply will diminish over time. Then, if demand remains constant (or increases) while supply is going down, the price of CHSB should rise over time.
This was one of the reasons that Protect & Burn was so popular, and over about 18 months we burnt over 10 million tokens.
While burning is an enticing option, though, there are a number of other ways the pool could be put to use - some of which might be even more powerful growth drivers than a burn!
Because of this, we wanted to give our token holders the opportunity to burn some of the tokens, but use the remaining ones for another purpose. So the second question in the survey is about what percentage of tokens you would like to burn - there is a scale from 0-10, with 0 representing 0% and 10 representing 100%.
The average percentage requested will then be the percentage that is burned.
How else tokens could be used
If the answer to the previous question is less than 100%, holders will be able to vote on the following options:
Offer a bonus airdrop to loyal CHSB Yodlers:

This idea was proposed by the former National Council last year. If this option was voted on, we would define cohort of loyal yodlers based on the length of time they have held CHSB in the yield wallet. The remaining tokens in the Protect & Choose pool would be divided equally among those users and airdropped.

Create a community led marketing fund.

We would provide our most engaged community members a budget to run their own promotional efforts to spread the word and love. Possibilities could include: organising community tournaments, giveaways, influencer sponsorships, local events, activation plays and more. 

Fund user research budget.

To make the best products, we need feedback from our users. Unfortunately, it's challenging to onboard a diverse group of users for testing. A comprehensive User Research budget would allow us to attract and test new features and products much more efficiently, ultimately resulting in better products that are more relevant to more users.
At SwissBorg there is a dedicated CHSB Squad looking at how to best serve our community and our token. This squad is aims to provide the best choices to our community each quarter. All choices are thoroughly analysed and vetted according to the value, viability, usability and feasibility This means there might be different options to choose from each quarter.
How are the votes weighted?
All CHSB token holders are eligible to take part in the Protect & Choose vote. However, the power of their votes will vary based on their account status as follows:
Genesis = 6X voting power

Generation = 5X voting power

Pioneer = 4X voting power

Community = 3X voting power

Explorer = 2X voting power

Standard = 1X voting power
So if you're not already a Premium user, this is a great time to uplevel your account to ensure your vote has even more power.
The survey will be open for one week and, once the votes have been submitted, our data team will calculate the results taking the above weightings into consideration.
Following this, we will announce the results of the first Protect & Choose vote in the Pow Wow and in the SwissBorg blog on July 12th!