SwissBorg's Transparency Report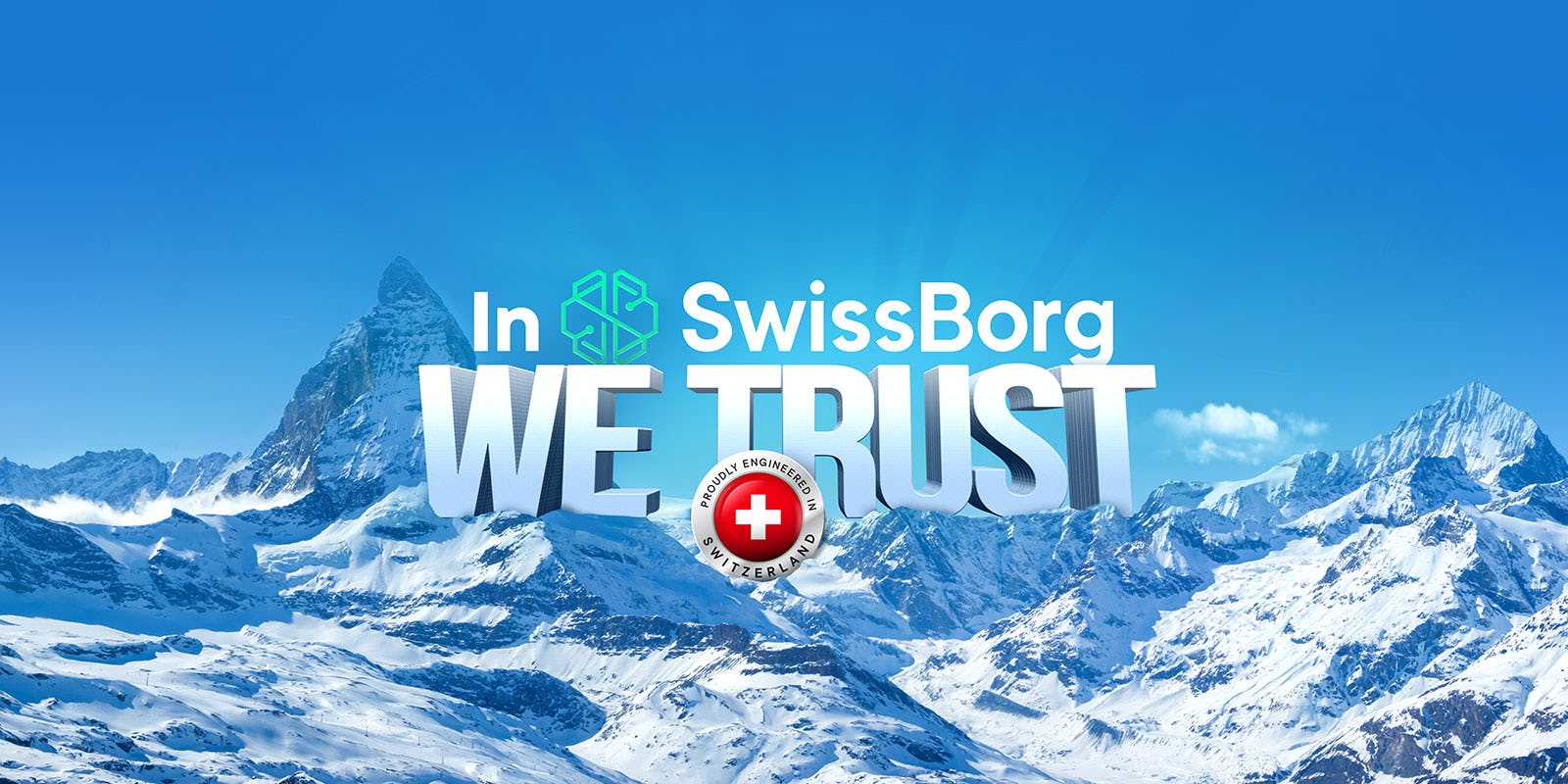 The CHSB Yield 2.0 has come to a close. For the latest updates, please refer to this page. Thank you for your participation!
Table of content
Our product framework

Our commitment to mitigating risk

Our regulatory framework

Our internal organisation

Scope of our licenses

Our trusted partners and executive team of experts

Our commitment to the community

Our commitment to transparency

Our transparency roadmap

Our commitment to $CHSB
At SwissBorg we always look for the silver lining. The FTX crash and its fallout is acting as a stress test in the crypto space. As innovators who have been raised in an open-source culture, we especially welcome tests about our transparency. 
Our thoughts go out to all of the individuals whose trust has been misused and who, in too many cases, find themselves in financial hardship as a consequence. We see this as an opportunity to set a higher standard - to set a de-facto benchmark of transparency and governance for this industry that is still in its adolescence. Verify, don't trust, we stand by those words and therefore also understand the importance of showing and not just telling. This is the purpose of this document.
We are Swiss-made, and the integrity of our business is upheld by our heritage. Neutrality & sound risk management lay deep in our DNA. With this article we want to encapsulate our resilience and commitment to transparency. As we hold strong through our 2nd bear market we grow wiser and more purpose-driven than ever before. The market is being cleansed from the bad and inefficient actors - the survivors are in the strongest position for the next leg up. 
Our Swiss values remain as the backbone of our endeavours, but our mission to democratise wealth management transcends borders. Today, our reach extends beyond our Lausanne HQ and by this, we are also proudly present and/or physically represented in Estonia, Portugal, Liechtenstein, and the UAE (see figure 1.0).
Our product framework 
For the past 5 years, we've been building and growing with the ever-changing and increasing demands of the blockchain and crypto industry. Many lessons have been learned in the process of achieving our goal of empowering millions to manage and grow their wealth effectively throughout time.
Today we are proud to have a developed solid foundation supporting a product ecosystem at the forefront of innovation. We have built the most functional gateway toward tomorrow's finance. From seamless payment and spending ramps to our powerful smart engine - from the custom DeFi yields options through SwissBorg Earn to our most recent launch, SwissBorg Thematics. Read more about our 7-layer framework and roadmap here.
SwissBorg is a custodial cryptocurrency provider - this means we facilitate individual custody by bearing the responsibility for safekeeping our users' crypto assets. Over the years, the loss, theft, and damage of Private Keys and Seed Phrases have resulted in the loss of billions of dollars. SwissBorg uses MPC technology, preventing any single point of failure in our custody. But MPC also allows SwissBorg to face the limitations of fully custodial services, as seen in figure 0.0.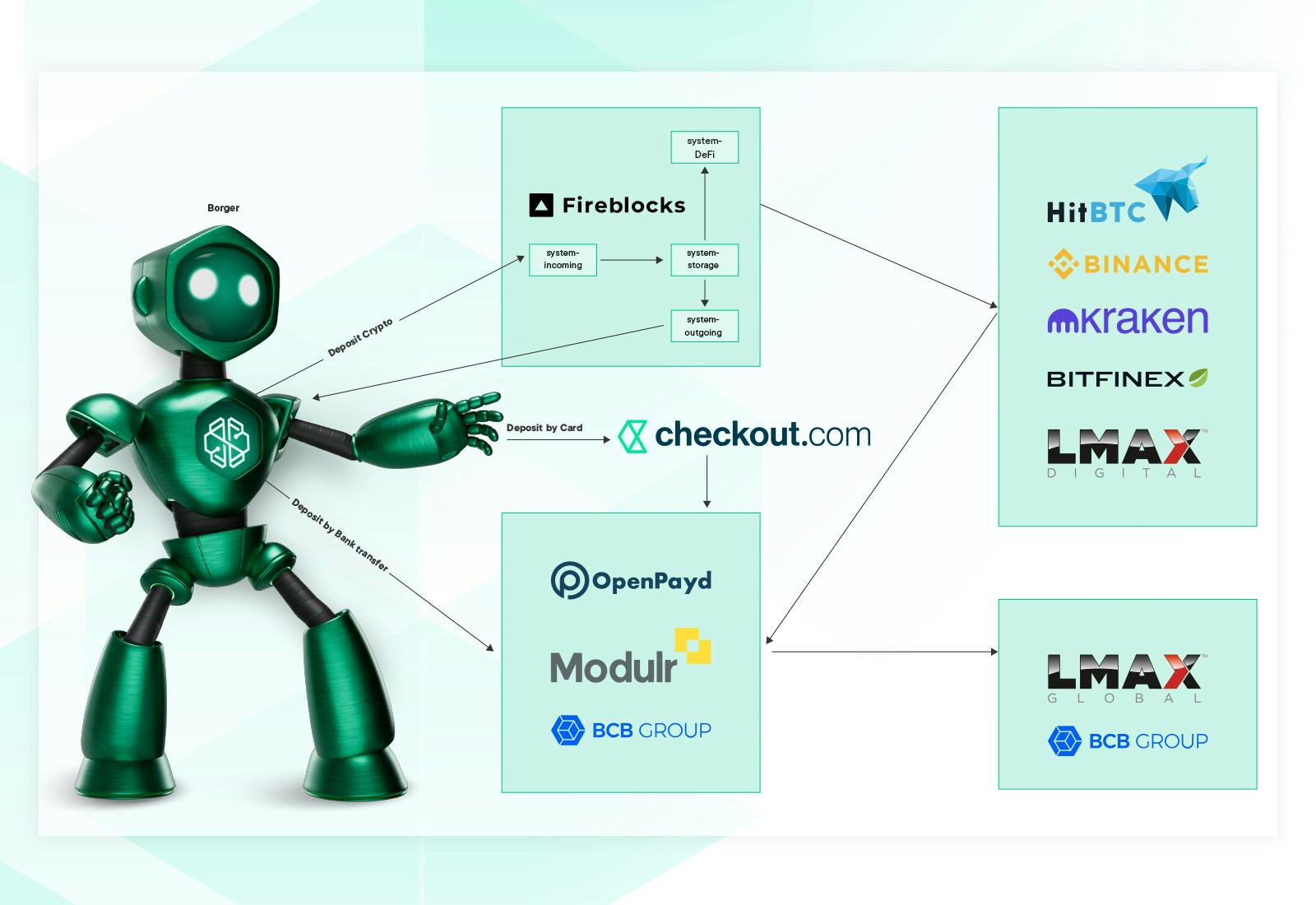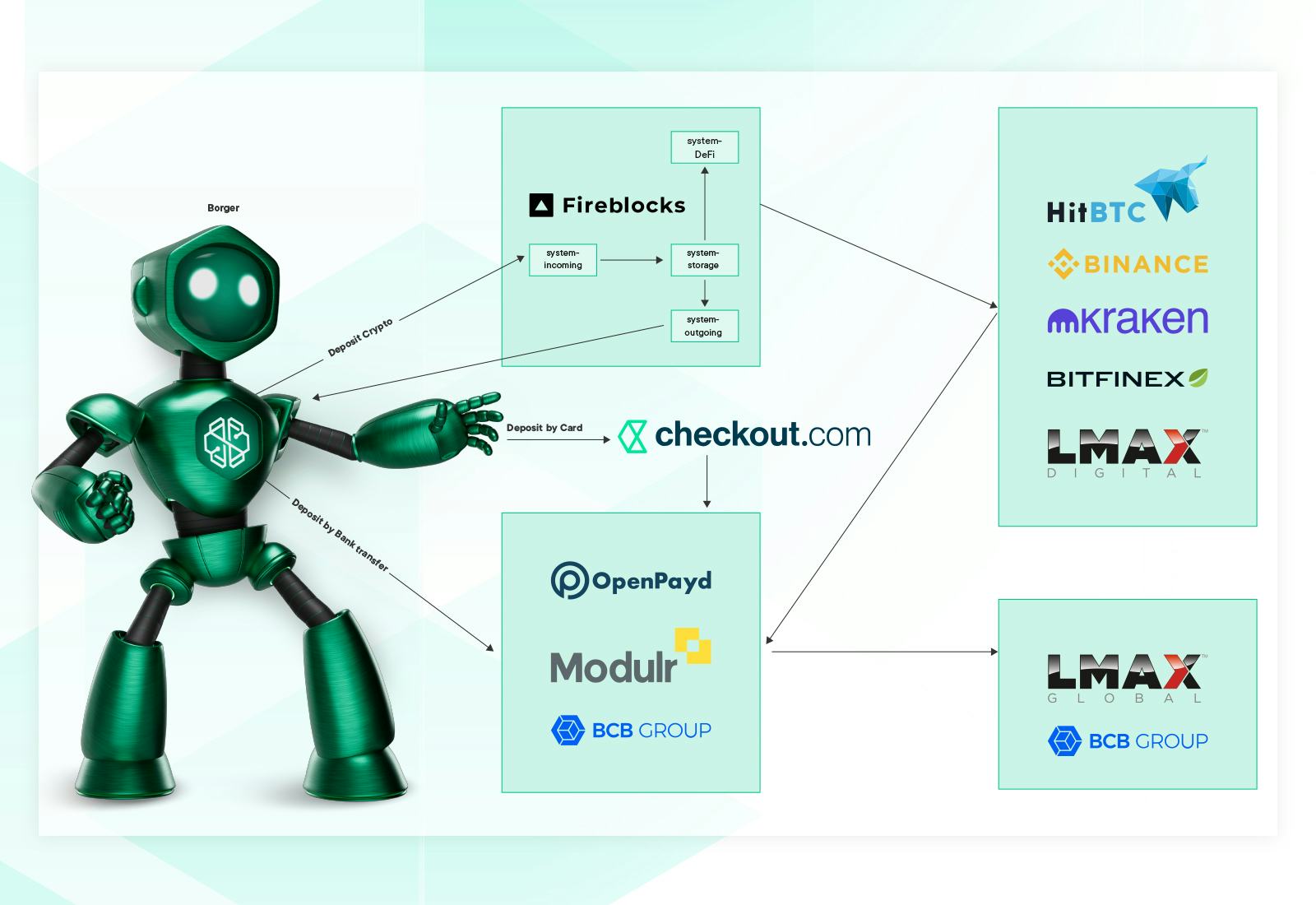 Unlike FTX, Celsius, and many other (former) competitors, SwissBorg's community funds are fully segregated. We do not hold ownership over user funds, meaning we cannot use them without a user's explicit request. Therefore, even in the event of bankruptcy, user funds would remain fully redeemable on a 1:1 basis. We never have and will never use our users' crypto assets to cover our liabilities.
We don't need to say so; our infrastructure proves it. The innovation of our order management system (OMS) Smart Engine enables the SwissBorg app to run like an STP Brokerage. Unlike many other CEX apps, we are a Straight-Through Processing broker (STP), where the process is automated purely through electronic transfers, with no manual intervention involved. STP eliminates human error from the equation. This makes it inherently fair and incorruptible.
Our commitment to mitigating risk 
At SwissBorg, our strong risk-management measures, and prudent budgeting practices uphold our Swiss-values. At the end of summer, 2021, our risk management team committed to holding two-thirds of SwissBorg's proprietary assets in fiat and stablecoins, thereby offsetting the risks of volatility in other crypto assets. We hold the remaining third of our treasury in crypto, with the majority in top-10 tokens with strong fundamentals (BTC, ETH and BNB). 
While the SwissBorg team is a fan of many Alt Coins, as a business we have the responsibility to not only protect our users' crypto assets, but also to maintain our services, and keeping our treasury in lower-risk cryptos ensures SwissBorg will be able to do this. 
In addition to this treasury, we, of course, have our CHSB tokens. These tokens are predominantly used to reward our team, but they remain available as a rainy-day fund should they be needed. 
At SwissBorg we do not trade derivatives for our own account and as a consequence do not speculate against users' positions which could result in putting the company in a difficult financial position. We are also not market makers. Instead, we aggregate liquidity from 5 exchanges supported by our app to execute orders. Insofar as 0% of the exchanges executed in our app involve a market risk or speculative risk for SwissBorg since we do not maintain our own order books. We believe in technology above all and that's why we have built an automated order management system (OMS), something unique in the retail app world.
SwissBorg is not an exchange. We are a crypto wealth management ecosystem, on a mission to empower individuals to take ownership of their crypto wealth. We mainly act as a pure STP broker, meaning that we execute your transactions on third-party exchanges. 
Our regulatory framework
Our internal organisation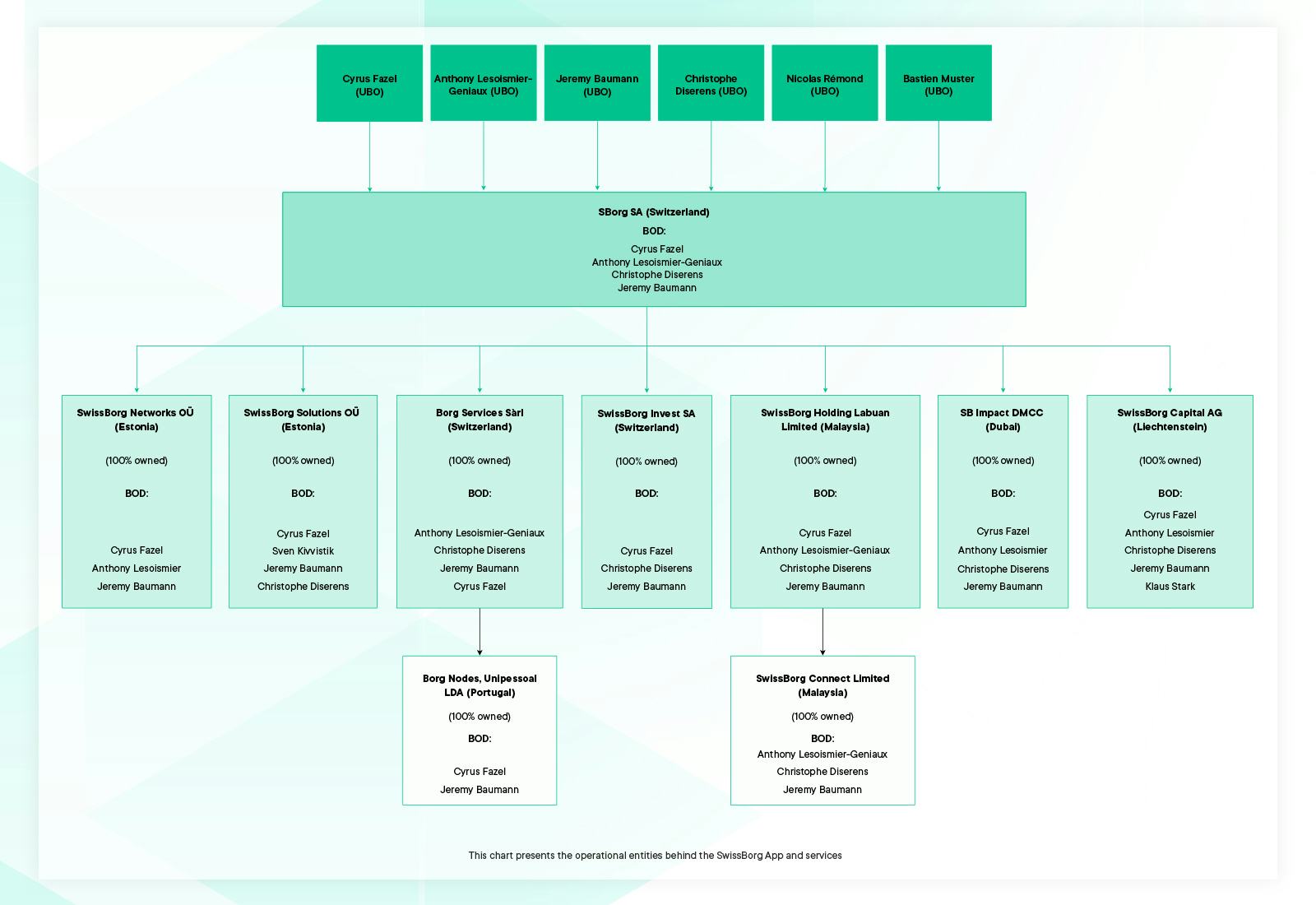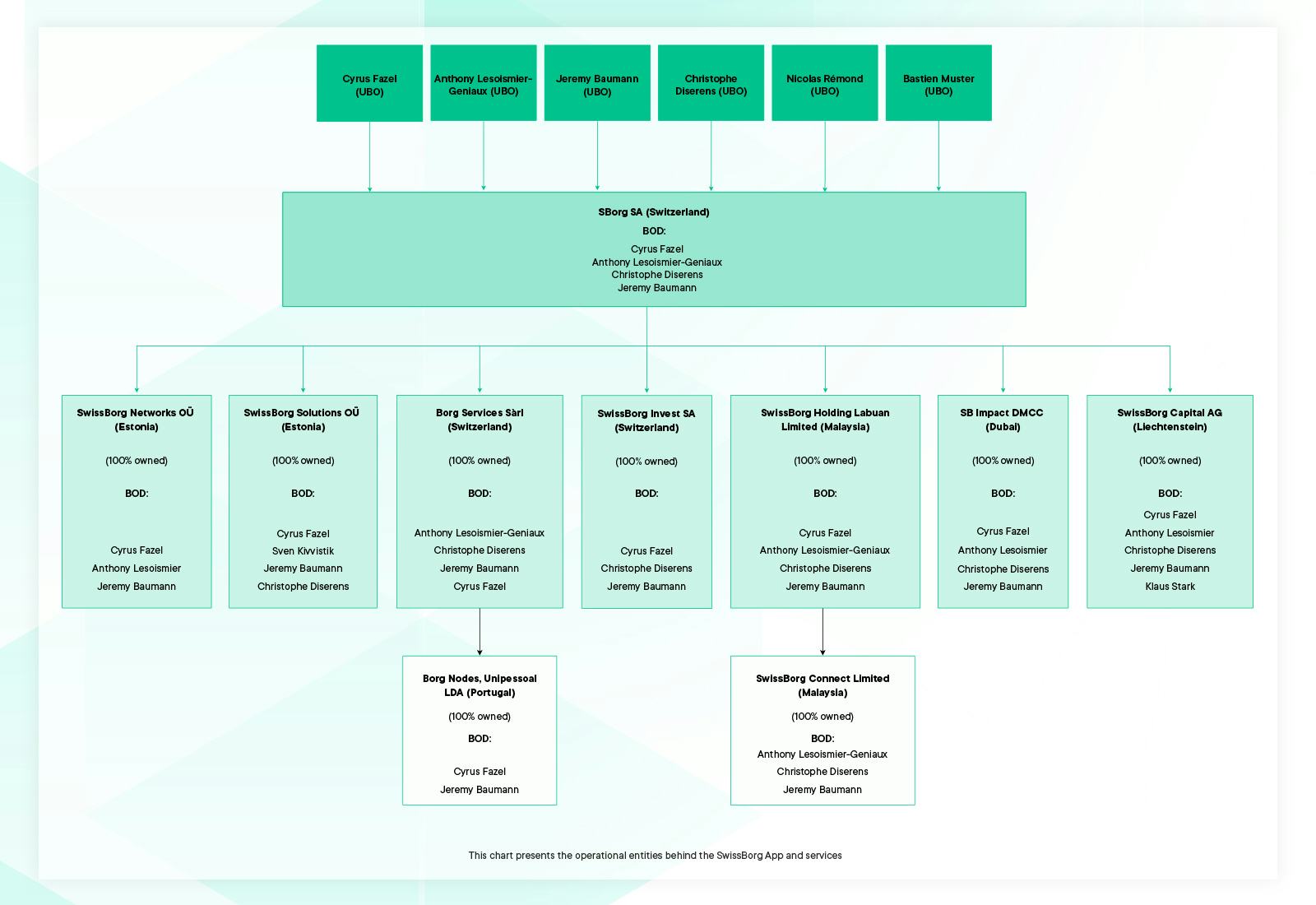 The SwissBorg intellectual property rights are held by SBorg SA, our corporate entity based in Lausanne, Switzerland where the app is engineered. The app is operated by an entity established in Estonia and regulated in Estonia and in France. The app's Terms of Use are governed by Estonian law and, for Swiss residents, by the laws of Switzerland through our Swiss entity, affiliated with a regulated Self-Regulatory Organisation.
The difference between your jurisdiction and the governing law does not prevent you from having rights and the ability to be protected. More generally, SwissBorg is present and/or represented in Switzerland, Estonia, Portugal, Liechtenstein and the UAE. 
Scope of our licenses
SwissBorg Solutions OÜ, incorporated and resident in Estonia, operates the SwissBorg app under the Virtual Currency Service License (FVT000326) (link) granted by the Financial Intelligence Unit (FIU) in Estonia, and is registered with the Financial Markets Authority (AMF) under number E2022-034 (link) in France.
These licenses enable SwissBorg Solutions OÜ to provide the services of selling, buying and exchanging virtual assets against other virtual assets or legal tender, as well as custody of virtual assets. In addition, SwissBorg Invest SA is a member of SO-FIT, a Self-Regulatory Organisation in Switzerland officially recognized by the Swiss Financial Market Supervisory Authority (FINMA).
What do these licenses mean for community members?
Reliability. The licences mean that SwissBorg meets comprehensive requirements in terms of good repute and competence of SwissBorg's managers and owners, as well as secure technological infrastructure.
Internal control. In accordance with our licence in Estonia, we are required to maintain a substantial amount of operational capital at all times. In addition, we have mandatory external and internal audit obligations, which ensure the effectiveness of our internal controls and regulations. In practice, this means that we use the "three lines of defence" internal control system which is a standard for financial service providers.
Strong compliance. In addition, to maintain these licences, SwissBorg complies with strict Know-Your-Customer and Anti-Money-Laundering ("KYC/AML") requirements, to ensure that the app is not used for illicit activities. Besides our comprehensive risk-based AML and KYC policies, we employ state-of-the-art transaction monitoring and a variety of sophisticated anti-fraud measures to ensure a safe experience for all of our users and compliance at all times with applicable regulations.
Assets segregation. On top of being financially healthy, as a regulated Virtual Asset Service Provider, we are required to keep 100% of users' funds (crypto and fiat) fully segregated from our own corporate treasury. SwissBorg users retain ownership over their funds (cryptos and fiat) at all times and SwissBorg cannot use any of these funds for its own account or in any other way without the previous consent of the user.
Our trusted partners and executive team of experts 
At SwissBorg, 8 people sit on the executive team, and 6 of them are shareholders, 4 of whom live in Switzerland, 1 in Estonia, and 1 in the UAE, as seen in figure 2.0.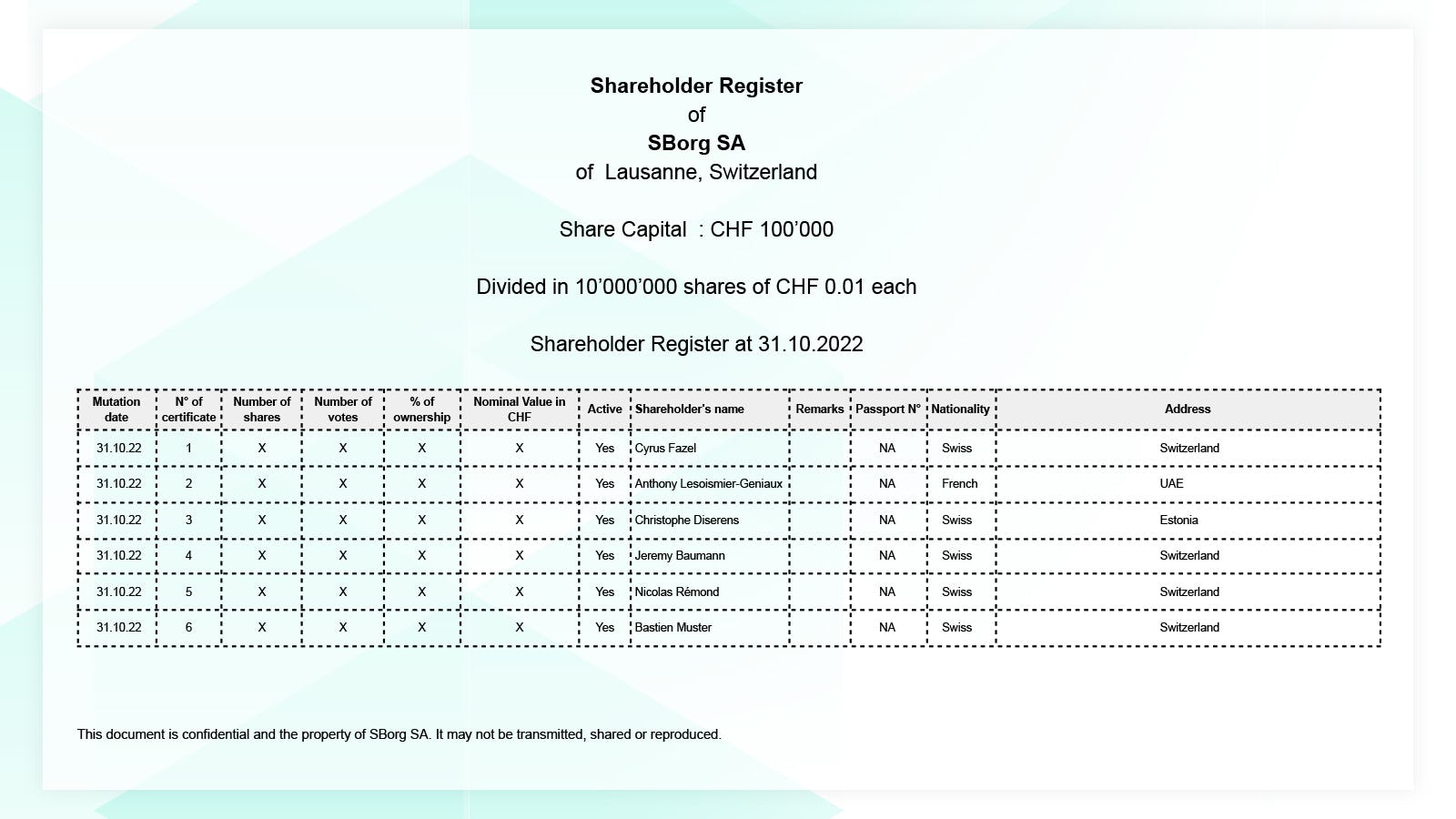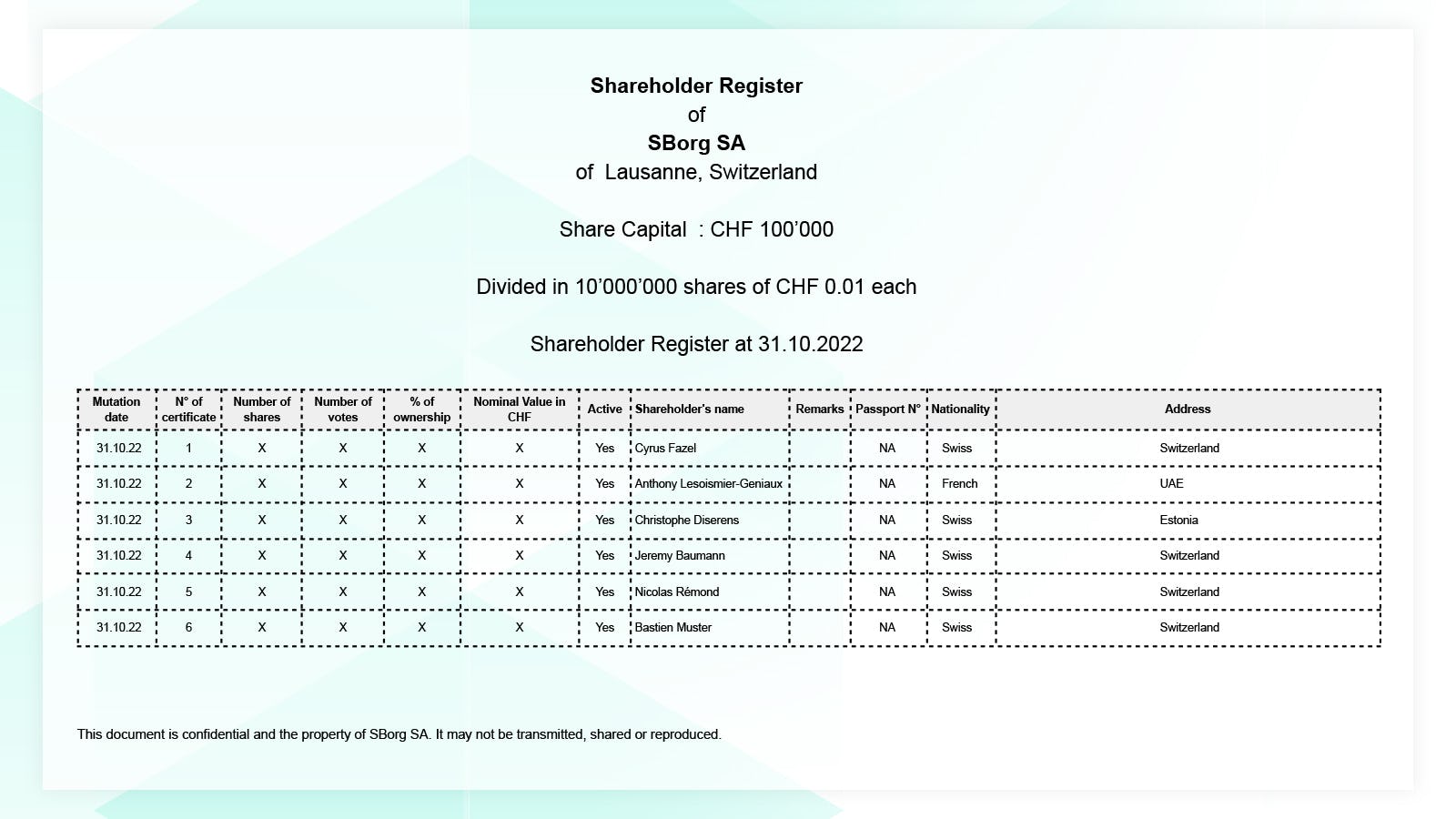 The executive team is represented by the founders, shareholders, and multi-industry experts, who are the drivers of the organisations' safety, security, development, and growth. 
The executive team's sole commitment is to SwissBorg. They do not work for, nor have significant holdings in any other cryptocurrency company. 
Our commitment to the community
We are 100% loyal to our community and company and have rejected numerous advisory roles to avoid diluting our focus and staying dedicated to what truly matters: SwissBorg. 
In accordance with the requirements set by our licenses, we make sure to allocate enough resources to the proper functioning of SwissBorg, meaning that the members of the management team have a fiduciary responsibility to dedicate a significant time to SwissBorg, thus reducing any risk of conflict of interests. 
At SwissBorg, our mission is to democratise wealth management by making it fair, fun and community-centric. The main pillar of our success has been the strength and dedication of our beloved community members. We make it our daily mission to think community-first. So much so that we avoid using the term "app-user" "client" or "customer" internally, to instill community-centricity in the team. For us, the app user is a community member, not a customer. 
Our commitment to transparency 
SwissBorg empowers internal "squads" of experts to dedicate their efforts towards building specific products, that are aligned with our transparency values. The SwissBorg Earn "Yodl" squad publishes a yield strategy risk report at the launch of each new Earn release. The community has access to the SwissBorg team via Discord, where the feedback provided is responded to in the Product Manager's weekly YouTube series, DeFi with Domen. 
As the space grows in understanding the types of resources necessary to ensure trust during these market events, we aim to do our share in highlighting our values and commitment to being transparent with our community about their funds and the measures we take to keep them safe. We want to set an example in the space and be at the forefront of providing the right resources to calm the concerns of our community of app users. That is why we have released a Self-Verification page, where every community member can verify that their custodied assets have been  accounted for and included in the company's total users liabilities.
We've worked with Nansen and DefiLlama to present the live dashboards of most of our hot and cold wallets. 
See Nansen dashboard here
See DefiLlama dashboard here
Our transparency roadmap 
This week at SwissBorg our diligent team members have been hard at work to provide the Proof of Reserves and have reached valuable insights. 
To start, while a Proof of Reserves is great for on-chain data and a good way to understand the size of a company, it is not a demonstration that a company is safe and transparent. To us, the PoR does not provide insight on a) any real liabilities a company may face 
b) the balance of fiat of a company. It, therefore, does not have the right criteria for gauging needed in the present situation of the market. 
As shown in figure 0.0, the SwissBorg app uses various gateways, such as Fireblocks for crypto assets and checkout.com for fiat currencies, there currently is no tool that aggregates the data across the various platforms in one place. 
The only way for us to provide a fully transparent PoR, is to start with Proof of Liabilities. The tech team is working on providing this using a cryptographic proof  mechanism that uses Merkle trees. The goal is to make this available as a webpage by Q1 2023. 
In the meantime we have put a dashboard via Nansen and DefiLlama, to demonstrate some of our on-chain reserves. Nansen is a blockchain analytics platform, which combines on-chain data with a massive and constantly growing database containing millions of wallet labels.
We acknowledge that Nansen and DefiLlama do not provide our on-chain and off-chain wallet disclosure. Therefore, the treasury and the tech team put together this spreadsheet to provide the wallet address and fund allocation created/last updated on 11/18, see our wallet disclosure documentation here.  
Our commitment to CHSB
Healthy Token = Large Distribution + Non Collateralisation/No Hypothecation
We minted our native CHSB token to embody our fun, fair community centric ethos. It was the starting point of our story and through it we raised over $50 million from 24 thousands of unique investors in 2017. Five years later it is at the heart of one of the strongest crypto communities in the world. 
With fundamentally sound tokenomics and far reaching utilities across our ecosystem, CHSB is on the verge of reaching, once more, the top 100 most-valuable cryptocurrencies by market capitalisation. 
The blossoming of CHSB's use cases and inherent value have translated into a sustained low-selling pressure since its inception. The confidence of CHSB holders is such that most of our tokens minted in 2017 have stayed with their original owner.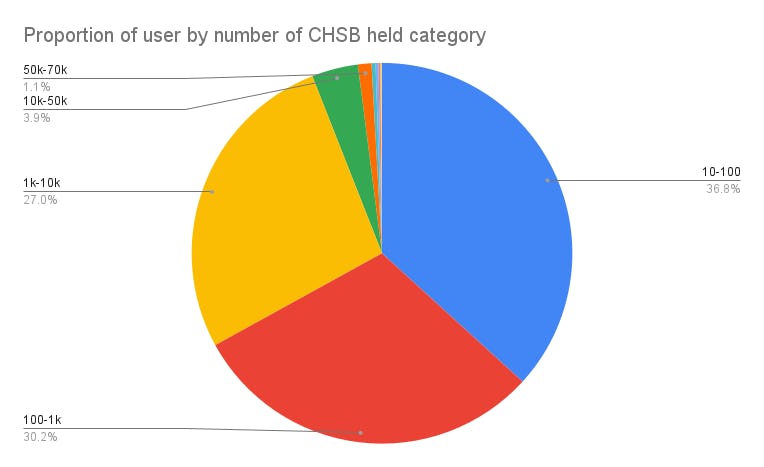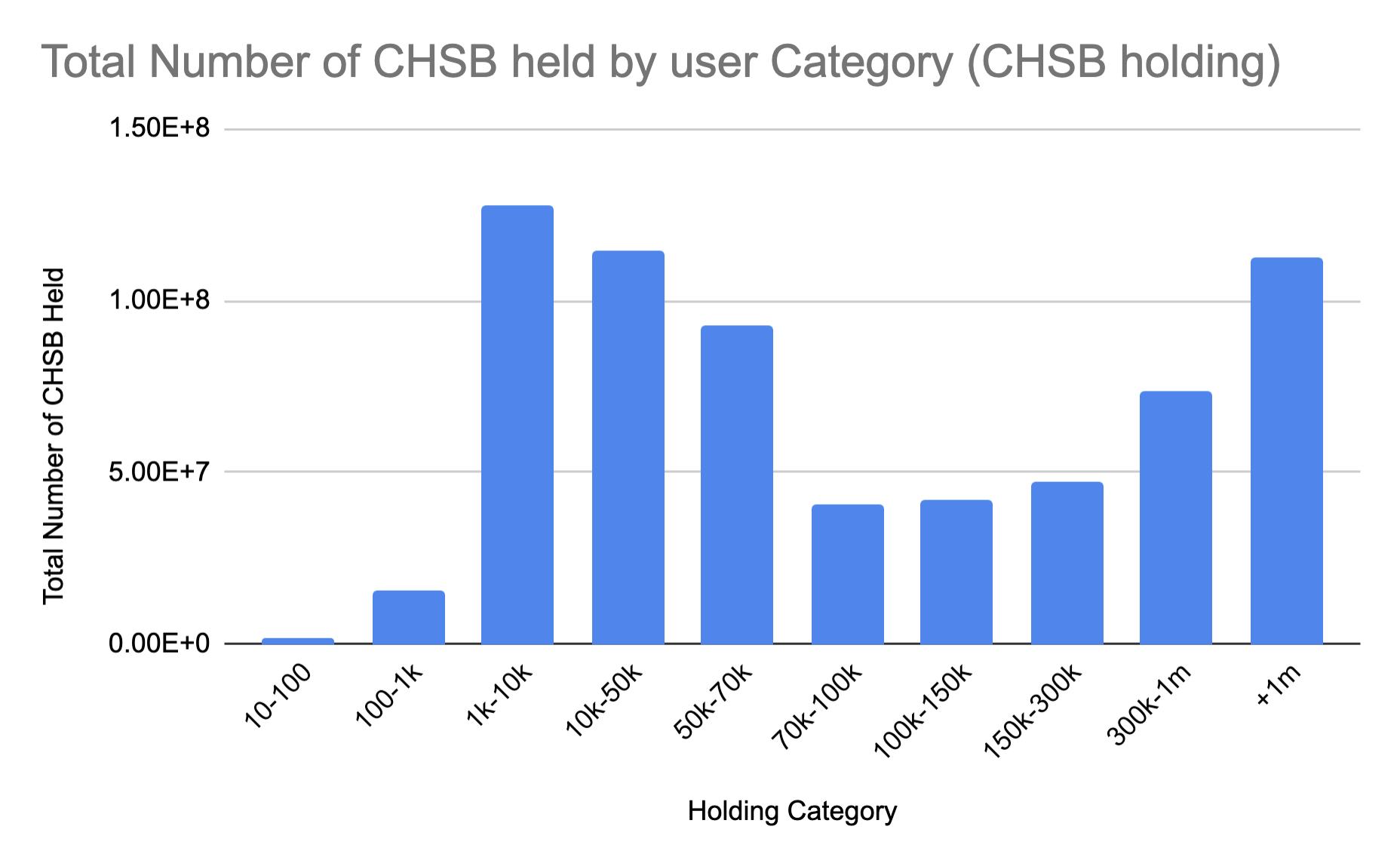 With its increasing adoption rate among our users and intrinsic stickiness, the high CHSB ratio on our balance sheet exhibits its utility, health, and encouraging future.
CHSB is a strictly non-collateralised asset and is not linked to any external CeFi platform. It is distributed in our ecosystem across nearly 150,000 thousand unique and verified investors in app and 19,000 on-chain - making it one of the most diluted tokens in the crypto space. 
These strong metrics rest upon even stronger fundamentals. Our Smart Yield 2.0 utility keeps improving SwissBorg's Token Gini Coefficient in spite of CHSB inherently deflationary nature and very limited remaining circulating supply.
With value increasing fundamentals, its growing number of utilities and SwissBorg's sound treasury management - CHSB is positioning itself at the forefront of the bull market, ready to capitalise on the growth of the crypto industry and the exponential value shift of Web3.
Closing statement
We envision a future where the power of ownership is placed back in the hands of individuals - a future where the people regain control over their wealth. 
We strongly believe that crypto exchanges should remain neutral in regard to blockchain protocols, stablecoins and projects they list. SwissBorg was created to solve a problem we saw in the world: in traditional finance only the privileged few have access to wealth management tools - and even then, mostly with archaic and opaque providers that incentivise profit for shareholders, not for clients. 
Making wealth management accessible to those who had no access before can only be done if we are more transparent than the old financial system we are replacing. 
We hope to set an example with this attempt to reassure our community by providing the maximum amount of information in full transparency. 
Cryptocurrency is nothing if it is not the currency of communities: the people's currency. At SwissBorg we are keenly aware of the fact that community is everything! Without them, there is no us. 
Secure your cryptos today with the SwissBorg app!
Download now