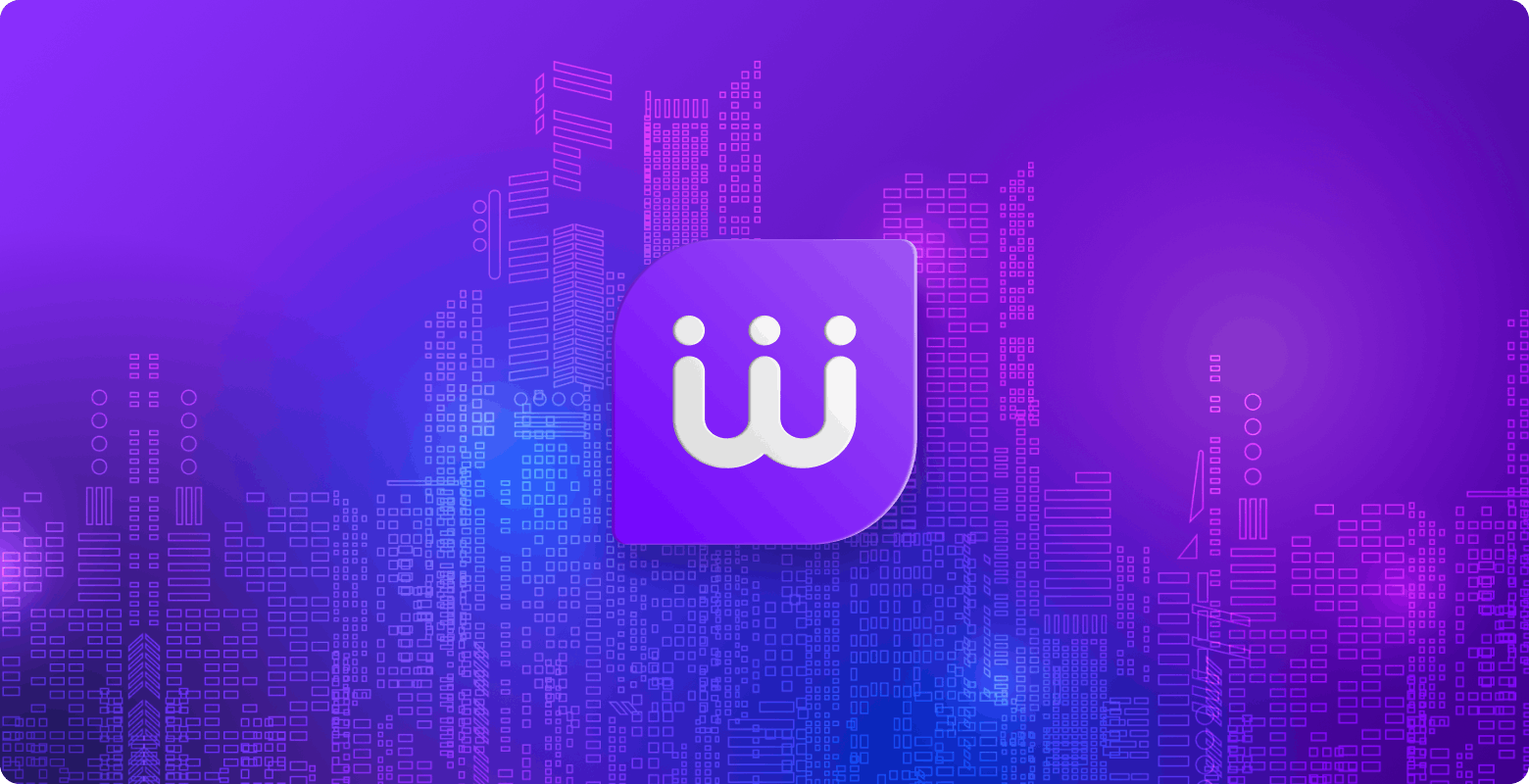 Ziga Potrebujes
DeFi Analyst
It's impossible to make the perfect decisions when it comes to investments. But if you are smart, you can get pretty darn close. Figuring out that crypto is not going anywhere is the easy part, the difficult part is figuring out what to buy. Luckily that's what we're here for!
Growth
We are thrilled to see a constant trickle of new users discovering our Thematics. Amount of Web3 Thematic owners is slowly rising, as people are realising it is better to diversify their portfolio in a smart way. It is a product for people that prefer stability. 
We are proud of all the newcomers, coming to build their portfolio now when it is the right time to do so. Thematics is and always will be a product, aiming to capture maximum benefit in the long term. As we all know, Rome wasn't built in a day.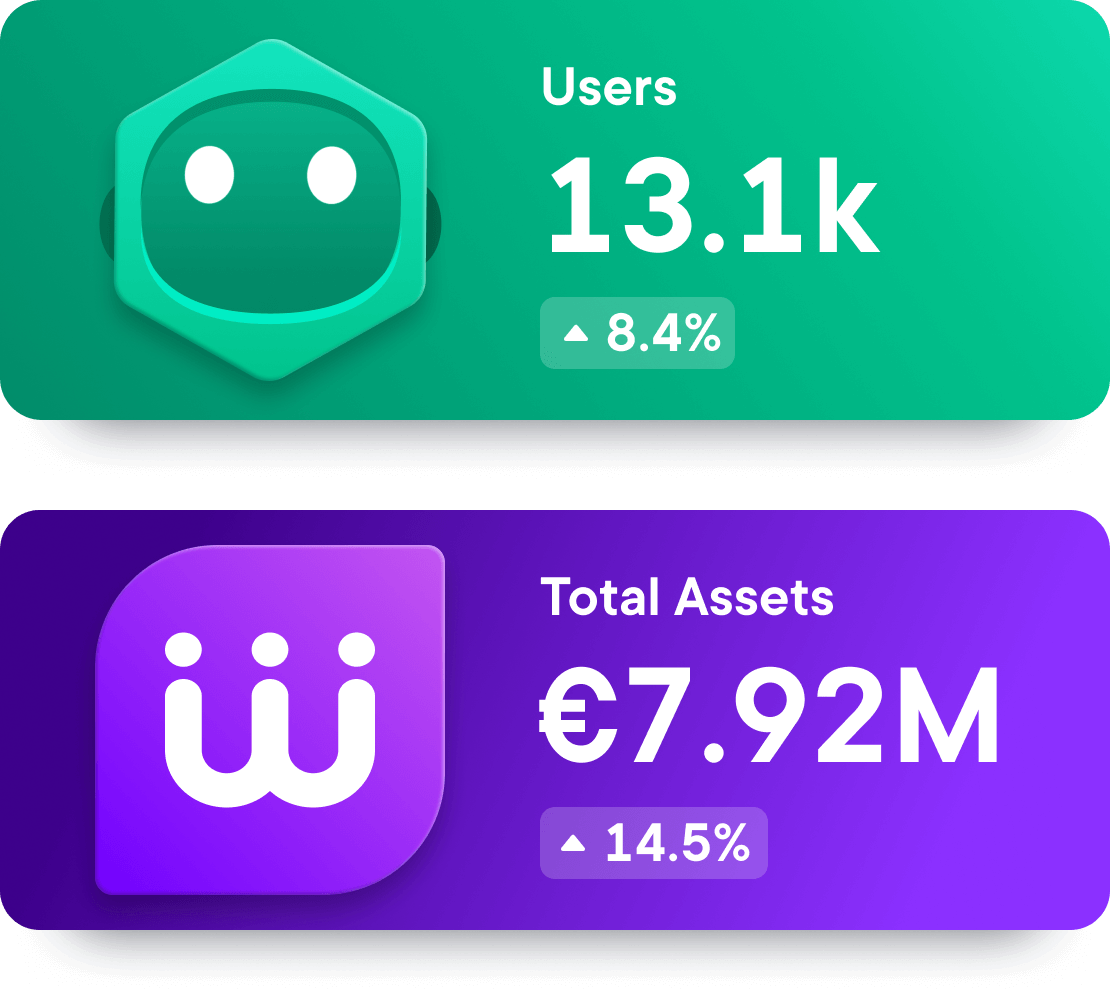 Performance
Let's take a look at the performance of the Web3 Thematic, compared to holding the individual tokens that make up the bundle. The Last Month column represents the performance in January and the To ATH is the gains we would all make if the assets were to return to their all-time-high price.
The Web3 Thematic is positioned somewhere in the middle, which is its exact purpose. The goal of Web3 Thematic is to overperform in holding the safest assets while mitigating the downside of holding risky assets.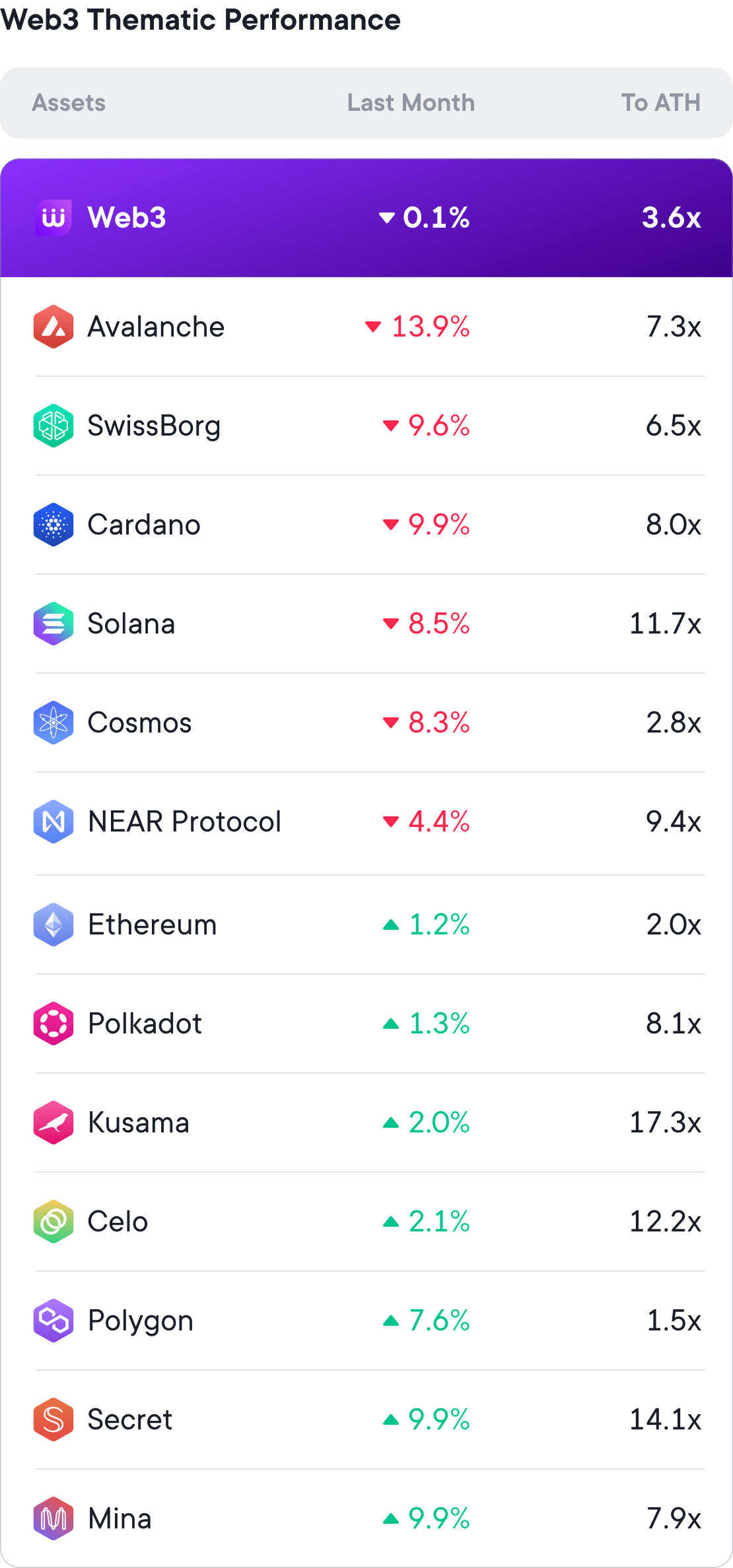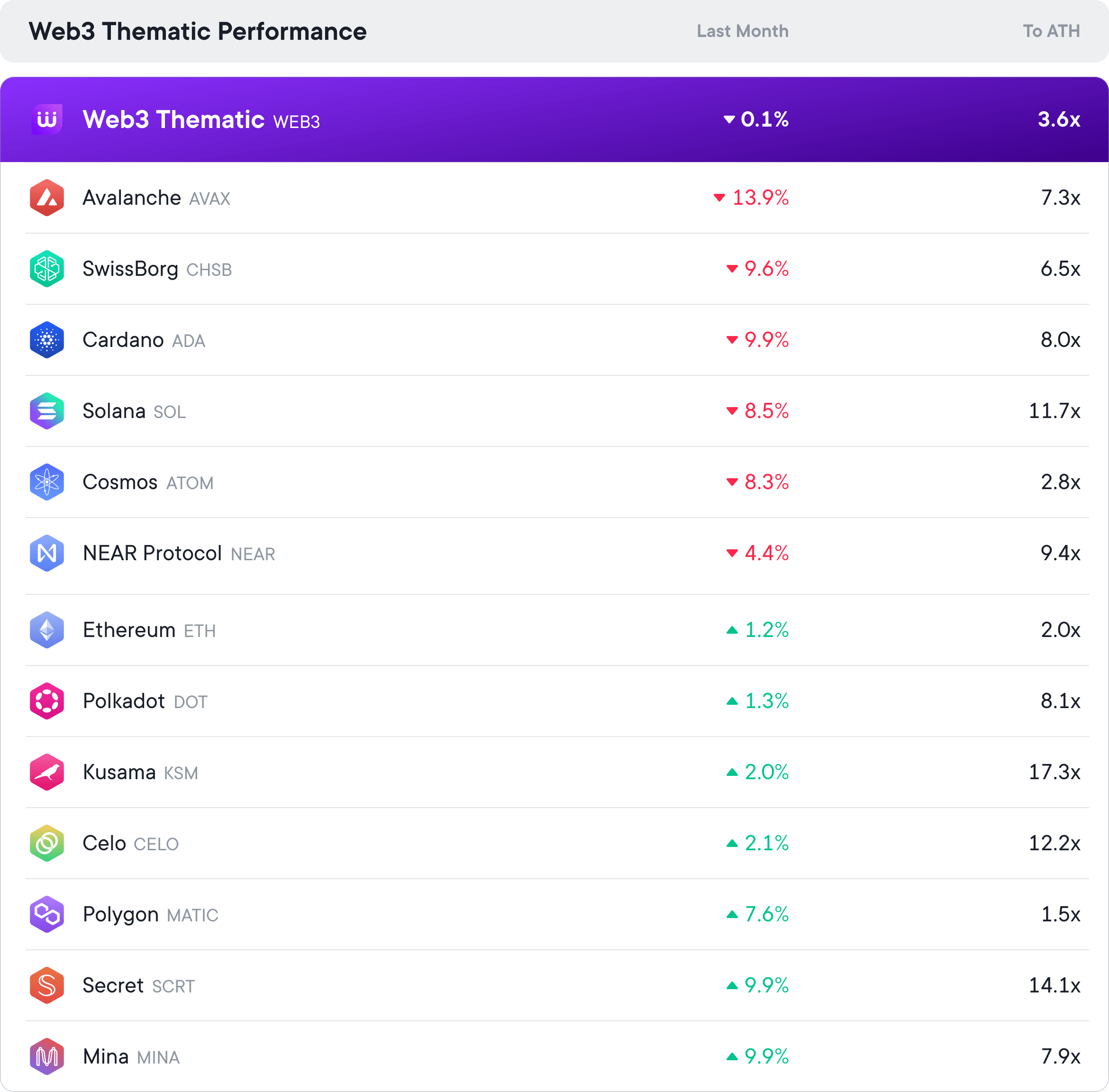 Best & Worst
While 10% volatility in a month is big in traditional finance, it's taken as a fairly flat month in crypto. In February, the gains were distributed quite evenly on both the positive and the negative sides. The net effect of all this was that the Web3 Thematic performance in February was close to 0, protecting the users from losses from certain assets at the cost of losing upside potential from top performers.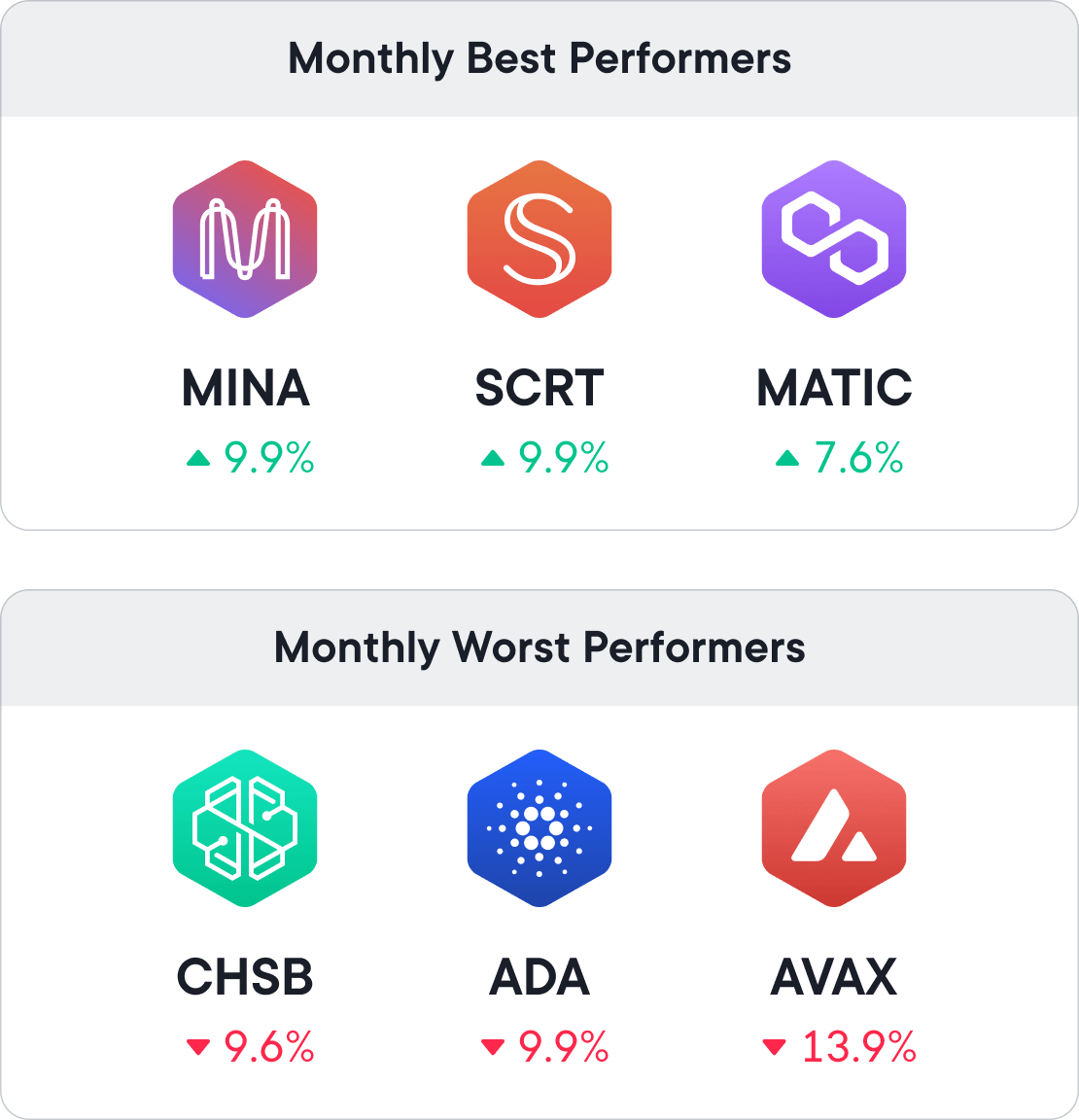 Long-term comparison
Despite February not being the most exciting one in terms of performance, it did prove the efficacy of SwissBorg Web3 Thematics in the face of market volatility. Our Thematics continues to outperform the broader Web3 sector over the long run. We are also looking forward to the reallocation process that is coming. Stay tuned on our Twitter and Discord for updates.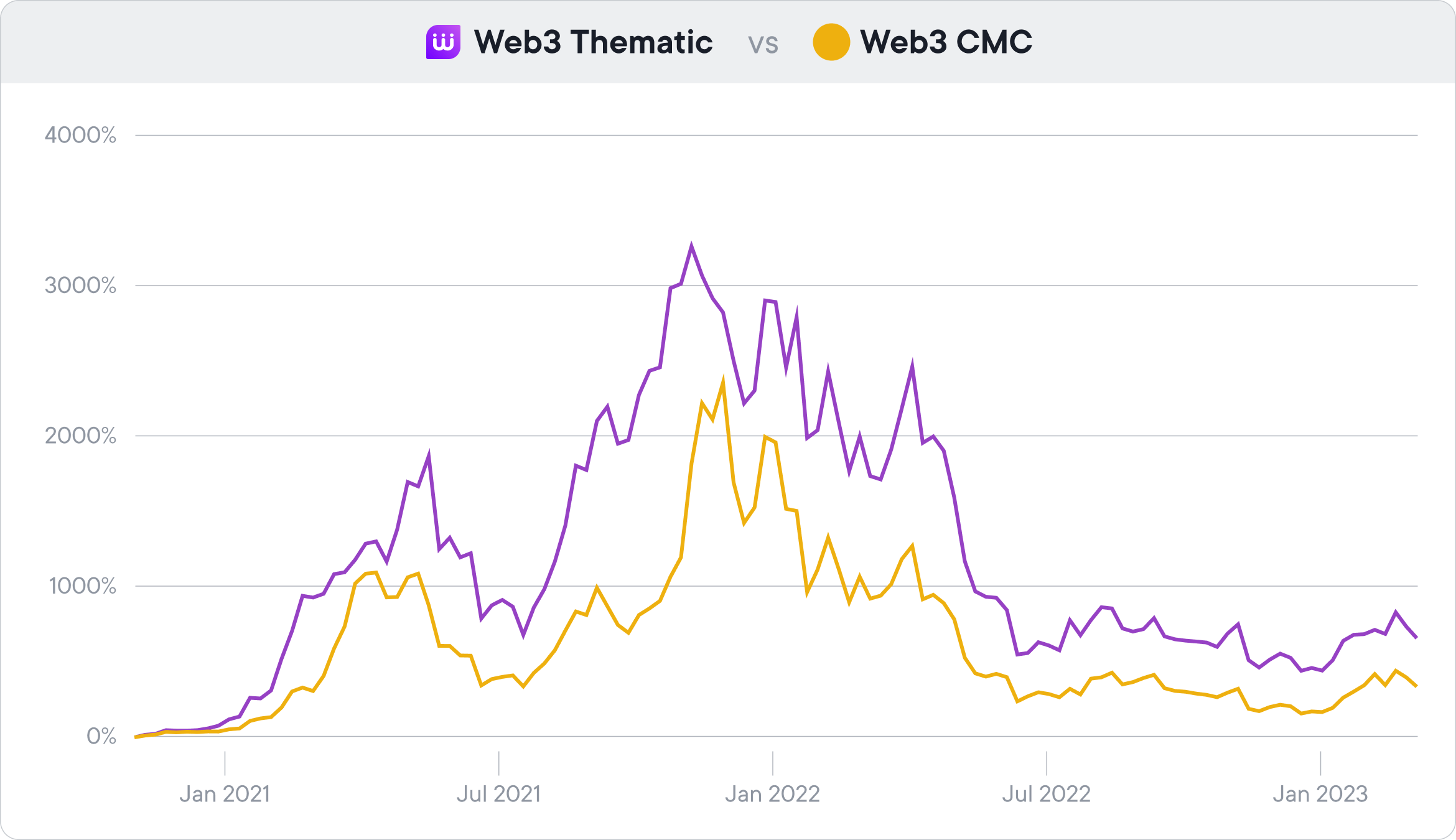 Conclusion
The difference that turns an inexperienced investor into a wise one is not necessarily how well they know the field, rather it is their approach. A wise investor will prefer a strategy with a long-term vision in mind as opposed to catching short-term pumps. Swissborg Thematics is a great tool to help you diversify your portfolio in a way that will help you stack sats in the long run.