Add UST to your portfolio and earn up to 18.5% p.a. with SwissBorg!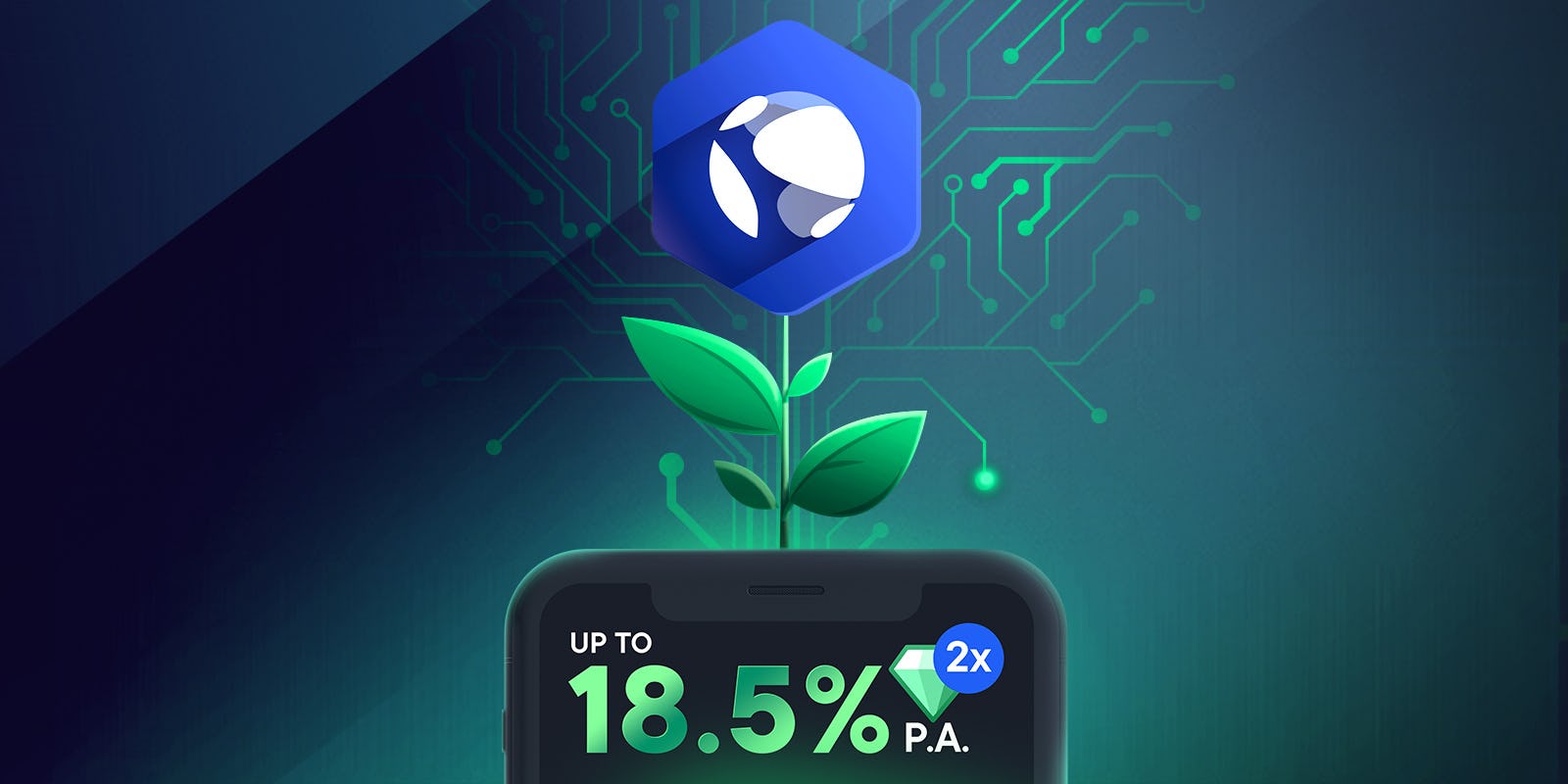 With great excitement, we announce that as of today, April 4th, our beloved users, can not only buy UST using the SwissBorg app but also start earning a yield of up to 18.5% p.a.
We do our best to enable our users to grow their wealth using as many assets in their portfolio as possible, and this time we decided to speed up the process a bit. So, instead of buying UST and waiting for the Smart Yield wallet to launch, our users can start yielding as soon as the coin hits the SwissBorg Marketplace.
For those of you unfamiliar with UST or in need of a little reminder, here is a short overview. 
UST, also known as TerraUSD, is a stablecoin pegged to the US Dollar. Besides being algorithmic and decentralised, UST is a yield-bearing coin characterised by scalability.
Belonging to the Terra blockchain, this coin was created to provide value to the Terra community and serve as a DeFi solution that doesn't face scalability issues common in coins like DAI.
Due to its minting mechanism, UST offers interesting benefits ranging from interest rate accuracy and interchain usage to being DeFi protocol-worthy. If you also take into consideration the ease of adding UST to crypto wallets and its significant role in DApps, you will quickly come to the conclusion that UST is indeed a very competitive stablecoin worth your attention.
Why earn a yield on stablecoins like UST? 
Anyone familiar with crypto knows that we pay the price of market volatility for all the benefits crypto brings us. This is where stablecoins come into play.
By being pegged to fiat currencies and commodities, stablecoins provide much-needed stability and help bridge the gap between fiat and crypto.
So, along with sleeping peacefully at night knowing that your asset will hold its value, you can also enjoy a passive return on your UST investment by activating the UST Smart Yield.
What makes UST Smart Yield special?
Knowing that our users like having multiple assets in their portfolios, be it stablecoins or not, we offer the Smart Yield wallet on not just UST but also a range of other assets like USDC, BTC, ETH, BNB, XRP, USDT, MATIC, EURT, GHST and DAI. 
The benefits of Smart Yield:
A minimum deposit of just $10 to start receiving a passive return on your assets with no minimum investment period
Investing in the lowest-risk platforms with the help of the Smart Yield strategy optimiser, which monitors and rates all available investment opportunities based on their risk
A higher yield over time, thanks to a daily compounded yield
Monthly Smart Yield reports offering a transparent overview of Smart Yield wallets' performance and the allocation of assets
Another benefit worth highlighting on its own is the yield boost available to our Premium users. The yield boost can be 1.5X, 1.75X or even 2X, depending on which Premium account option you went for.
Premium users also have the luxury of discounted fees on all exchanges.
If becoming Premium and reaping the benefits that come with it is something that interests you, be sure to explore the SwissBorg Premium account options. 
How to start earning a yield on UST with SwissBorg
As is the case with purchasing coins with the SwissBorg app, activating a yield wallet is a straightforward process consisting of the following steps:
Update your app to the latest version
Deposit, buy or exchange to UST
On the Portfolio screen, tap on UST
Scroll down, and tap the Yield Wallet card
Tap Top Up
Choose how much you would like to add to your yield wallet
Follow the prompts to start earning a daily yield!
Note that while there is no minimum investment period, redemptions are actioned every 24 hours. Once you ask to redeem funds, they will be transferred to your active account at 8 AM GMT the following day.