SwissBorg launches Smart Yield wallet for BNB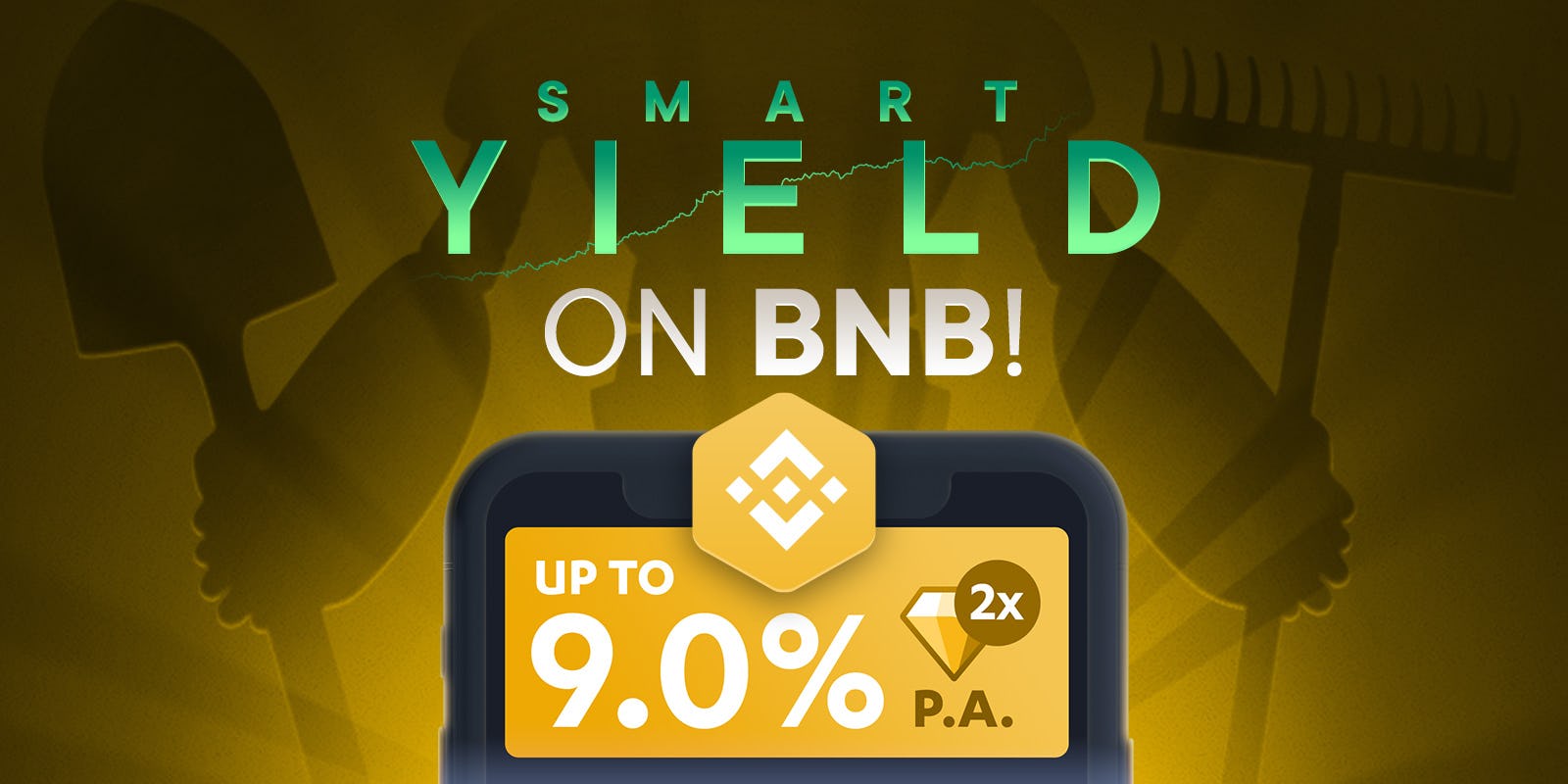 We are thrilled to announce the launch of our fourth Smart Yield wallet, which will empower the SwissBorg community to earn a yield of up to 9% p.a. on Binance Coin (BNB)!
Available from 3rd June 2021, the BNB Smart Yield wallet comes with all the benefits of our other yield wallets:
Manage your risk - our strategy optimiser monitors and rates all investment opportunities on a daily basis to find the best return for the lowest risk.
Get the best yield - the Smart Yield wallet maximises returns by offering a variable yield rather than a flat rate, meaning you always get the best available yield. Plus, the yield compounds daily, which leads to higher returns over time.
Accessible for all - there is no minimum investment period and you can get started with just $10, so you will get all the benefits regardless of your investment amount or time frame.
Safety Net Program - all Smart Yield wallets benefit from our Safety Net Program, which protects against smart contract risk
Full transparency - discover which platforms we invested in; the maximum, minimum and average yields; and the growth of our Safety Net Program in our monthly Smart Yield reports.

How to boost your earnings
All users have the opportunity to boost their yield with a Premium account:
Genesis Premium: Stake 50,000 CHSB to earn 2X the standard yield (for a limited time only).
Community Premium: Just launched last week, Community Premium allows you to earn 1.5X the standard yield by staking just 2,000 CHSB!

In addition to boosted earnings, all Premium users also get reduced fees on all exchanges, as well as some extra surprises reserved for those in the Premium club.
How to deposit BNB to the SwissBorg app
To add BNB to the SwissBorg app so you can start earning a yield, simply:
Open the SwissBorg app and tap Deposit
Choose BNB as the crypto asset you would like to deposit
Copy your BNB address and Memo number to Binance so you can transfer your tokens
Send your BNB using the BEP-20 (Binance Smart Chain) protocol.
Important: If you want to transfer BNB to the SwissBorg app, then you must use your Memo number and the BEP-20 (Binance Smart Chain) protocol.
How to activate your BNB Smart Yield wallet
To activate your yield wallet in the SwissBorg app:
Update your app to the latest version
On the Portfolio screen tap on BNB
Scroll down, and tap the Yield Wallet card
Tap Top Up
Choose how much you would like to add to your yield wallet
Follow the prompts to start earning a daily yield!
Note that while there is no minimum investment period, redemptions are actioned every 24 hours. Once you ask to redeem funds, they will be transferred to your active account at 8am GMT the following day.